The 1954 French flap:
The index page for the 1954 French flap section of this website is here.
September or beg. October, 1954, Chamtemoux, Meurthe-et-Moselle:
Reference for this case: Sep-Oct-54-Chamtemoux.
Please cite this reference in any correspondence with me regarding this case.
Summary:
The regional newspaper Le Bien Public, of Dijon, for October 13, 1954, indicated that "during the last three weeks", residents of "Chantenoux", among other places, had affirmed having seen "luminous discs which crisscrossed the celestial vault without noise and with speed, sometimes these craft were of orange color, sometimes green-blue."
Reports:
[Ref. via2:] "VIMANA 21" UFOLOGY BULLETIN: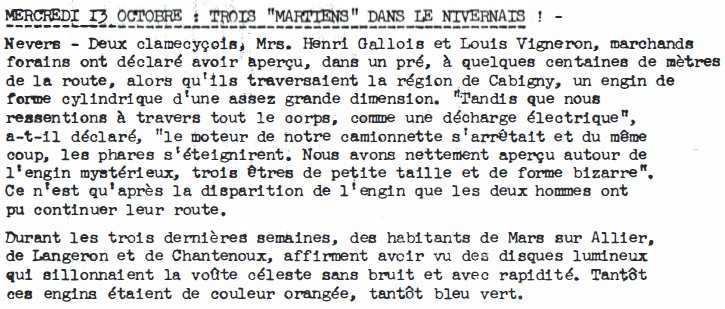 WEDNESDAY OCTOBER 13 [Publication date]: THREE "MARTIANS" IN THE NIVERNAIS! -
Nevers - Two residents of Clamecy, Mrs. Henri Gallois and Louis Vigneron, fair merchants, said they had seen, in a meadow, a few hundred meters from the road, as they crossed the Cabigny region, a cylindrical craft of a fairly large size. "As we felt through the whole body, like an electric shock," he said, "the engine of our van was getting stuck and at the same time the headlights were going out. We clearly distinguished around the mysterious craft, three beings of small size and bizarre shape". It was only after the disappearance of the craft that the two men were able to continue their trip.
During the last three weeks, residents of Mars sur Allier, Langeron and Chantenoux, claim to have seen luminous discs that crisscrossed the sky without noise and with speed. Sometimes these machines were orange, sometimes blue.
The source is indicated to be the newspaper Le Bien Public for October 13, 1954.
Explanations:
Totally insufficient information.
I did not find any "Chantenoux" in the region or elsewhere in France; but there is a Champenoux in the Meurthe-et-Moselle department. So the location is not rock solid.
Keywords:
(These keywords are only to help queries and are not implying anything.)
Chamtemoux, Meurthe-et-Moselle, discs, luminous, fast, silent, orange, blue, green
Sources:
[----] indicates sources that are not yet available to me.
[----] Article in the regional newspaper Le Bien Public, Dijon, France, October 13, 1954.
[via2] "Il y a 28 ans - des soucoupes volantes en France - d'après les archives locales du BIEN PUBLIC", in the ufology bulletin Vimana 21, ADRUP, France, #10-11, page 27, 3rd quarter 1982.
Document history:
| Version: | Created/Changed by: | Date: | Change Description: |
| --- | --- | --- | --- |
| 1.0 | Patrick Gross | June 20, 2019 | First published, [via2]. |