The 1954 French flap:
The index page for the 1954 French flap section of this website is here.
Mid October, 1954, Ramburelles, Somme:
Reference for this case: Mid-Oct-54-Ramburelles.
Please cite this reference in any correspondence with me regarding this case.
Summary:
The newspaper Bresle et Vimeu Libre, of Gamaches, in the Somme, reported in a bantering tone on October 17, 1954, that "last week", at nightfall, in a field from a Ramburelles farmer, peasants threshing the harvest had seen an unusual gleam which swirled above an apple tree.
They thought, according to the newspaper, that there was no doubt: it was a saucer, and everyone ran away.
But then one realized that it was a clerk who had climbed into the apple tree waving a flashlight.
Reports:
[Ref. bvl1:] NEWSPAPER "BRESLE ET VIMEU LIBRE":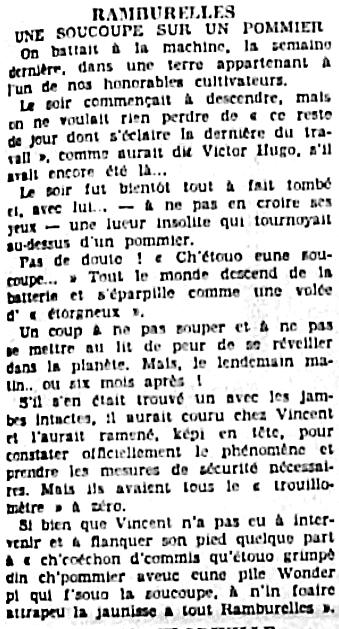 RAMBURELLES
A SAUCER ON AN APPLE TREE
One was beating the wheat, last week, in land belonging to one of our honorable cultivators.
The evening was starting to come, but one didn't want to lose anything from "this rest of the day, the last of which lights up", as Victor Higo would have said, if he had still been there...
The evening was soon completely fallen and, with him, - to believe his eyes - an unusual glow that swirled over an apple tree.
No doubt! "That's ay soooccer..." Everyone comes down from the battery and disperses like a flap of "larks".
A blow to no have supper and not to go to bed for fear of waking up on the planet. But the next morning or six months later!
If one had found one with his legs working, he would have run to Vincent's and brought him back, kepi on the head, to officially observe the phenomenon and take the necessary security measures. But they all had the "scaremeter" high up.
So much so that Vincent did not have to intervene and giv his boot somewhere to "s'me pig apprentice who took ay Wonder battery and stuffd it at tha sooocer, to give all Ramburelle a frite."
Explanations:
Negative case, prank or misinterpretation.
Keywords:
(These keywords are only to help queries and are not implying anything.)
Ramburelles, Somme, apple tree, farmers, peasants, flashlight, prank, misinterpretation, negative case, glow, multiple, frightened
Sources:
[----] indicates sources that are not yet available to me.
[bvl1] Article in the newspaper Bresle et Vimeu Libre, Gamaches, Somme, France, page 3, October 17, 1954.
Document history:
| Version: | Created/Changed by: | Date: | Change Description: |
| --- | --- | --- | --- |
| 1.0 | Patrick Gross | March 9, 2020 | First published. |