The 1954 French flap:
The index page for the 1954 French flap section of this website is here.
Beginning of October, 1954, Arnčke, Nord:
Reference for this case: Beg-Oct-54-Arnčke.
Please cite this reference in any correspondence with me regarding this case.
Summary:
On page 5 of the local Hazebrouck issue of the regional newspaper La Voix du Nord for October 10, 1954, appeared the usual humorous column, this time devoted to the "flying saucers."
The funny article only includes one case of rather low interest:
The author says that "one evening", a Cassel gendarmerie sidecar was returning from Arnčke in the dark night, when "Suddenly, alert!" "The unusual noises, two horns shining in the headlights. The gendarmes believe they see horned Martians. They rush on the enemy. Alas, it was only a cow. The damage is considerable: a month of incapacity to verbalize and a lawsuit to the owner of the ruminant to whom one must no longer speak of Martians."
It turns out that in the heat of the "wave", a totally "skeptical" astronomer, Evry Schatzman, had explained in the Press that among the explanations for the observations, there was this one: people mistake reflections in the eyes of cows for flying saucers.
There was probably such a mistake in Montimont on October 11, 1954 - the day after this article was published - but in the present case, I seems quite possible that this story of gendarmes mistaking cows for "Martians" when they would have had a precise enough view to see the horns, is only an invention of the author of the article. The so-called "considerable damage" and "lawsuit" only reinforce me in this opinion.
Reports:
[Ref. vdn1:] NEWSPAPER "LA VOIX DU NORD":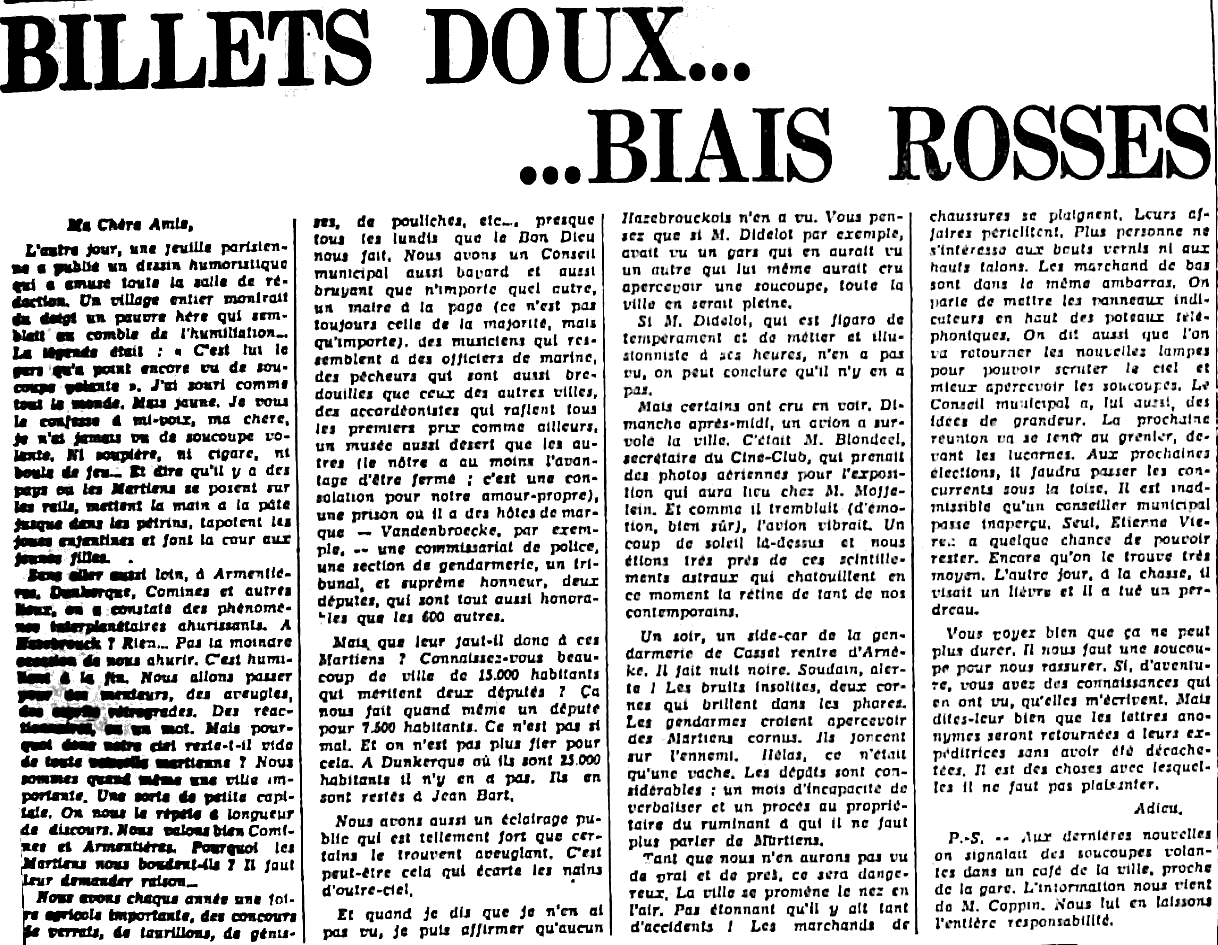 SWEET TICKETS...
... ROSE TICKETS
My Dear Lady Friend,
The other day, a Parisian newspaper published a cartoon that amused the entire newsroom. An entire village was pointing at a poor wretch who seemed overwhelmed with humiliation...
The caption was: "He's the guy who hasn't seen a flying saucer yet." I smiled like everyone else. But grinning. I confess to you in an undertone, my dear, I have never seen a flying saucer. Neither soup tureen, nor cigar, nor ball of fire... And to think that there are countries where Martians land on the railways, get their hands dirty even in trouble, pat the youngsters and court the young girls.
Without going that far, at Armentičres, Dunkirk, Comines and other places, amazing interplanetary phenomena have been observed. Hazebrouk? Nothing... Not the slightest opportunity to bewilder us. It's humiliating at the end. We're going to be seen as liars, blind people, backsliders. Reactionaries in a nutshell. But why does our sky remain empty to any Martian patrol? We are still an important city. A kind of small capital. We are told this over and over again. We are well worth Comines and Armentičres. Why are the Martians shying away from us? We have to ask them why...
Every year we have an important agricultural fair, competitions for calves, young bulls, heifers, fillies, etc..., almost every Monday that God gives us. We have a municipal council as talkative and as noisy as any other, an up-to-date mayor (it's not always that of the majority, but who cares), musicians who look like naval officers, fishermen who are as empty-handed as those in other towns, accordionists who win all the first prizes as elsewhere, a museum as deserted as the others (ours at least has the advantage of being closed; it is a consolation for our self-esteem), A prison where there are distinguished guests - Vandenbroecke, for example, - a police station, a gendarmerie squad, a court, and supreme honor, two deputies, who are as honorable as any other od the 600's.
What do these Martians need? Do you know many towns of 15,000 inhabitants that deserve two deputies? That still gives us one deputy for 7,500 inhabitants. It's not so bad. And we are not prouder for that. In Dunkirk, where there are 25,000 inhabitants, there are none. They stuck with Jean Bart.
We also have street lighting which is so bright that some find it blinding. Maybe that's what keeps the dwarves out of the sky.
And when I say that I haven't seen any, I can say that no Hazebrouck resident saw any. You think that if Mr. Didelot, for example, had seen a guy who would have seen another who himself would have thought he saw a saucer, the whole town would be full of them.
If Mr. Didelot, who is a figaro by temperament and profession and an illusionist at times, has not seen one, we can conclude that there is none.
But some thought they saw it. Sunday afternoon, a plane flew over the city. It was Mr. Blondeel, secretary of the film club, who was taking aerial photos for the exhibition which will take place at Mr. Moffelein's. And as he was shaking (with emotion of course), the plane was vibrating. A sunburn on that and we were very close to those astral twinkles that tickle the retina right now and to so many of our contemporaries.
One evening, a Cassel gendarmerie sidecar returned from Arnčke. It was dark night. Sudden alert! The unusual noises, two horns shining in the headlights. The gendarmes believe they see horned Martians. They rush at the enemy. Alas, it was only a cow. The damage is considerable: a month of inability to verbalize and a lawsuit to the owner of the ruminant to whom we must no longer speak of Martians.
Until we see the real thing up close, it's going to be dangerous. The city walks with its nose in the air. No wonder there are so many accidents! The shoe merchants complain. Their business is in decline. No one cares about patent toes or high heels anymore. Stocking merchants are in the same predicament. We are talking about putting signs on top of telephone poles. It is also said that the new lamps will be turned over to be able to scan the sky and better see the saucers. The city council also has ideas of grandeur. The next meeting will be held in the attic, in front of the skylights. In the next elections, the competitors will have to be scrutinized. It is unacceptable for a municipal councilor to go unnoticed. Only Etienne Vierez has any chance of being able to stay. Although we find him very average. The other day, while hunting, he was aiming for a hare and he killed a partridge.
You can see that it can't go on any longer. We need a saucer to reassure us. If, by chance, you have acquaintances who have seen it, let them write to me. But tell them that anonymous letters will be returned to their sender unopened. There are things you shouldn't joke about.
Farewell.
P.S. -- The last news reported flying saucers in a cafe in the city, near the station. The information comes to us from Mr. Coppin. We leave full responsibility to him.
Explanations:
Negative case of journalistic invention.
Keywords:
(These keywords are only to help queries and are not implying anything.)
Arnčke, Nord, misintrepretation, gendarmes, Cassel, sidecar, cows, horns, Martians, occupants, reflections, eyes, humor, negative case
Sources:
[----] indicates sources that are not yet available to me.
[vdn1] Article in the regional newspaper La Voix du Nord, local issue of Hazebrouck, Nord, France, page 5, October 10, 1954.
Document history:
| Version: | Created/Changed by: | Date: | Change Description: |
| --- | --- | --- | --- |
| 1.0 | Patrick Gross | March 8, 2022 | First published. |