The 1954 French flap:
The index page for the 1954 French flap section of this website is here.
October 4, 1954, Crest, Drôme:
Reference number for this case: 4-Oct-54-Crest. Thank you for including this reference number in any correspondence with me regarding this case.
Reports:
[Ref. lpl1:] "LE PROVENCAL" NEWSPAPER: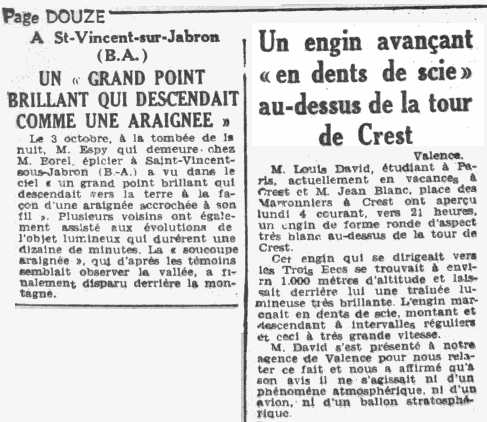 iN St-Vincent-sur-Jabron (B.A).
A "LARGE SHINING POINT WHICH DESCENDED LIKE A SPIDER"
October 3, at nightfall, Mr. Espy, who lives at Mr. Porel's, grocer in Saint-Vincent-on-Jabron (B.A.) saw in the sky "a great point shining which went down towards the ground the like a spider on its thread." Several neighbors also attended the evolutions of the luminous object which lasted ten minutes. The "spider saucer", which, according to the witnesses seemed to observe the valley, finally disappeared behind the mountain.
A craft advancing "in saw teeth" above the tower of Crest
Valence.
Mr. Louis David, student in Paris, currently on holiday in Crest and Mr. Jean Blanc, place des Marroniers in Crest saw, Monday 4 of this month, around 9 p.m., a craft of round form of very white aspect above the tower of Crest.
This craft which moved towards the Trois Eecs was at approximately 1.000 meters of altitude and left behind a very brilliant luminous trail. The craft went in saw-tooth, ascending and descending at regular intervals and this at very high speed.
Mr. David presented himself at our agency of Valence to report us this fact and affirmed to us that in his opinion it was neither an atmospheric phenomenon, neither a plane, nor a stratospheric balloon.
[Ref. lcn1:] LUC CHASTAN:
Luc Chastan notes in his database that in the Drôme at Crest on October 4, 1954 at 21:00 hours, "Two witnesses observed an object of round form above the tower of Crest. The object moved towards the trois becs leaving a luminous shining trail behind. It advanced in saw tooth, going up and down at regular intervals at high speed."
Luc Chastan indicates as source: "Le Provençal".
Explanations:
Not looked for yet.
Keywords:
(These keywords are only to help queries and are not implying anything.)
Crest, Drôme, Louis David, Jean Blanc, night, round, white, trail
Sources:
[----] indicates sources that are not yet available to me.
[lpl1] Article in the regional newspaper Le Provençal, France, page 12, October 7, 1954.
[lcn1] Base OVNI France, website by Luc Chastan, France, circa 2006, at baseovnifrance.free.fr/detobs.php?numobs=2629
Document history:
| Version: | Created/Changed by: | Date: | Change Description: |
| --- | --- | --- | --- |
| 0.1 | Patrick Gross | March 1, 2006 | First published. |
| 1.0 | Patrick Gross | March 16, 2009 | Conversion from HTML to XHTML Strict. First formal version. Additions [lcn1]. |