The 1954 French flap:
The index page for the 1954 French flap section of this website is here.
October 3, 1954, Pleyben, Finistère:
Reference for this case: 3-Oct-54-Pleyben.
Please cite this reference in any correspondence with me regarding this case.
Reports:
In the 1970s -1980s, a ufology group in the Finistère department, the GEPSI, cataloged - without specifying the sources - reports of observations generally from the regional press.
One of the cases was dated October 3, 1954, at 11:30 p.m., occurred in Pleyben in the Finistere, according to a press article titled "The flying cigar of Pleyben had rudder and navigation lights."
The article said that the luminous cigar had been spotted by "two reliable residents of Pleyben, certifying that they had no optical illusions", but who wished to remain anonymous.
The thing would have hovered at a height of about 500 to 600 meters above the square, "no doubt admiring the church and the calvary!"
It was yellow, a rudder appeared quite clearly on one end, as well as three navigation lights.
It was visible for about 15 seconds, and went away at "a dizzying speed", heading north, leaving behind "a drag similar to the phenomenon of condensation."
Reports:
[Ref. gei1:] "GEPSI" UFOLOGY GROUP: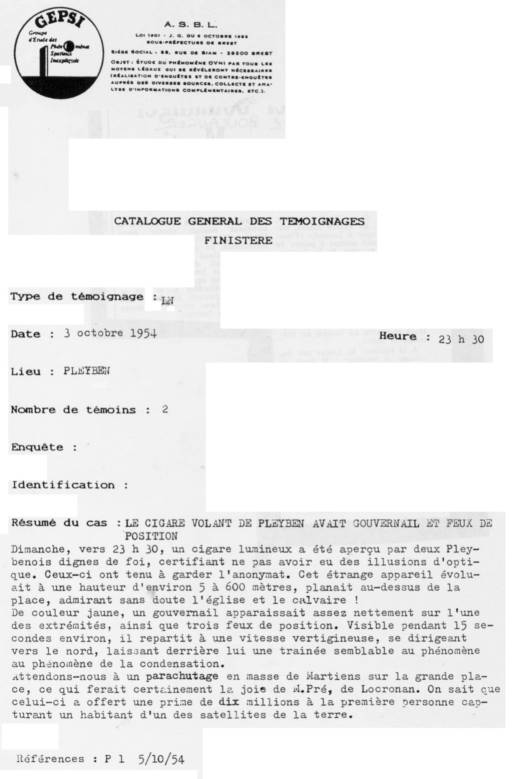 GEPSI
Groupe d'Etude des Phénomènes Spatiaux Inexpliqués [Unexplained Space Phenomena Study Group]
A.S.B.L.
1901 LAW- OFFICIAL JOURNAL OF OCTOBER 6, 1983
HEADQUARTERS [] RUE DE SIAM - 29200 BREST
OBJECT: STUDY OF THE UFO PHENOMENON BY ALL
LEGAL MEANS WHICH MAY PROVE NECESSARY
(INVESTIGATIONS AND COUNTER-INVESTIGATIONS
TO THE VARIOUS SOURCES, COLLECT AND ANA-
LYSIS OF ADDITIONAL INFORMATION, ETC.)
GENERAL CATALOGUE OF WITNESSES
FINISTERE
Type of testimony: NL [Nocturnal Light]
Date: October 3, 1954
Location: PLEYBEN
Number of witnesses: 2
Investigation:
Identification:
Time: 11:30 p.m.
Case summary: THE FLYING CIGAR OF PLEYBEN HAD HAD RUDDER AND NAVIGATION LIGHTS
Sunday, at about 11:30 p.m., a luminous cigar was seen by two residents of Pleyben worthy of faith, certifying not to have had optical illusions. They made a point of keeping anonymity. This strange apparatus evolved at a height of approximately 5 to 600 meters, hovering above the place, undoubtedly admiring the church and the martyrdom!
Of yellow color, a rudder appeared rather clearly on one of the ends, as well as three navigation lights. Visible during 15 seconds approximately, it set out again at a vertiginous speed, moving towards the north, leaving behind itself a trail similar to the phenomenon of condensation.
Let's wait for a mass parachuting of Martians on the main square, that would certainly cause the happiness of Mr. Pré, of Locronan. It is known that the latter offered a premium of ten million francs to the first person capturing an inhabitant of one of the satellites of the earth.
References: P 1 5/10/5
Note: The GEPSI casefile above is obviously the reproduction of an article from the Press of that time; which references are unfortunately not indicated.
[Ref. voi1:] "ARCHIVES VIGIE OVNI 29":
Pleyben ( 29 190 ), 03 October 1954, 23 h 30 ...
Testimony nr. FR 29 190 1954 10 03 23 30
Available documents:
Explanations:
This could have been a helicopter, unfortunately the presence or absence of sound was not indicated. The case remained confidential, until a reader sent me this source in 2005. There was obviously no investigation.
Keywords:
(These keywords are only to help queries and are not implying anything.)
Pleyben, Finistère, cigar, luminous, night, yellow, rudder, tail, lights, fires, duration, fast, trail
Sources:
[----] indicates sources that are not yet available to me.
[----] Unknown newspaper for October 5, 1954.
[gei1] File, GEPSI ufology group, the Finistère, France.
[voi1] Web page of the Archives Vigie OVNI 29 website, France, not dated, found in 2017, at https://ufo29.jimdo.com/de-2010-%C3%A0-2019-14/de-1950-%C3%A0-1959-29/1954-29
Document history:
| Version: | Created/Changed by: | Date: | Change Description: |
| --- | --- | --- | --- |
| 0.1 | Patrick Gross | December 2, 2005 | First published. |
| 1.0 | Patrick Gross | January 9, 2009 | Conversion from HTML to XHTML Strict. First formal version. |
| 1.1 | Patrick Gross | February 7, 2017 | Addition [voi1]. |
| 1.2 | Patrick Gross | May 22, 2019 | Addition of the Summary. Explanations changed, were "Not looked for yet." |