The 1954 French flap:
The index page for the 1954 French flap section of this website is here.
October 2 or 3, 1954, Wimereux, Pas-de-Calais:
Reference for this case: 2-Oct-54-Wimereux2.
Please cite this reference in any correspondence with me regarding this case.
Summary:
Mr. Emile Turpin, near Wimereux, allegedly photographed a flying saucer around 4 p.m. on October 2, 1954; which was the subject of - among other sources - an article in the magazine La Semaine du Nord for October 21-28, 1954.
It turns out that in this article, commenting on possible other testimonies which might have concurred with that of Emile Turpin, one and only one is given; which seems to have remained ignored in the UFO literature. The magazine said exactly this:
"... an inhabitant of Wimereux, of an already advanced age, complained that on the night of October 2 to 3, a Martian had woken him up from his sleep by climbing his balcony and shaking his shutters. "He had eyes all around his head. He was very small. He wore two red lights that seemed to send out rays of light from his chest..."
Reports:
[Ref. sen1:] "LA SEMAINE DU NORD" MAGAZINE: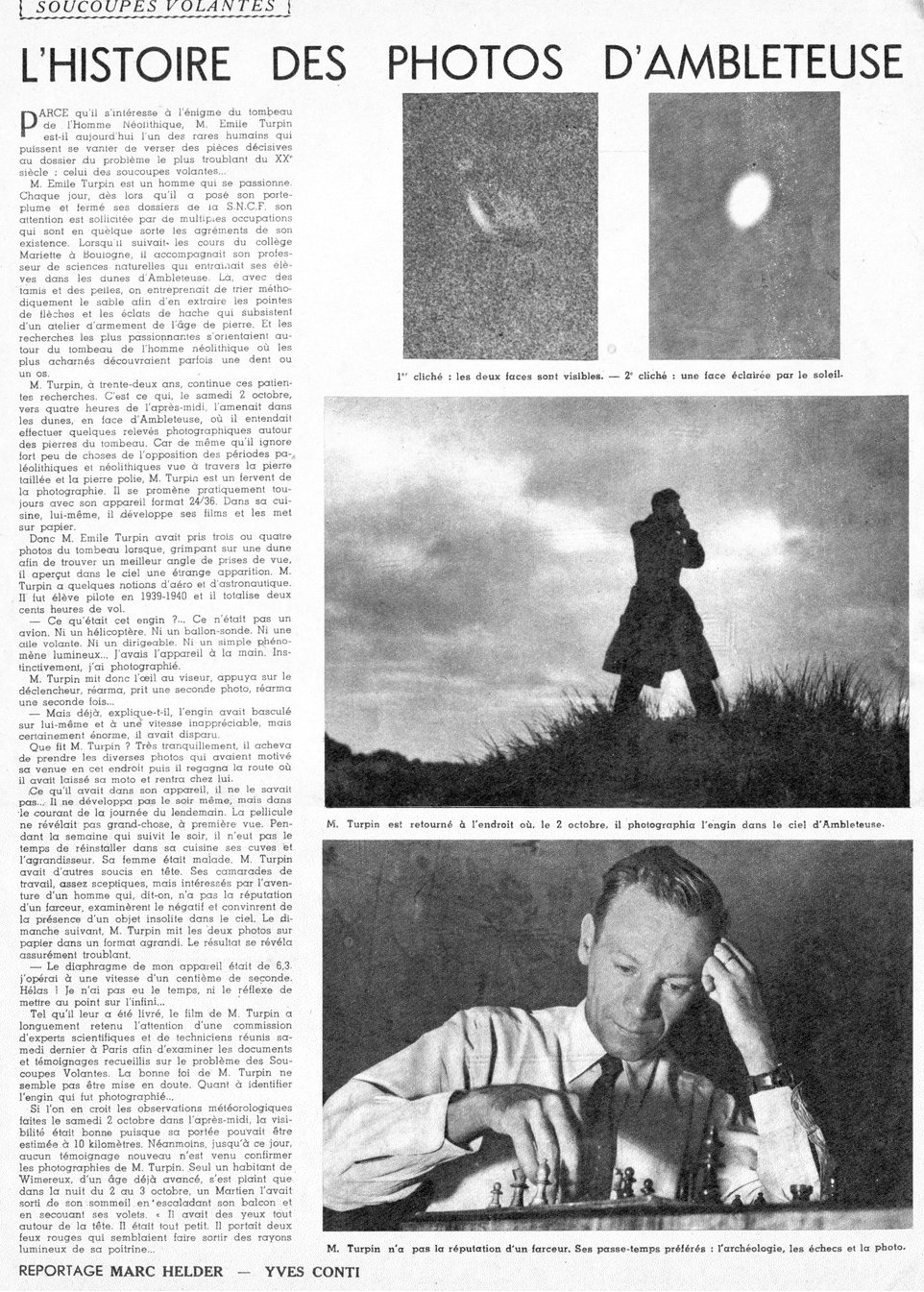 FLYING SAUCERS
THE STORY OF THE AMBLETEUSE PHOTOS
BECAUSE he is interested in the enigma of the tomb of the Neolithic Man, is Mr. Emile Turpin today one of the few humans who can boast of adding decisive documents to the most disturbing problem of the XXth century: that of the flying saucers...
Mr. Emile Turpin is a passionate man. Every day, once he has put down his pen and closed his S.N.C.F. file, his attention is called upon by multiple occupations which are in a way the pleasures of his existence. When he attended the Mariette college in Boulogne, he accompanied his natural sciences professor who brought his students in the Ambleteuse dunes. There, with sieves and shovels, they began to methodically sort the sand in order to extract the arrowheads and ax shards that remain from a stone age weapon workshop. And the most fascinating research was oriented around the tomb of the Neolithic man where the most ardent sometimes discovered a tooth or a bone.
Mr. Turpin, at the age of thirty-two, continues this patient research. This is what, on Saturday October 2, around four o'clock in the afternoon, brought him to the dunes, in front of Ambleteuse, where he intended to carry out some photographic surveys around the stones of the tomb. For just as he ignores very little of the contrast between the Paleolithic and Neolithic periods seen through cut stone and polished stone, Mr. Turpin is an enthusiast of photography. He almost always walks with his 24/36 format camera. In his kitchen, himself, he develops his films and puts them on paper.
So Mr. Emile Turpin had taken three or four photos of the tomb when, climbing on a dune to find a better angle of view, he saw a strange apparition in the sky. Mr. Turpin has a few notions of aeronautics and astronautics. He was a student pilot in 1939-1940 and he totaled two hundred hours of flight.
- What was this craft?... It was not a plane. Nor a helicopter. Nor a weather balloon. Nor a flying wing. Nor an airship. Nor a simple luminous phenomenon... I had the camera in my hand. Instinctively I photographed.
Mr. Turpin therefore put his eye on the viewfinder, pressed the shutter button, rearmed, took a second picture, rearmed a second time...
- But already, he explains, the craft had flipped over on itself and at an invaluable speed, but certainly enormous, it had disappeared.
What did Mr. Turpin do? Very quietly, he finished taking the various photos which had motivated his coming to this place then he regained the road where he had left his motorcycle and returned home.
What he had in his camera, he did not know... He did not develop the same evening, but during the following day. The film didn't reveal much at first glance. During the following week in the evening, he did not have time to reinstall his tanks and the enlarger in his kitchen. His wife was ill. Mr. Turpin had other concerns in mind. His workmates, quite skeptical, but interested in the adventure of a man who, it is said, does not have the reputation of a joker, examined the negative and agreed on the presence of an unusual object in the sky. The following Sunday, Mr. Turpin put the two photos on paper in an enlarged format. The result was undoubtedly disturbing.
- My camera's diaphragm was 6.3, I was operating at a speed of one hundredth of a second. Alas! I didn't have the time, nor the reflex to focus on infinity...
As it was delivered to them, Mr. Turpin's film attracted the attention of a commission of scientific experts and technicians who met last Saturday in Paris to examine the documents and testimonies collected on the problem of the Flying Saucers. Mr. Turpin's good faith does not appear to be in doubt. As for identifying the craft that was photographed...
If we are to believe the meteorological observations made on Saturday, October 2 in the afternoon, the visibility was good since its range could be estimated at 10 kilometers. However, to this day, no new testimony has come to confirm Mr. Turpin's photographs. Only one inhabitant of Wimereux, of an already advanced age, complained that on the night of October 2 to 3, a Martian had woken him out of his sleep by climbing up his balcony and shaking his shutters. "He had eyes all around his head. He was tiny, he wore two red lights that seemed to send out rays of light from his chest...
REPORT MARC HELDER - YVES CONTI
[Photo captions:]
1st photo: both sides are visible.
2nd phoo: a face lit by the sun.
Mr. Turpin returned to the place where, on October 2, he photographed the craft in the sky of Ambleteuse.
Mr. Turpin does not have the reputation of a prankster. His favorite hobbies: archeology, chess and photography.
Explanations:
Of course:
This story had absolutely no obvious connection with the alleged saucer in the sky photographed by Mr. Emile Turpin in the afternoon of October 2, 1954.
This story seems to have received no other mention.
This story seems quite dubious
The information is so poor that nothing certain can be said.
The old man's "Martian" may have been a real extraterrestrial visitor, or a journalists' invention, or an invention by the old man, or even an hypnagogic hallucination experienced by the old man.
Keywords:
(These keywords are only to help queries and are not implying anything.)
Wimereux, Martian, occupant, sleep, balcony, shutters, wraparound eyes, small, lights, red, beams, luminous, chest
Sources:
[----] indicates sources that are not yet available to me.
[sen1] Article in La Semaine du Nord magazine, France, #30, page 8, October 21-28, 1954.
Document history:
| Version: | Created/Changed by: | Date: | Change Description: |
| --- | --- | --- | --- |
| 0.1 | Patrick Gross | December 30, 2020 | First published. |