The 1954 French flap:
The index page for the 1954 French flap section of this website is here.
September 29, 1954, Montagney, Haute-Saône:
Reference number for this case: 29-Sep-54-Montagney. Thank you for including this reference number in any correspondence with me regarding this case.
Reports:
[Ref. ler1:] "L'EST REPUBLICAIN" NEWSPAPER: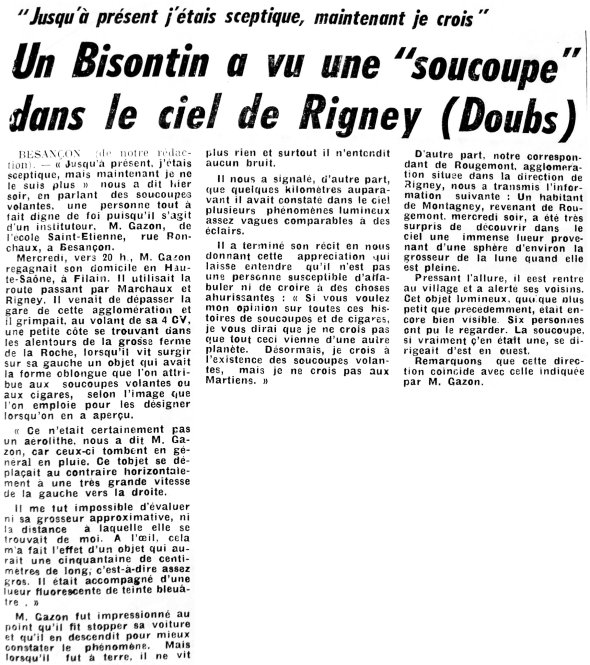 "Until now I was skeptical, now I believe"
A resident of Besançon saw a "saucer"
in the sky of Rigney (the Doubs)
Besancon (from our newsroom). -- "Until now, I was skeptical but now I am not skeptical anymore" told us yesterday evening, while speaking about the flying saucers, a person completely worthy of faith since he is a teacher, Mr. Gazon, of the Saint-Etienne school, street Ponchaux, in Besançon.
Wednesday, at approximately 8 p.m., Mr. Gazon was going back home in the Haute-Saône, in Filain. He used the road while passing by Marchaux and Rigney. He came to exceed the train station of this city and he climbed, at the wheel of his 4CV [popular compact car], the small hill near the big farm of la Roche, when he saw emerging on his left an object which had the oblong form that one allots to the flying saucers or the cigars, according to the image one employs to talk about them when one sees them.
"It was certainly not an aerolite, told us Mr. Gazon, for those fall generally in rain. This object moved on the contrary horizontally at a very high speed from the left to the right.
It was impossible for me to evaluate neither its approximate size, nor the distance to which it was from me. In the eye, it made me the effect of an object which would have been about fifty centimetres long; i.e. rather large. It was accompanied by a phosphorescent gleam of bluish colour."
Mr. Gazon was so much impressed that he stopped his car and went down for better noting the phenomenon. But when he was on the ground, he did not see anything any more and especially he did not hear any noise.
He announced to us, in addition, that a few kilometers before he had noticed in the sky several rather vague luminous phenomena comparable to flashes.
He finished his report by giving us this appreciation which implies that he is not a person likely to invent stories nor to believe in confusing things: "If you want my opinion on all these stories of saucers and cigars, I would say to you that I do not believe that all this comes from another planet. From now on, I believe in the existence of the flying saucers, but I do not believe in the Martians."
In addition, our correspondent of Rougemont, agglomeration located in the direction of Rigney, passed the following information to us: A resident of Montagney, coming back from Rougemont, Wednesday evening, was very surprised to discover in the sky an immense gleam coming from a sphere of approximately the size of the moon when it is full.
Going faster, he returned to the village and alerted his neighbors. This luminous object, though smaller than previously, was still quite visible. Six people managed to look at it. The saucer, if it were really one, moved from East to West.
Let us notice that this direction coincides with that indicated by Mr. Gazon.
[Ref. aml1:] AIME MICHEL:
Aimé Michel noted a number of sightings on September 29, 1954, and says there was one in Montagney.
He indicates that at 8 p.m., a resident of this small village 32 km in straight line from Besançon in the Doubs department, returning from Rougemont a few kilometers to the east, was surprised to see the night lighting up suddenly.
He looked up and saw in the sky going rather slowly from east to west a huge bright object the size of the full moon. He alerted other villagers who came out and saw the celestial object go away under the clouds to the west to disappear over the horizon.
Michel indicates his source is the Charles Garreau file.
[Ref. jve5:] JACQUES VALLEE:
| | | | | | | | | | | | | | |
| --- | --- | --- | --- | --- | --- | --- | --- | --- | --- | --- | --- | --- | --- |
| 161 | -006.30621 | 47.47950 | 29 | 09 | 1954 | 20 | 00 | 101 | MONTAGNEY | F | 1517 | C** | 154 |
[Ref. lhh1:] LARRY HATCH - "*U* COMPUTER DATABASE":
3864: 1954/09/29 20:00 1 6:18:40 E 47:28:40 N 3333 WEU FRN DBS 5:5
MONTAGNEY,25,FR:MULTIPLE OBS:HUGE BRITE UFO LITES COUNTRYSIDE:E>>W:
Ref# 49 MICHEL,Aime: FS & STRAIGHT LINE TH: Page No. 96 : PASTURE
[Ref. lcn1:] LUC CHASTAN:
Luc Chastan indicates that in the Haute Saone in Montagney on September 29, 1954 at 20:00 hours "A resident returned from Rougemont when suddenly the night is illuminated. Looking up, he sees in the sky going from east to west at a slow pace, an enormous luminous object of the size of the full moon. He alerted the other villagers and all managed to see the object moving away under the clouds and disappearing at the horizon."
The source is indicated as "M.O.C. par Michel Aimé ** Arthaud 1958".
[Ref. ubk1:] "UFO-DATENBANK":
This database recorded this case three times:
| Case Nr. | New case Nr. | Investigator | Date of observation | Zip | Place of observation | Country of observation | Hour of observation | Classification | Comments | Identification |
| --- | --- | --- | --- | --- | --- | --- | --- | --- | --- | --- |
| 19540929 | | | 29.09.1954 | | Montagney | France | 20.00 | | | |
| 19540929 | | | 29.09.1954 | | Montagney | France | 20.00 | NL | | |
| 19540929 | | | 29.09.1954 | | Montagney | France | 20.00 | NL | | |
Explanations:
Maybe the September 29, 1954, meteor, about 08:30 p.m.
Keywords:
(These keywords are only to help queries and are not implying anything.)
Montagney, Haute-Saône, Rougemont, night, luminous, enormous, multiple
Sources:
[----] indicates sources that are not yet available to me.
[ler1] Article in the newspaper L'Est Républicain, France, October 2, 1954.
[----] French ufologist Charles Garreau's file.
[aml1] "Mystérieux Objets Célestes", book by Aimé Michel, Arthaud publisher, France, 1958.
[aml1] "Flying Saucers and the Straight-Line Mystery", book by Aimé Michel, English version of "Mystérieux Objets Célestes", S.G. Phillips publisher, USA, 1958.
[jve5] "Catalogue préliminaire de 500 observations", listing in "Les Phénomènes Insolites de l'Espace", book by Jacques and Jannine Vallée, Table Ronde publisher, France, 1966.
[aml1] "A Propos des Soucoupes Volantes - Mystérieux Objets Célestes", book by Aimé Michel, Planète publishers, France, page 122, 1966.
[aml1] "Mystérieux Objets Célestes", book by Aimé Michel, Seghers publisher, France, page 134, 1977.
[aml1] "Mystérieux Objets Célestes", book by Aimé Michel, Robert Laffont publisher, France, page 134, 1978.
[jve5] "Catalogue préliminaire de 500 observations", listing in "Les Phénomènes Insolites de l'Espace", book by Jacques and Jannine Vallée, Robert Laffont publisher, France, page 249, 1978.
[lhh1] "*U* Computer Database", database by Larry Hatch, USA, circa 2002.
[lcn1] Base OVNI France, website by Luc Chastan, France, circa 2005, at baseovnifrance.free.fr/listgen.php?typlist=2&page=27&numobs=2429
[ubk1] Online database UFO-Datenbank, Germany, found in 2016, at ufodatenbank.de
Document history:
| Version: | Created/Changed by: | Date: | Change Description: |
| --- | --- | --- | --- |
| 1.0 | Patrick Gross | February 27, 2010 | First published. |
| 1.1 | Patrick Gross | May 25, 2010 | Addition [ler1]. Change of explanation from "Not looked for yet. Possible meteor" to "Probably the meteor of that day". |
| 1.1 | Patrick Gross | June 19, 2010 | Addition [jve5]. |
| 1.2 | Patrick Gross | September 30, 2014 | Addition [aml1]. Explanation changed from "Probably the meteor of that day" to "Maybe the September 29, 1954, meteor, about 08:30 p.m." |
| 1.3 | Patrick Gross | February 10, 2017 | Addition [ubk1]. |