The 1954 French flap:
The index page for the 1954 French flap section of this website is here.
September 28, 1954, Marseille, Bouches-du-Rhône:
Reference for this case: 28-Sep-54-Marseille.
Please cite this reference in any correspondence with me regarding this case.
Summary:
In an article in the regional newspaper Le Provençal, of Marseilles, for September 30, 1954, one learns that "Tuesday in the night" - thus on September 28, 1954 - several people had phoned to report "that a round, luminous craft had been seen off Marseilles, above the Planier lighthouse."
The newspaper told that the "saucer" stopped for a few seconds to the right of the lighthouse and disappeared to the north.
Reports:
[Ref. lpl1:] NEWSPAPER "LE PROVENCAL":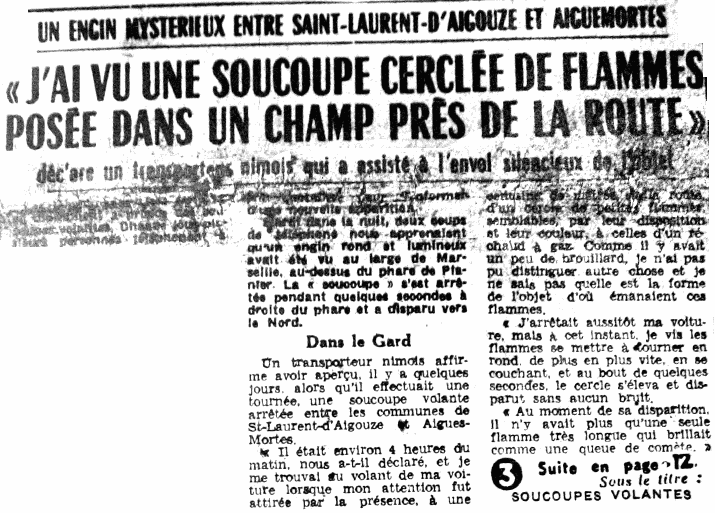 A MYSTERIOUS CRAFT BETWEEN SAINT-LAURENT-D'AIGOUZE AND AIGUEMORTE
"I HAVE SEEN A SAUCER CIRCLED OF FLAMES POSED IN A FIELD CLOSE TO THE ROAD"
states a conveyor of Nimes who attended the silent take-off of the object
[illegible] several people phoned [illegible] to inform of a new appearance.
Tuesday in the night, two phone calls taught us that a round and luminous machine had been seen off Marseille, above the Planier lighthouse. The "saucer" stopped during a few seconds at the right of the headlight and disappeared towards the North.
In the Gard
A conveyor from Nimes claims to have seen, a few days ago, whereas he was on his tour, a flying saucer stopped between the communities of St-Laurent-d'Aigouze and Aigues-Mortes.
"It was approximately 4 hours of the morning, he told us, and I was at the steering wheel of my car when my attention was drawn by the presence, at a hundred meters of the road, of a circle of small flames, similar, by their distribution and their color, with those of a gas ring. As there was a little fog, I could not distinguish more and I do not know which is the shape of the object from where these flames emanated.
"I stopped my car at once, but at this moment, I saw the flames start to turn in round, faster and faster, while lying down, and at the end of a few seconds, the circle rose and disappeared without any noise.
"At the time of its disappearance, there was nothing any more but only one very long flame which shone like a comet tail."
Continuation on page 12 under the title:
FLYING SAUCERS
Explanations:
The lighthouse projector on a cloud layer is a possible explanation.
Keywords:
(These keywords are only to help queries and are not implying anything.)
Marseille, Bouches-du-Rhône, night, multiple, round, luminous, lighthouse, Planier, stop, movement
Sources:
[----] indicates sources that are not yet available to me.
[lpl1] Article in the regional newspaper Le Provençal, Marseille, France, page 1 and 12, September 30, 1954.
Document history:
| Version: | Created/Changed by: | Date: | Change Description: |
| --- | --- | --- | --- |
| 0.1 | Patrick Gross | March 19, 2006 | First published. |
| 1.0 | Patrick Gross | February 21, 2010 | Conversion from HTML to XHTML Strict. First formal version. |
| 1.1 | Patrick Gross | September 29, 2019 | Addition of the Summary. |