The 1954 French flap:
The index page for the 1954 French flap section of this website is here.
October 26, 1954, Pont-sur-Sambre, Nord:
Reference number for this case: 26-Oct-54-Pont-sur-Sambre. Thank you for including this reference number in any correspondence with me regarding this case.
Summary:
Reports:
[Ref. nmn1:] "NORD-MATIN" NEWSPAPER: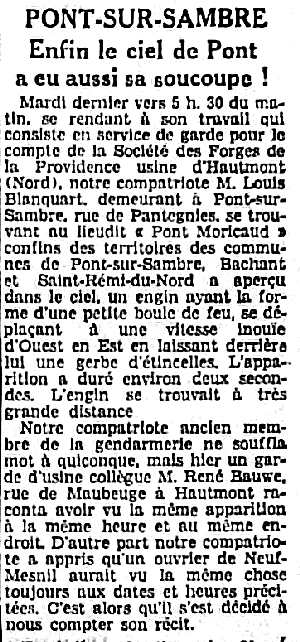 PONT-SUR-SAMBRE
Finally the sky of Pont
also had his saucer!
Last Tuesday around 5:30 in the morning, going to his work which consists of watch service on behalf of the Société des Forges de la Providence factory of Haumont (Nord), our compatriot Mr. Louis Blanquart, residing in Pont-sur-Sambre, rue de Pantegnies, located at a place called "Pont Mauricaud" bordering the territories of the municipalities of Pont-sur-Sambre, Bachant, and Saint-Rémy-du-Nord saw in the sky, a craft having the form of a small ball of fire, moving at an incredible speed, from West to East, while leaving behind a shower of sparks. The appearance lasted approximately 2 seconds. The object was at a very great distance.
Our compatriot, former member of the gendarmerie, did not say a word to anyone, but yesterday a factory keeper colleague Mr. René Bauwe, street from Maubeuge to Hautmont said he saw the same apparition at the same time and in the same place. Also, our compatriot learned that a worker from Neuf-Mesnil would have seen the same thing still on the dates and times mentioned above. It was then that he decided to tell us his story.
Explanations:
Not looked for yet.
Keywords:
(These keywords are only to help queries and are not implying anything.)
Pont-sur-Sambre, Nord, René Bauwe, guard, factory
Sources:
[----] indicates sources that are not yet available to me.
[nmn1] Article in the regional newspaper Nord-Matin, Avesnes issue, Nord - Pas-de-Calais, France, page 3, October 30, 1954.
Document history:
| Version: | Created/Changed by: | Date: | Change Description: |
| --- | --- | --- | --- |
| 1.0 | Patrick Gross | May 11, 2020 | First published. |