The 1954 French flap:
The index page for the 1954 French flap section of this website is here.
October 17, 1954, Iwuy, Nord:
Reference number for this case: 17-Oct-54-Iwuy. Thank you for including this reference number in any correspondence with me regarding this case.
Summary:
The regional newspaper Nord-Matin, in the Cambrai edition for October 21, 1954, on page 3, reported that during the night "from Sunday to Monday", therefore the night of October 5 to 6, 1954, workers on shift at the sugar refinery had spotted an object moving at a very high speed.
Reports:
[Ref. nmn1:] "NORD-MATIN" NEWSPAPER: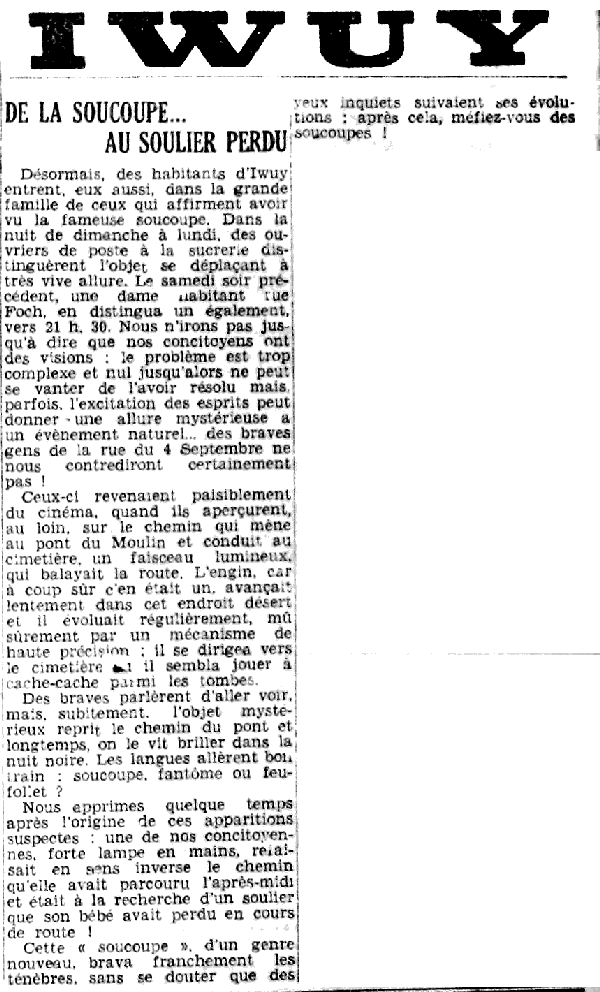 IWUY
FROM THE SAUCER...
TO THE LOST SHOE
Now, residents of Ywui also join the large family of those who claim to have seen the famous saucer. In the night from Sunday to Monday, shift workers at the sugar refinery saw the object moving at high speed. The previous Saturday evening, a lady living on rue Foch, also distinguished one, around 9:30 p.m. We will not go so far as to say that our fellow citizens have visions: the problem is too complex and no one until now can boast of having solved it but sometimes, the excitement of the minds can give a mysterious allure to a natural event... the good people on the street of September 4 will certainly not contradict us!
The latter were returning peacefully from the movies, when they saw, in the distance, on the path which leads to the Pont du Moulin and leads to the cemetery, a beam of light that swept the road. The craft, because for sure it was a craft, advanced slowly in this deserted place and it moved regularly, surely moved by a high precision mechanism: it went towards the cemetery where it seemed to play hide and seek among the graves.
Brave men spoke of going to see, but suddenly the mysterious object took the road to the bridge and for a long time one saw it shine in the dark night. The tongues were used well: saucer, ghost or wisp?
One learned some time later of the origin of these suspicious appearances: one of our female fellow citizens, strong flashlight in hand, was going back in the opposite direction the path she had traveled in the afternoon and was looking for a shoe that her baby had lost along the way!
This saucer, of a new kind, frankly braves the darkness without suspecting that worried misters followed its maneuvers; after that, beware of the saucers!
Explanations:
Totally insufficient information.
Keywords:
(These keywords are only to help queries and are not implying anything.)
Iwuy, Nord, night, workers, sugar refinery, object, fast
Sources:
[----] indicates sources that are not yet available to me.
[nmn1] Article in the regional newspaper Nord-Matin, Údition de Cambrai, Nord - Pas-de-Calais, France, page 3, October 21, 1954.
Document history:
| Version: | Created/Changed by: | Date: | Change Description: |
| --- | --- | --- | --- |
| 1.0 | Patrick Gross | May 11, 2020 | First published. |