The 1954 French flap:
The index page for the 1954 French flap section of this website is here.
October 14, 1954, Carpentras, Vaucluse:
Reference for this case: 14-Oct-54-Carpentras.
Please cite this reference in any correspondence with me regarding this case.
Summary:
The regional newspaper Le Provençal, dated October 17, 1954, reported on page 9, via their press correspondent in Carpentras, that on Thursday evening, thus on October 14, 1954, around 6 p.m., several people had seen from the Peyguière district, "a craft that crossed the sky west of Carpentras, shaped like a cigar, shining, and seeming to let go sparks behind it."
In 1979, the "skeptical" ufologists Barthel and Brucker noted that there was no investigation, and that it is the obvious description of a fireball.
Later in 1979, the ufologists Michel Figuet and Jean-Louis Ruchon noted the case as reported in the newspaper and indicated that all observations around 6 p.m. that day were obviously about an object at very high altitude, seen simultaneously from very distant places, and that it was probably a big meteor, from the descriptions.
Later, the case was published in a catalogue and on the Web without the explanation.
Reports:
[Ref. lpl1:] NEWSPAPER "LE PROVENCAL":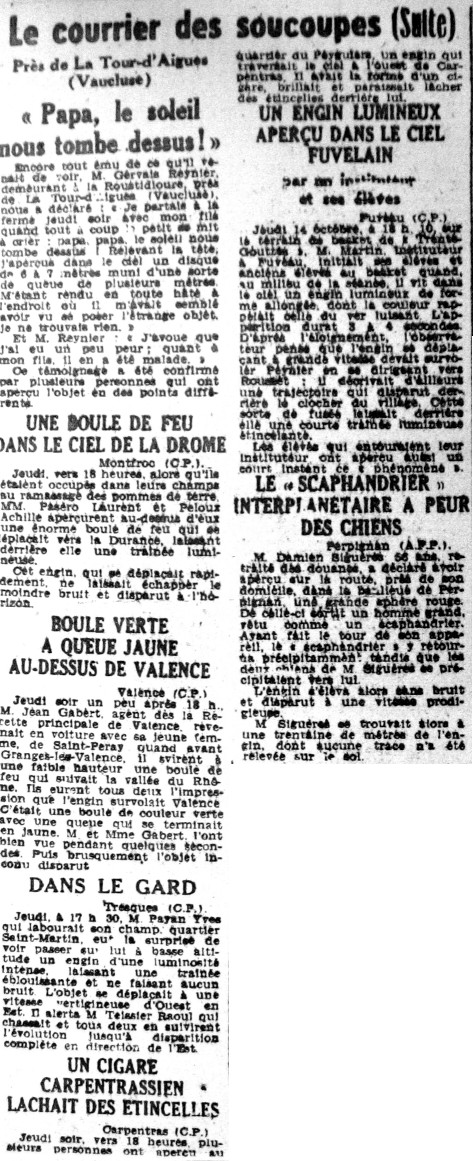 Flying saucer courier (Continued)
Near la Tour-d'Aigues
The Vaucluse
"Daddy, the sun is falling upon us!"
Looking up, I saw in the sky a disc from 6 to 7 meters provided with a kind of tail of several meters. Having gone in all haste at the place where it had seemed to me that the strange machine had landed, I did not find anything."
And M. Reynier adds: "I acknowledge that I was a little afraid; as for my son, he was sick with it."
This testimony was confirmed by several people who saw the object from different places.
A BALL OF FIRE
IN THE SKY OF THE DROME
Valence (C.P.)
Thursday night a little after 6 p.m., Mr. Jean Gabert, agent of the principal receipt of Valence, returned by car with his young woman, from Saint-Perey when before Grange-les-Valence, they saw at a low height a ball of fire which followed the valley of the Rhone. They both had the impression that the machine flew over Valence. It was a ball of green color with a tail that ended in yellow color. Mr. and Mrs. Gabert saw it well during a few seconds. Then suddenly the unknown object disappeared.
IN THE GARD
Tresques (C.P.)
Thursday, at 05:30 p.m., Mr. Payan Yves, who was plowing his field, Saint Martin district, had the surprise to see passing above him at low altitude a machine of an intense luminosity, leaving a dazzling trail and not making any noise. The object moved at a vertiginous speed from West to East. He alerted Mr. Teissier Raoul who was hunting and both followed its flight until complete disappearance in direction of the east.
A CIGAR
IN CARPENTRAS
DROPPED SPARLES
Carpentras (C.P.)
Thursday evening, around 6 p.m., several people saw from the district of Peyguière, a machine which crossed the sky west of Carpentras. It had the shape of a cigar, shone, and appeared to drop sparks behind.
A LUMINOUS CRAFT
SEEN IN THE SKY
OF FUVEAU
by a schoolteacher and his pupils
Fuveau (C.P.)
Thursday, October 14, at 6:10 p.m., on the ground of basket-ball of "Trente-Gouttes", Mr. Martin, schoolteacher in Fuveau, initiated his pupils and alumni to basket-ball when, in the middle of the meeting, he saw in the sky a luminous machine of lengthened form, whose color reminded that of the glow-worms. The appearance lasted 3 to 4 seconds. According to the distance, the observer thinks that the machine was moving at high speed to fly over Peynier while moving towards Rousset; besides he described a trajectory which disappeared behind the village's bell-tower. This kind of rocket left behind a short luminous sparkling trail.
The pupils who surrounded their teacher also saw for a short moment this "phenomenon".
THE INTERPLANETARY "DIVER"
IS AFRAID
OF THE DOGS
Perpignan (A.F.P.).
M. Damien Siguères 56 years old, retired customs officer, stated to have seen on the road, close to his home, in the suburbs of Perpignan, a large red sphere. A tall man came out of it, dressed like a diver. Having made a tour of his apparatus, the "diver" went back inside hurriedly while Mr. Siguères' two dogs were rushing towards him.
The machine then rose without noise and disappeared at an extraordinary speed.
Mr. Siguères was then at about thirty meters of the machine, of which no trace was found on the ground.
[Ref. vau3:] UFOLOGY BULLETIN "VAUCLUSE UFOLOGIE":
[... other cases...]
23) 10/17/54 - 06:00 p.m. - Carpentras.
[... other cases...]
[Ref. vau4:] UFOLOGY BULLETIN "VAUCLUSE UFOLOGIE":
THE SECTION OF THE FIFTIES.
With Vaucluse Ufologie #7, we gave you the list of all the cases of observation that we had for the period of the fifties, from 1950 to 1959. But since this publication we have been able to update this list, complete it and, sometimes, specify it further. It is above all because Jean Pierre Troadec endeavored to update his file for this period, with the aim of compiling a catalog of all the cases of UFO sightings on the Vaucluse that GREPO will make known in some time in a special issue of our bulletin, which I can give you today a new list. This new list obviously eliminates the previous one which contained many date errors, but it is still imprecise in certain cases. I hope that it can serve you usefully, or even generate investigations or counter-investigations; and, if you have new elements or other cases that we do not have, let us know and I will communicate them in this section with your references.
[... other cases...]
15° - 10/14/54 - 06:00 p.m. - Carpentras. A cigar-shaped object.
[...]
25° - 10/17/54 - 06:00 p.m. - Carpentras. According to the press. [A handwritten correction indicates that case 25° is case 15°]
[Ref. bbr1:] GERARD BARTHEL AND JACQUES BRUCKER:
The two authors note this case of October 14, 1954:
"Carpentras - 84 - 6 p.m.: no investigation. Obvious description of a fireball."
[Ref. fru1:] MICHEL FIGUET AND JEAN-LOUIS RUCHON:
These two authors indicate that on October 14, 1954 at 06:00 p.m., a shining object in the shape of a cigar, releasing sparks behind itself, was seen in Carpentras in the department of Vaucluse.
The authors note that all the observations at 6 p.m. that day obviously refer to an object at very high altitude, seen simultaneously from very distant places, which is probably a large meteor according to descriptions.
[Ref. vau1:] "VAUCLUSE UFOLOGIE" UFOLOGY BULLETIN:
THURSDAY OCTOBER 14, 1954 - 6 p.m.
CARPENTRAS
Reference 7
That day around 6 p.m., several people observe in the Peyguiers neighborhood a craft that crosses the sky west of Carpentras. It has the shape of a cigar, shines and seems to release sparks behind.
"Référence 7" renvoie à "Le Provençal".
[Ref. lhh1:] LARRY HATCH - "*U* COMPUTER DATABASE":
4100: 1954/10/14 00:00 1 5:02:40 E 44:03:40 N 3331 WEU FRN VCL 6:6
CARPENTRAS,VAUCLUSE,FR:BRILLIANT CGR SHOOTS OUT LITES or SPARKS/REAR
Ref# 30 FIGEUT[sic]&RUCHON: OVNI: Le 1er Dossier Page No. 167 : MOUNTAINS
[Ref. lcn1:] LUC CHASTAN:
Luc Chastan indicates in his database that in the Vaucluse in Carpentras on October 14, 1954 at 18:00 hours, there was an "Shining object in the shape of a cigar releasing sparks behind it."
The source is noted: "Ovni, Premier dossier complet... by Figuet M./ Ruchon J.L. ** Alain Lefeuvre pub. 1979".
Explanations:
The 06:13 p.m. meteor of that day.
Keywords:
(These keywords are only to help queries and are not implying anything.)
Carpentras, Vaucluse, object, shining, cigar, sparks, trail
Sources:
[----] indicates sources that are not yet available to me.
Document history:
| Version: | Created/Changed by: | Date: | Change Description: |
| --- | --- | --- | --- |
| 0.1 | Patrick Gross | May 1, 2005 | First published. |
| 1.0 | Patrick Gross | April 8, 2009 | Conversion from HTML to XHTML Strict. First formal version. Additions [lcn1]. |
| 1.1 | Patrick Gross | October 17, 2016 | Addition [lpl1]. |
| 1.2 | Patrick Gross | July 15, 2019 | Addition [lhh1], Summary. |
| 1.3 | Patrick Gross | August 10, 2019 | Addition [vau1]. |
| 1.4 | Patrick Gross | July 9, 2022 | Additions [vau3], [vau4]. |