UFOs in the daily Press:
The "mysterious airship" wave in the New Zealand Press, 1909:
The article below was published in the daily newspaper Wanganui Herald, New Zealand, Volume XXXXIV, Issue 12833, page 5, on July 28, 1909.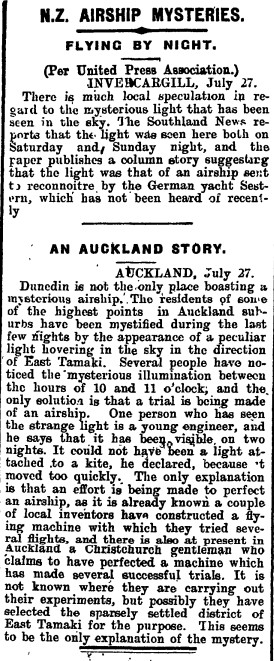 N.Z. AIRSHIP MYSTERIES.
FLYING BY NIGHT.
(Per United Press Association.)
INVERCARGILL, July 27.
There is much local speculation in regard to the mysterious light that has been seen in the sky. The Southland News reports that the light was seen here both on Saturday and Sunday night, and the paper publishes a column story suggesting that the light was that of an airship sent to reconnoitre by the German yacht Sestern, which has not been heard of recently.
AN AUCKLAND STORY.
AUCKLAND, July 27.
Dunedin is not the only place boasting a mysterious airship. The residents of some of the highest points in Auckland suburbs have been mystified during the last few nights by the appearance of a peculiar light hovering in the sky in the direction of East Tamaki. Several people have noticed the mysterious illumination between the hours of 10 and 11 o'clock; and the only solution is that a trial is being made of an airship. One person who has seen the strange light is a young engineer, and he says that it has been visible on two nights. It could not have been a light attached to a kite, he declared, because it moved too quickly. The only explanation is that an effort is being made to perfect an airship, as it is already known a couple of local inventors have constructed a flying machine with which they tried several flights, and there is also at present in Auckland a Christchurch gentleman who claims to have perfected a machine which has made several successful trials. It is not known where they are carrying out their experiments, but possibly they have selected the sparsely settled district of East Tamaki for the purpose. This seems to be the only explanation of the mystery.