UFOs in the daily Press:
UFO reports in France, 1985:
The article below was published in the daily newspaper Sud Ouest, France, on February 4, 1985.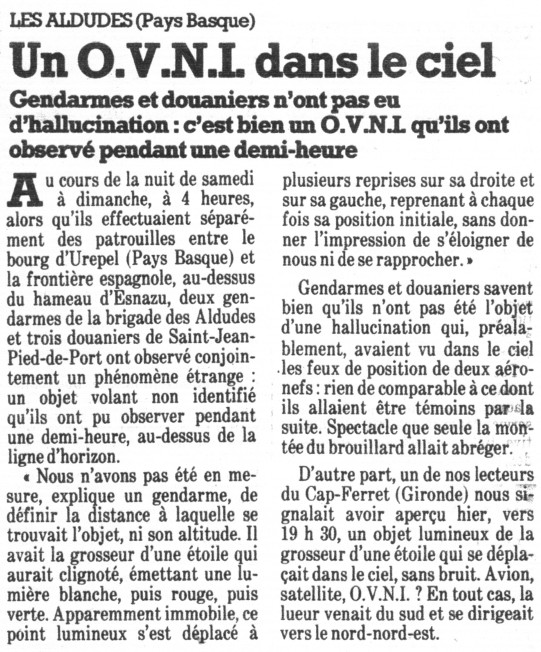 THE ALDUDES (Basque Country)
A U.F.O. in the sky
Gendarmes and customs officers did not
hallucinate: it is a U.F.O. that they
observed for half an hour
During the night from Saturday to Sunday at 4:00, while conducting patrols separately between the town of Urepel (Basque Country) and the Spanish border, above the hamlet of Esnazu two police officer from the Aldudes squad and three customs officers of Saint-Jean-Pied-de-Port jointly observed a strange phenomenon: an unidentified flying object they saw for half an hour above the horizon.
"We have not been able, said a policeman, to determine the distance at which the object was, and its altitude. It was the size of a star that flashed, emitting white light, then red, then green light. Apparently motionless, this bright spot shifted several times on its right and on its left, each time resuming its original position without appearing to move away from us or to get closer."
Gendarmes and customs officers know they have not been the subject of a hallucination as previously they did see in the sky the position lights of two aircraft: nothing like what they were going to be witnesses later. The show only ended at the rising of mist.
On the other hand, one of our readers from Cap-Ferret (Gironde) told us he has seen yesterday around 07:30 p.m., a bright object the size of a star that moved in the sky, without noise. Aircraft, satellite, U.F.O.? In any case, the light came from the south and was heading north-northeast.
Note: what the officers described looks pretty much like a star diffracted through an icy cloud layer.