UFOs in the daily Press:
UFO in Talence, the Gironde, France, 1980:
The article below was published in the daily newspaper Sud Ouest, France, on April 4, 1980.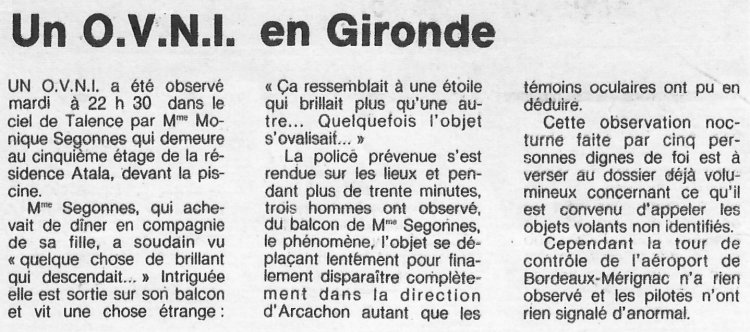 A UFO in Gironde
A UFO was observed Tuesday [thus April 1, 1980] at 10:30 p.m. in the sky of Talence by Mrs. Monique Segonnes who lives on the fifth floor of the residence Atala, in front of the swimming pool.
Mrs. Segonnes, who was finishing dinner with her daughter, suddenly saw "something brilliant coming down..." Intrigued she went out on her balcony and saw a strange thing:
"It looked like a star that shone more than another... Sometimes the object was turned upside down."
The police, alerted, went to the locaion and for more than thirty minutes, three men observed from the balcony of Mrs. Segonnes the phenomenon, the object moving slowly, finally disappearing completely in the direction of Arcachon as much as the eyewitnesses could deduce.
This nocturnal observation by five reliable persons is to be added to the already voluminous file on so-called unidentified flying objects.
However the control tower of the Bordeaux-Mérignac airport did not observe anything and the pilots did not report anything abnormal.
Note:
At this date at 10:30 p.m., planet Venus was low on the horizon (11°) and in the direction 291°, setting down. The witnesses speak of a disappearance in the direction of Arcachon "as much as the eyewitnesses could deduce", so, around 251°. This and the description of a "star shining more than another" obviously suggests that the UFO was probably Venus.