Kenneth Arnold's sighting
Kenneth Arnold sighting report in the Press:
The article below was published in the newspaper The San Mateo Times, San Mateo, California, USA, on page 1, on August 2, 1947.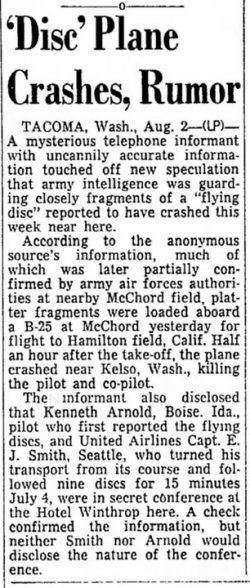 'Disc' Plane Crashes, Rumor
TACOMA, Wash., Aug. 2 -- (UP) -- A mysterious telephone informant with uncannily accurate information touched off new speculation that army intelligence was guarding closely fragments of a "flying disc" reported to have crashed this week near here.
According to the anonymous source's information, much of which was later partially confirmed by army air forces authorities at nearby McChord field, platter fragments were loaded aboard a B-25 at McChord yesterday for flight to Hamilton field, Calif. Half an hour after the take-off, the plane crashed near Kelso, Wash., killing the pilot and co-pilot..
The informant also disclosed that Kenneth Arnold, Boise, Ida., pilot who first reported the flying discs, and United Airlines Capt. E. J. Smith who turned his transport off its course and followed nine discs for 15 minutes July 4, were in secret conference at the Hotel Winthrop here. A check confirmed the information, but neither Smith nor Arnold would disclose the nature of the conference.
To: Kenneth Arnold or Newspapers 1940-1949.