UFOs in the daily Press:
The 1954 French flap in the Press:
The article below was published in the daily newspaper La Liberté, Nord, France, page 6, on October 9, 1954.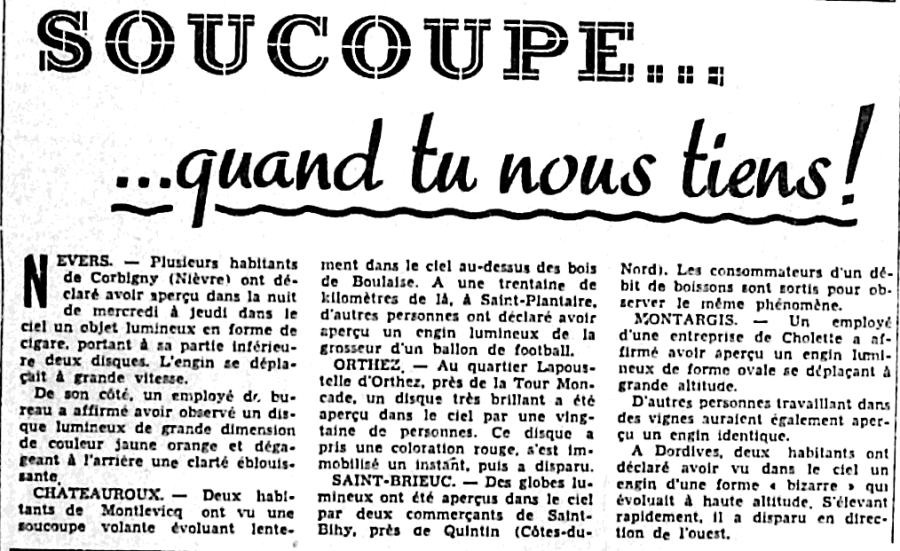 SAUCER...
... when you gotta hold on us
NEVERS. -- Several residents of Corbigny (Nièvre) stated they saw in the night from Wednesday to Thursday in the sky a luminous object in the shape of a cigar, carrying at its lower part two discs. The craft was moving at high speed.
For his part, an office worker claimed to have observed a large, luminous disc of orange-yellow color with a dazzling clarity at the back.
CHATEAUROUX. -- Two residents of Montlevicq saw a flying saucer moving slowly in the sky above the Bois de Boulaise woods. Thirty kilometers away, in Saint-Plantaire, other people said they saw a luminous object the size of a soccer ball.
ORTHEZ. -- In the Lapoustelle district of Orthez, near the Moncade tower, a very bright disc was seen in the sky by approximately twenty people. This disc took a red color, stopped for a moment, then disappeared.
SAINT-BRIEUC. -- Glowing globes were seen in the sky by two traders from Saint-Bihy, near Quintin (Côtes-du-nord). Consumers of a drinking establishment went out to observe the same phenomenon.
MONTARGIS. -- An employee of a Cholette company claimed to have seen an oval shaped luminous craft moving at high altitude.
Other people working in the vineyards reportedly also saw an identical craft.
In Dordives, two residents stated that they had seen in the sky a bizarre object that was moving at high altitude. Rising rapidly, it disappeared towards the west.