UFOs in the daily Press:
The 1954 French flap in the Press:
The article below was published in the daily newspaper La Voix du Nord, Údition locale de Cambrai, France, page 5, le 13 octobre 1954.
See the case file.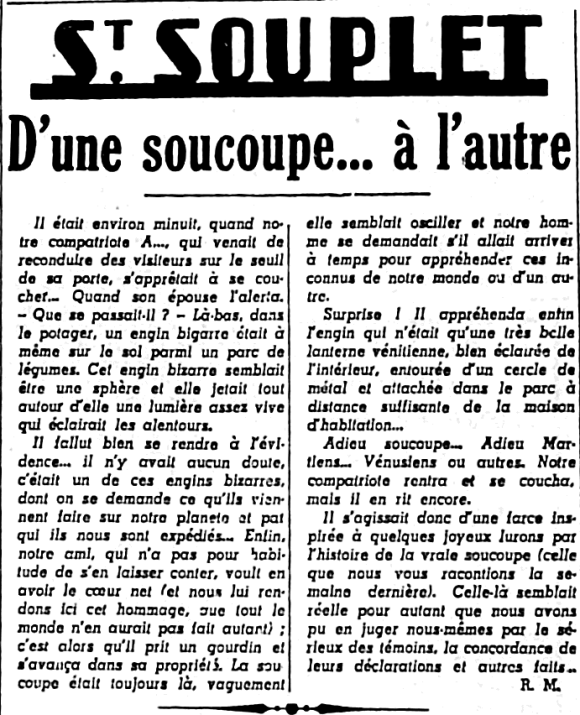 St.SOUPPLET
From one saucer... to the other
It was around midnight, when our compatriot A..., who had just escorted visitors to his doorstep, was getting ready to go to bed... When his wife alerted him.
- What's going on? - Over there, in the vegetable garden, a strange craft was on the ground among a park of vegetables. This bizarre device seemed to be a sphere and it threw quite a bright light all around it which lit up the surroundings.
One had to face the facts... there was no doubt, it was one of those weird craft about which we wonder what they come to do on our planet and by whom they are sent... Finally, our friend, who is not used to being told about it, wanted to be clear about it (and we pay him this tribute here, not everyone would have done that); it was then that he took a club and walked into his property. The saucer was still there, vaguely it seemed to oscillate and our man wondered if he would arrive in time to catch these strangers from our world or from another world.
Surprise! He finally apprehended the machine which was only a very beautiful Venetian lantern, well lit from the inside, surrounded by a metal circle and attached in the park at a sufficient distance from the dwelling house ...
Farewell saucer... Farewell Martians... Venusians or others. Our compatriot came home and went to bed, but he still laughed about it.
It was therefore a farce inspired to a few happy fellows by the story of the real saucer (the one we told you last week). This one seemed real as far as we could judge ourselves by the seriousness of the witnesses, the consistency of their statements and other facts...
R.M.