UFOs in the daily Press:
UFO in Alsace, 1978:
The article below was published in the daily newspaper L'Alsace, France, FEbruary 15, 1978.
See the case filer.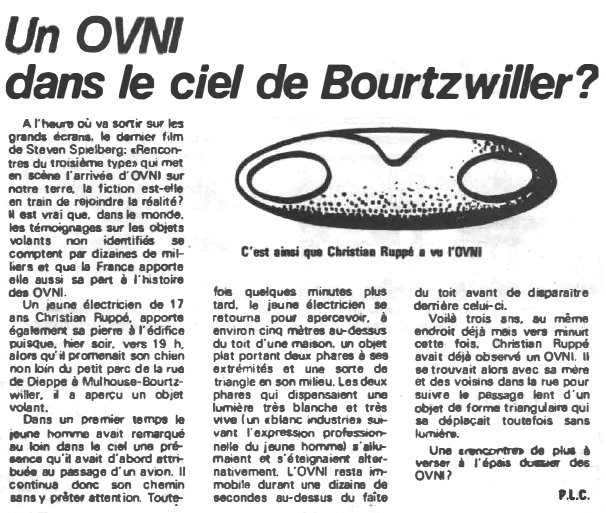 A UFO in the sky of Bourtzwiller?
A young electrician of 17 years old, Christian Ruppé, brings his stone to the building since last night around 7 p.m., while walking his dog near the small park in the street of Dieppe in Mulhouse-Bourtzwiller, he saw a flying object.
At first, the young man had noticed far off in the sky a presence that he initially attributed to the passage of an airplane. So he continued on his way without paying attention. However a few minutes later, the young electrician turned around to see, about 5 m above the roof of a house, a flat object with two headlights at its ends and a kind of triangle in the middle. Both headlights were providing a very white and very strong light (an "industry white" according to the expression of the professional young man) that was flickering on and off alternately. The UFO remained motionless for about ten seconds above the ridge of the roof before disappearing behind it.
Three years ago, in the same place already but that time around midnight, Christian Ruppé had already observed a UFO. He was then with his mother and neighbors in the street to follow the slow passage of a triangular shaped object that moved without light however.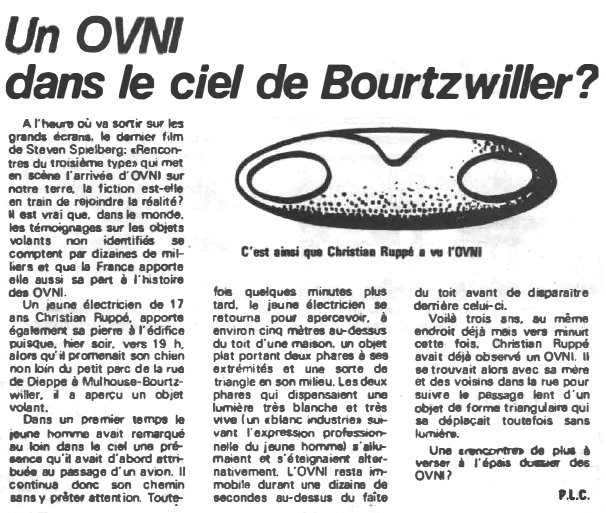 [Sketch caption:] This is how Christian Rupp saw the UFO.
P.L.C. [Pierre-Louis Cereja]