UFOs in the daily Press:
:
The article below was published in the daily newspaper L'Alsace, France, on November 13, 1980.
See the case file.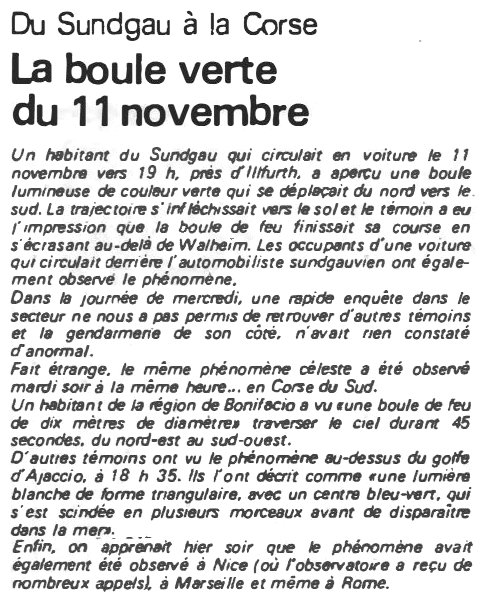 From the Sundgau to Corsica
The green ball
of November 11
A resident of the Sundgau who was driving around 7 p.m. on November 11 near Illfurth saw a luminous green ball moving from north to south. The trajectory bent towards the ground and the witness had the impression that the fireball was finishing its course by crashing beyond Walheim. The occupants of a car driving behind the sundgauvian motorist also observed the phenomenon.
On Wednesday, a quick investigation in the area did not allow us to find other witnesses and the gendarmerte, for their part, had found nothing abnormal.
Strangely enough, the same celestial phenomenon was observed Tuesday evening at the same hour... in Southern Corsica.
A resident of the Bonifaccio region saw "a ball of fire ten meters in diameter" cross the sky for 45 seconds, from northeast to southwest.
Other witnesses saw the phenomenon over the Gulf of Ajaccio at 6:35 p.m. They described it as "a white light of triangular shape, with a blue-green center, which split into several pieces before disappearing into the sea."
Finally, we learned last night that the phenomenon had also been observed in Nice (where the observatory received many calls), in Marseille and even in Rome.