UFOs in the daily Press:
New UFO photograph, U-K., 2002:
This article was published in the daily newspaper The Kent & Sussex Courier, England, August 2, 2002, while the picture is from the web edition of the article on thisisKent
UFO HUNTERS KEEN TO TEST NEW PICTURE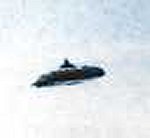 The image of a mystery object floating over the Tonbridge skyline could be one of the biggest discoveries of the last 50 years, according to a leading UFO group.
UFO Monitors East Kent says the picture, taken near Dry Hill Park Road, bears a remarkable resemblance to an unexplained image taken in America more than 50 years ago.
After spotting the photograph in the Kent and Sussex Courier last month, researcher Chris Rolfe was stunned and excited and wants to carry out tests to determine its authenticity. The picture shows a dark disc-like object with what appears to be a pointed turret or column flying low over the Tonbridge skyline.
Mr Rolfe said: "If deemed to be genuine, the Tonbridge UFO photograph may prove highly significant. Something resembling the tower-like appendage seen at the top of the Tonbridge object featured on two previous pictures widely regarded among the most authentic of all known UFO photographs."
Oregon farmer Paul Trent and his wife took the first pictures on May 11, 1950, when they saw the bright object approaching their farmhouse silently. The Trents had the pictures processed and, after they were published, the images attracted international interest leading to intensive scientific analysis.
However, the US Condon Committee employed to investigate UFO sightings was unable to offer a rational explanation and concluded the object could not be identified. (1)
(1) The Condon report actually said of the 1950 Trent photos:
Conclusion:
This is one of the few UFO reports in which all factors investigated, geometric, psychological, and physical appear to be consistent with the assertion that an extraordinary flying object, silvery, metallic, disk-shaped, tens of meters in diameter, and evidently artificial, flew within sight of two witnesses. It cannot be said that the evidence positively rules out a fabrication, although there are some physical factors such as the accuracy of certain photometric measures of the original negatives which argue against a fabrication.
See also this news item