UFOs in the daily Press:
The Prémanon affair, France, 1954:
The article below was published in the daily newspaper L'Est Républicain, France, page 7, on October 1, 1954.
See the case file here.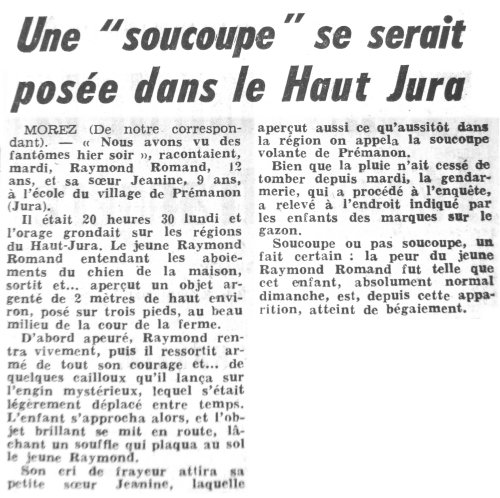 A "saucer" said to have landed in the Haut Jura
MOREZ (From our correspondent). - "We saw ghosts last night," Raymond Romand, 12, and his sister Janine, 9, told at school in the village of Prémanon (Jura) on Tuesday.
It was 8:30 p.m. on Monday and the storm rumbled over the Upper Jura regions. The young Raymond Roland, hearing the barking of the dog of the house, went out and... saw a silver object about two meters high, standing on three feet, in the middle of the farmyard.
At first scared, Raymond went inside quickly, then came out again armed with all his courage and... a few stones that he threw at the mysterious machine; which had moved slightly in the meantime. The child approached then, and the brilliant object set out, releasing a breath which threw the young Raymond on the ground.
His frightened cry attracted his little sister Janine, who also saw what was immediately called the flying saucer of Premanon in the region.
Although the rain had not stopped falling since Tuesday, the gendarmerie, which carried out the investigation, found marks on the lawn at the place indicated by the children.
Saucer or not saucer, a fact: the fear of the young Raymond Roland was such that this child, absolutely normal on Sunday, is, since this appearance, stuttering.