UFOs in the daily Press:
UFO over Strasbourg, 1978:
The article below was published in the daily newspaper Dernières Nouvelles d'Alsace, Strasbourg, France, on October 11, 1978.
See the case file for this sighting report here.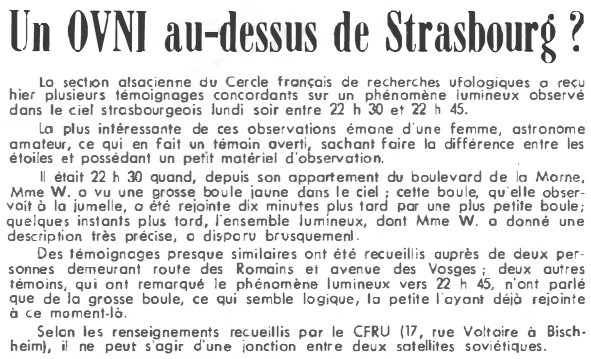 A UFO over Strasbourg?
The Alsatian section of the Cercle français de recherches ufologiques [French UFO Research Circle] received yesterday several eyewitness reports of a luminous phenomenon observed in the sky of Strasbourg on Monday evening between 10:30 p.m. and 10:45 p.m..
The most interesting of these observations comes from a woman, amateur astronomer, making her a knowledgeable witness, knowing the difference between stars and with a small observation equipment.
It was 10:30 p.m. when, from her apartment of the Boulevard de la Marne, Mrs. W. saw a big yellow ball in the sky; this ball; which she watched through binocular, was joined ten minutes later by a smaller ball; moments later, the luminous set, of which Mrs. W. gave a very accurate description, disappeared suddenly.
Almost similar testimonies were collected from two residents of the route des Romains and Avenue des Vosges; two other witnesses, who noticed the luminous phenomenon around 10:45 p.m., spoke of only the big ball; which seems logical, the small one having already reached it at that hours.