ALSACAT:
Case of Vosges, on September 27, 2013:
Case number:
ALSACAT-2013-09-27-VOSGES-1
Summary:
On September 27, 2013, a teenager was at a geology field trip on a ridge path in the Vosges, and was taking landscape photography with his high definition mobile phone camera.
On the bus home, he noticed on one of his photos a "very strange thing." He talked about it the next day on the "jeuxvideos.com" web forum, very popular among teenagers, publishing his two photos. There, some teens screamed at the "fake", while some other suggested the correct explanation.
The "strange thing" is simply a bird in flight, and then another or the same one on the second picture. Birds are often to blurred to be recognized as such at first glance on pictures, because of their movement during the exposure time. That is what ufologists - at least those who do not get excited about nothing - call "BLURFO", for "blurry UFO" or "surprise picture", these photographs where something that was not seen with the naked eye even when there was many potential witnesses, and puzzle people only later once they look at the picture on a screen.
Data:
Temporal data:
| | |
| --- | --- |
| Date: | September 27, 2013 |
| Time: | 01:23 p.m. |
| Duration: | 0.15 seconds |
| First known report date: | September 27, 2013 |
| Reporting delay: | 1 day. |
Geographical data:
| | |
| --- | --- |
| Department: | Haut-Rhin |
| City: | Fellering. |
| Place: | On a footpath the top of the Vosges, UFO in the sky. |
| Latitude: | 47.923 |
| Longitude: | 6.920 |
| Uncertainty ratio: | 5 km |
Witnesses data:
| | |
| --- | --- |
| Number of alleged witnesses: | N/A |
| Number of known witnesses: | 1 |
| Number of named witnesses: | 0 |
| Witness(es) ages: | Teenager. |
| Witness(es) types: | Teenager in geology field trip. |
Ufology data:
| | |
| --- | --- |
| Reporting channel: | Popular teenagers web forum. |
| Type of location: | From a mountain ridge path, UFO in the sky. |
| Visibility conditions: | Daylight. |
| UFO observed: | No |
| UFO arrival observed: | N/A |
| UFO departure observed: | N/A |
| Entities: | No |
| Photographs: | Yes. |
| Sketch(s) by witness(es): | No. |
| Sketch(es) approved by witness(es): | No. |
| Witness(es) feelings: | Puzzled. |
| Witnesses interpretation: | Something strange, unknown, a UFO. |
Classifications:
| | |
| --- | --- |
| Hynek: | DD |
| ALSACAT: | BLURFO, probable bird. |
Sources:
[Ref. jvo1:] ON THE "JEUXVIDEO.COM" FORUM:
Subject: 'I took a photograph of a UFO'
Posted September 28, 2013 at 02:59:50 p.m.
It was yesterday, we wer at a geology field trip, and about 2 p.m., I took a picture when I was walking down a mountain, and once in the bus I saw that very strange thing...: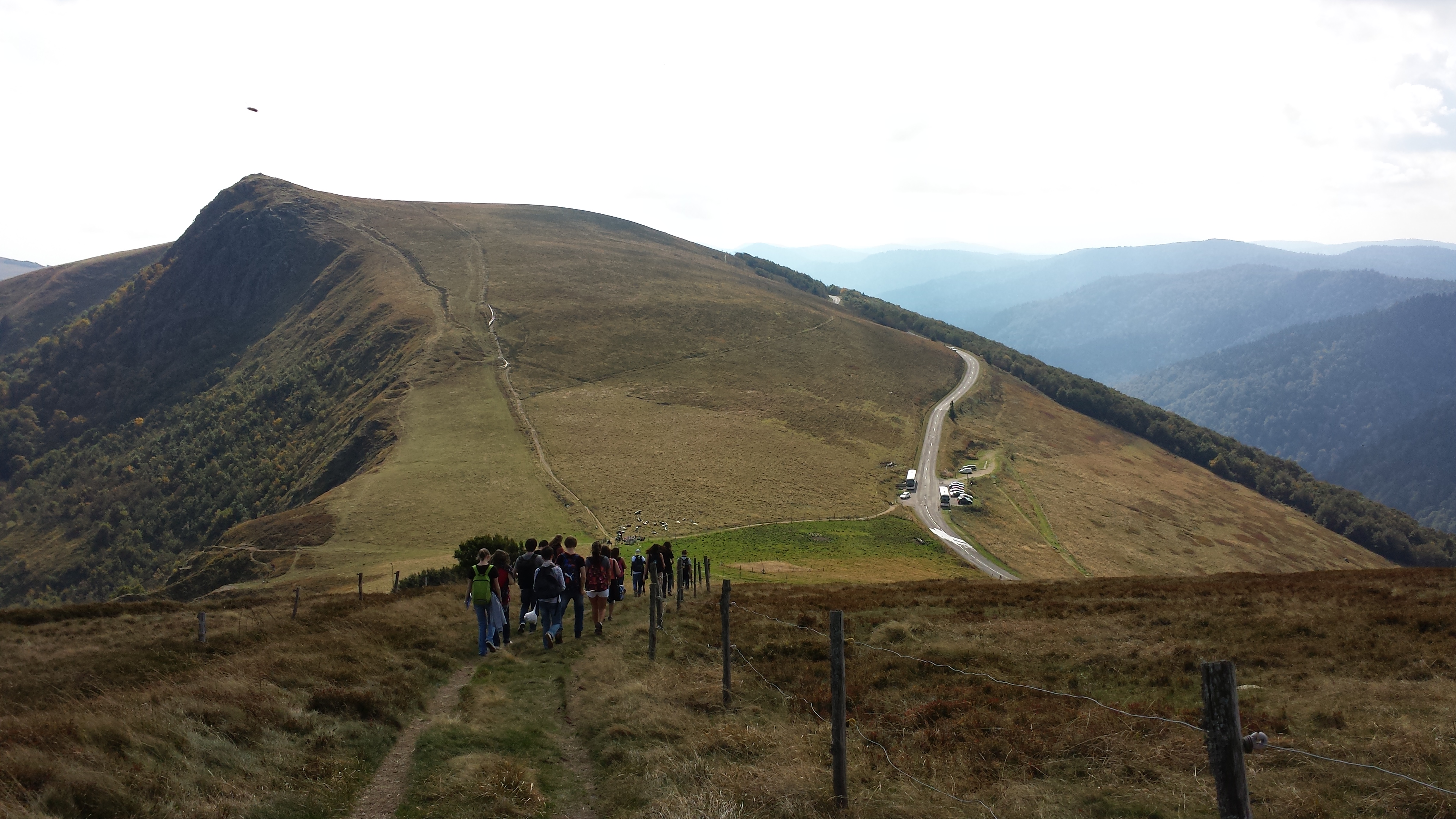 At the top on the left, above the mountain
:d) This is not a faked picture, I don not know how to make them, and if you are a computer artist or something like that you can check that it is genuine :g)
But the strangest, this other picture I took about 4 sec earlier... Let me explain, I was walking down, so I was moving, and I took a picture. But I told to myself that as I was moving, the picture would be blurry, so I stopped and took another picture (the one above) without moving too much... And on that picture, it is also there...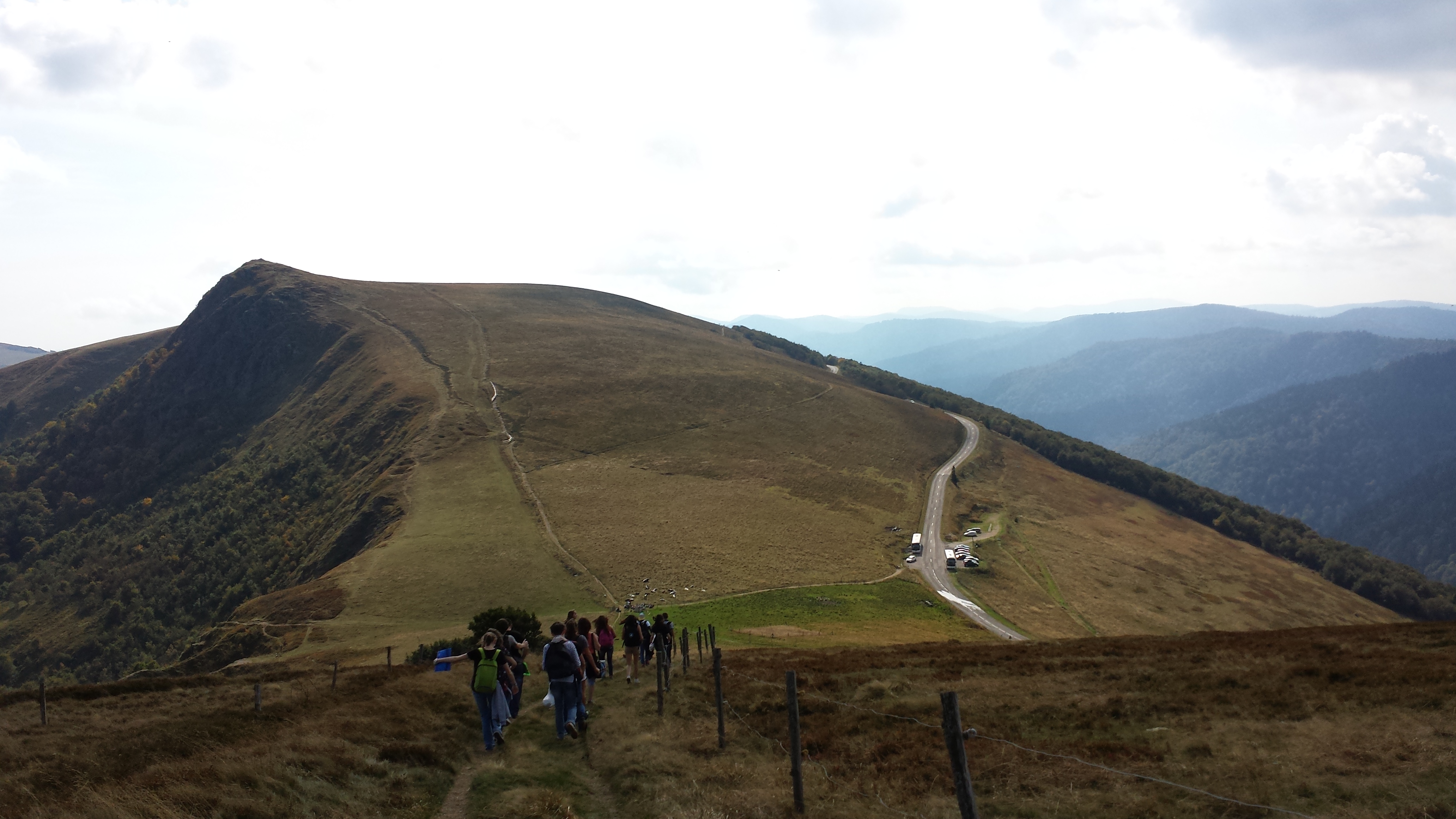 Again on the top at the left between the 2 clouds (dust your screen, you will see it) by zooming, you see that it is 2 grey/black pixels, I think it is also the ufo... No plane can travel that fast in 4 seconds...
I thought of a fly or something like that but I really do have the impression that the "ufo" is above the mountain, and it is not some shit on the lens either, otherwise the spec would be the same on the 2 pictures... Yet I did not really believe in ufo before seeing this...
And I also specify that I did not see it, I just took the 2 photos and went on walking
Any ideas?
PS : I have a galaxy s4, this is why the picture has sich a high resolution (13 mpx)
The photographer says further on that "it was in Alsace" near Fellering. At the suggestion of a member, he said he sent his pictures to the official UFO investigation service GEIPAN.
The forum is not a ufology forum. It has 5 web pages of "comments" including rare suggestions that "it is just a bird," and a lot of "it's a fake."
Discussion:
EXIF metadata, which are in the files and show that the person published a real camera image - unless he had some expertise about EXIF metadata - indicates that the shooting of the first image is on 09/27/2013 at 01:23 p.m., the software is the smartphone software, I9505XXUMBGA, the resolution is 72 dpi, 4128*2322 pixels, the camera is a Samsung GT-I9505 (this is the camera of the mobile phone, focal is F/2.2, focal length is 4 mm, the maximum opening is 2.28, the exposure time is 1/1536 seconds, ISO speed is ISO-50, the flash was not used, the brightness is 8824, the color depth is 24, the software used normal exposure, the white balance was set automatically.
For the second image data is the same as the first, except the exposure of 1/2332 seconds, a little longer.
The photograph was taken on a footpath overlooking the famous "Route des Crêtes" (ridge road), where I have been hiking countless times since childhood.
About this type of cases, "BLURFOs", you may also read:
Evaluation:
BLURFO, probable bird.
Sources references:
* = Source is available to me.
? = Source I am told about but could not get so far. Help needed.
[jvo1] * "Sujet: 'J'ai pris un OVNI en photo'", posts, images and comments on the web forum JeuxVideo.com, France, September 28, 2013, at http://www.jeuxvideo.com/forums/1-50-147301696-1-0-1-0-j-ai-pris-un-ovni-en-photo.htm
File history:
Authoring:
| | |
| --- | --- |
| Main author: | Patrick Gross |
| Contributors: | None |
| Reviewers: | None |
| Editeur: | Patrick Gross |
Changes history:
| Version: | Create/changed by: | Date: | Description: |
| --- | --- | --- | --- |
| 0.1 | Patrick Gross | March 15, 2014 | Creation, [jvo1]. |
| 1.0 | Patrick Gross | March 15, 2014 | First published. |