The 1954 French flap:
The index page for the 1954 French flap section of this website is here.
Mid October, 1954, Nīmes, Gard:
Reference for this case: Mid-Oct-54-Nīmes.
Please cite this reference in any correspondence with me regarding this case.
Summary:
The regional newspaper Le Provenēal for October 14, 1954, reported among other observations that an employee of the SNCF (the national railyway company), Mr. Martinet, living in the workers' housing estates at Mas Mathieu, route d'Avignon, had his gaze attracted by a ball of fire moving in the sky, towards the Garons plate.
The newspaper indicated that Mr. Martinet was getting ready to go fishing in Bellegarde and got up for that at 5 a.m.. There may have been a sequel, but I do not have the rest of the article from this newspaper article at the moment.
Reports:
[Ref. lpl1:] NEWSPAPER "LE PROVENCAL":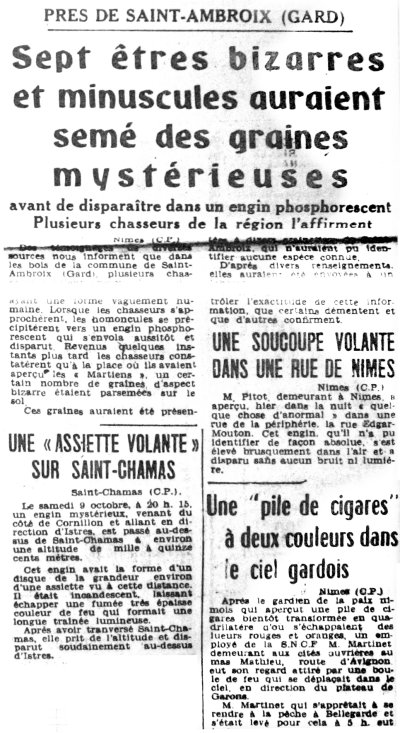 NEAR SAINT-AMBROIX (GARD)
Seven odd and tiny beings reportedly sowed mysterious seeds
before disappearing in a phosphorescent craft
Several hunters of the area claim this
Nīmes (C.P.).
Testimonys of various sources inform us that in the woods of the commune of Saint-Ambroix (the Gard), several hunters reportedly [...] having a vaguely human shape. When the hunters approached, the homunculus's rushed towards a phosphorescent craft which flew away at once and disappeared. Coming back a short time later the hunters noted that in the place where they had seen the "Martians", a certain number of seeds of odd appearance were strewn on the ground.
These seeds were allegedly shown to various seed resellers of Saint-Ambroix, who were unable to identify any known species.
According to various information, they would have been sent to a [...] to control the exactitude of this information, that some deny and others confirm.
A FLYING SAUCER IN A STREET OF NIMES
Nīmes (C.P.).
Mr. Pitot, Nīmes resident, saw yesterday in the night "something abnormal" in a street of the suburb, Edgar Mouton street. This machine which he was unable to identify in an absolute manner, suddenly rose in the airs and disappeared without any noise nor light.
A "FLYING PLATE" ON SAINT CHAMAS
Saint-Chamas (C.P.).
Saturday, October 9, at 08:15 p.m., a mysterious machine, coming from the direction of Cornillon and going to Istres, passed above Saint-Chamas at approximately an altitude of one thousand to fifteen hundred meters.
This craft was disc-shaped of the size approximately of a plate seen at this distance. It was incandescent, letting escape a very thick smoke of fiery color which formed a long luminous trail.
After having crossed Saint-Chamas, it climbed higher and disappeared suddenly above Istres.
A "stack of cigars" with two colors in the sky of the Gard
Nīmes (C.P.).
After the policeman of Nīmes who saw a stack of cigars soon changing into a quadrilateral from where red and orange gleams escaped, an S.N.C.F. [national railway] employee, Mr. Martinet, living in the workers suburbs of the farmhouse Mathieu, road of Avignon, had his glance attracted by a ball of fire which moved in the sky, in direction of the plate of Garons.
Mr. Martinet who was on the point of going fishing in Bellegarde and had waken up for that at 5 o'clock had [...]
Explanations:
Possible meteor.
Keywords:
(These keywords are only to help queries and are not implying anything.)
Nīmes, Gard, Garons, Avignon, Martinet, ball, fire
Sources:
[----] indicates sources that are not yet available to me.
[lpl1] Article in the regional newspaper Le Provenēal, France, October 14, 1954.
Document history:
| Version: | Created/Changed by: | Date: | Change Description: |
| --- | --- | --- | --- |
| 1.0 | Patrick Gross | July 27, 2010 | First published. |
| 1.1 | Patrick Gross | December 20, 2019 | Addition of the Summary. Explanations changed, were "Not looked for yet." |