The 1954 French flap:
The index page for the 1954 French flap section of this website is here.
beginning of October, 1954, Béthisy-Saint-Martin, Oise:
Reference for this case: Jour-Mois-54-Béthisy-Saint-Martin.
Please cite this reference in any correspondence with me regarding this case.
Summary:
In the regional newspaper L'Oise-Matin, it was reported on October 8, 1954, among other recent observations, that in Bethisy-Saint-Martin, Mr. Etienne Docolo said he saw in the sky a bright, glowing disc slowly moving through space.
Reports:
[Ref. lon1:] NEWSPAPER "L'OISE-MATIN":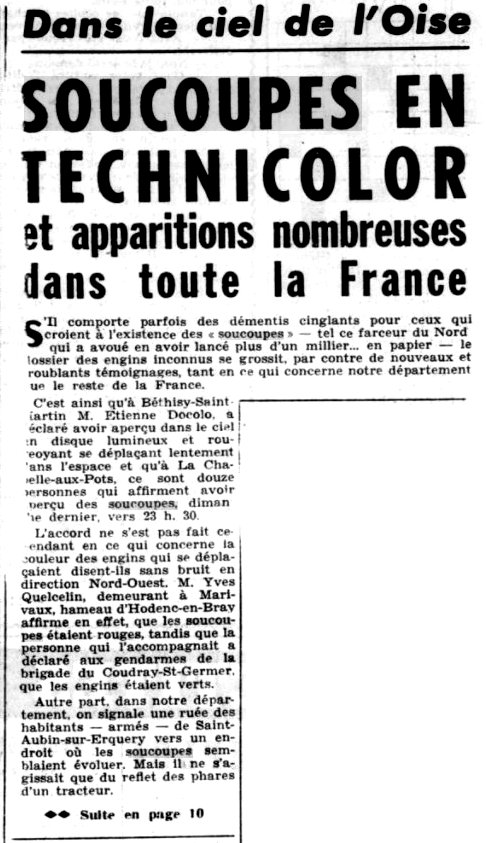 In the sky of the Oise
SAUCERS IN
TECHNICOLOR
and numerous appearances
throughout France
If they sometimes include scathing denials for those who believe in the existence of "saucers" - such as this joker from the Nord who confessed to having thrown more than a thousand... in paper - the file of the unknown craft is growing, on the other hand with new and disturbing testimonies, both as regards our department and the rest of France.
This is how in Bethisy-Saint-Martin Mr. Etienne Docolo, declared to have seen in the sky a luminous and glowing disc slowly moving in space and in La Chapelle-aux-Pots, twelve people claim to have seen saucers, last Sunday, around 11 p.m. 30.
The agreement was not made however as regards the color of the apparatuses which moved they say noiseless in direction North-West. Mr. Yves Quelcelin, residing in Marivaux, hamlet of Hodenc-en-Bray affirms, in fact, that the saucers were red while the person who accompanied him declared to the gendarmes of the Coudray-St-Germer brigade, that the gear was green.
Elsewhere, in our department, we report a rush of the - armed - inhabitants of Saint-Aubin-sur-Erquery to a place where the saucers seemed to move. But it was only a reflection of the headlights of a tractor.
Continued on page 10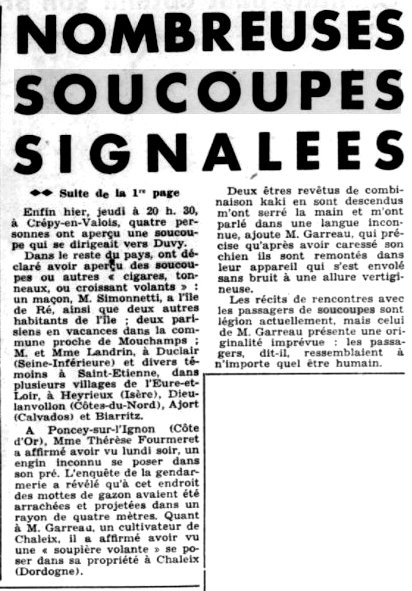 MANY
SAUCERS
REPORTED
Continued from the 1st page
Finally yesterday, Thursday at 8:30 p.m., in Crépy-en-Valois, four people saw a saucer heading towards Duvy.
In the rest of the country, said they saw saucers or other "cigars, barrels, or flying crescents": A mason, Mr. Simonnetti, on the island of Ré, as well as two other inhabitants of the island; two Parisians on vacation in the near town of Mouchamps; Mr. and Mme Landrin, in Duclair (Seine-inferieure) and various witnesses in Saint-Etienne, in several villages of the Eure-et-Loir, in Heyrieux (Isère), Dieulanvollon (Côtes-du-Nord), at Ajort (Calvados) and Biarritz.
In Poncey-sur-l'Ignon (Côte-d'Or), Mrs. Thérèse Fourmeret claimed to have seen Monday evening, a weird craft land in her meadow. The investigation by the gendarmerie revealed that at this location clods of grass had been torn up and thrown within a radius of four meters. As for Mr. Garreau, a farmer from Chaleix, he claimed to have seen a "flying soup tureen" land on his property in Chaleix (Dordogne).
Two beings dressed in khaki suits got out of it, shook my hand and spoke to me in an unknown language, adds Mr. Garreau, who specifies that after having stroked his dog they went back into their craft which flew away noiselessly at a dizzying pace.
The accounts of encounters with the passengers of saucers are legion, currently, but that of Mr. Garreau presents an unexpected originality: the passengers, he says, looked like any human being.
Explanations:
The information on the sighting is totally insufficient.
Notably, the lack of a clear date and time prevents from verifying if it was or was not the Moon, for example.
Keywords:
(These keywords are only to help queries and are not implying anything.)
Béthisy-Saint-Martin, Oise, Etienne Docolo, disc, luminous, red, moving, slow
Sources:
[----] indicates sources that are not yet available to me.
[lon1] Article in the regional newspaper L'Oise-Matin, Beauvais, France, pages 1,10, October 8, 1954.
Document history:
| Version: | Created/Changed by: | Date: | Change Description: |
| --- | --- | --- | --- |
| 1.0 | Patrick Gross | May 10, 2021 | First published. |