The 1954 French flap:
The index page for the 1954 French flap section of this website is here.
October 8, 1954, Sauvigny-le-Bois, Yonne:
Reference number for this case: 8-Oct-54-Sauvigny-le-Bois. Thank you for including this reference number in any correspondence with me regarding this case.
Summary:
In the years 2000, Spanish ufologist Juan-Vicente Ballester-Olmos published in his catalogue of the alleged UFO photographs of year 1954 an image originally published in the newspaper L'Yonne Républicaine for October 8, 1954, and taken from the "skeptical" publication Les Mystères de l'Est, for 2005, where it had been reproduced by Raoul Robé.
The image shows a scene of family camp-site in which a pancake is launched in the air, evoking a flying saucer.
I was finally able to find the 2005 article by Raoul Robé: the newspaper had first talked about a photo of "flying saucer?" said taken by an Avallonnais inhabitant and "guarantee without editing", announcing hope to obtain more information about that.
The next day, the newspaper showed the whole picture, allowing to understand it was just campers throwing a pancake in the air; which had been suspected to be the saucer.
The newspaper said that their investigation let them learn that while camping in Sauvigny-le-Bois, Mr. Roland Brisset, teacher, amateur photographer who had won a national award in 1953, had taken some pictures in his garden for the 1954 contest when he got shot of the pancake thrown in the air, and so there was no flying saucer photographed in the Avallonnais sky.
Reports:
[Ref. rre1] RAOUL ROBE - GNEGU - "LES MYSTERES DE L'EST":
A FLYING SAUCER
in the AVALLONNE sky IN 1954
Our correspondent and friend Rémi Fauchereau sends us this exceptional document that he found while searching the departmental archives of his region. He found in the newspaper Yonne Républicaine of October 8, 1954 this reproduction of un-edited photo that he delivers to your sagacity.
AVALLONAIS

FLYING SAUCER
IN THE SKY OF AVALONNE?

A resident of the region of Avallonne managed to give us this photo guarantee without editing. He asked us to contact him. In our next issue, we hope to be able to give you some details about this photo, the first one that has arrived to us.

(Photo Yonne Républicaine.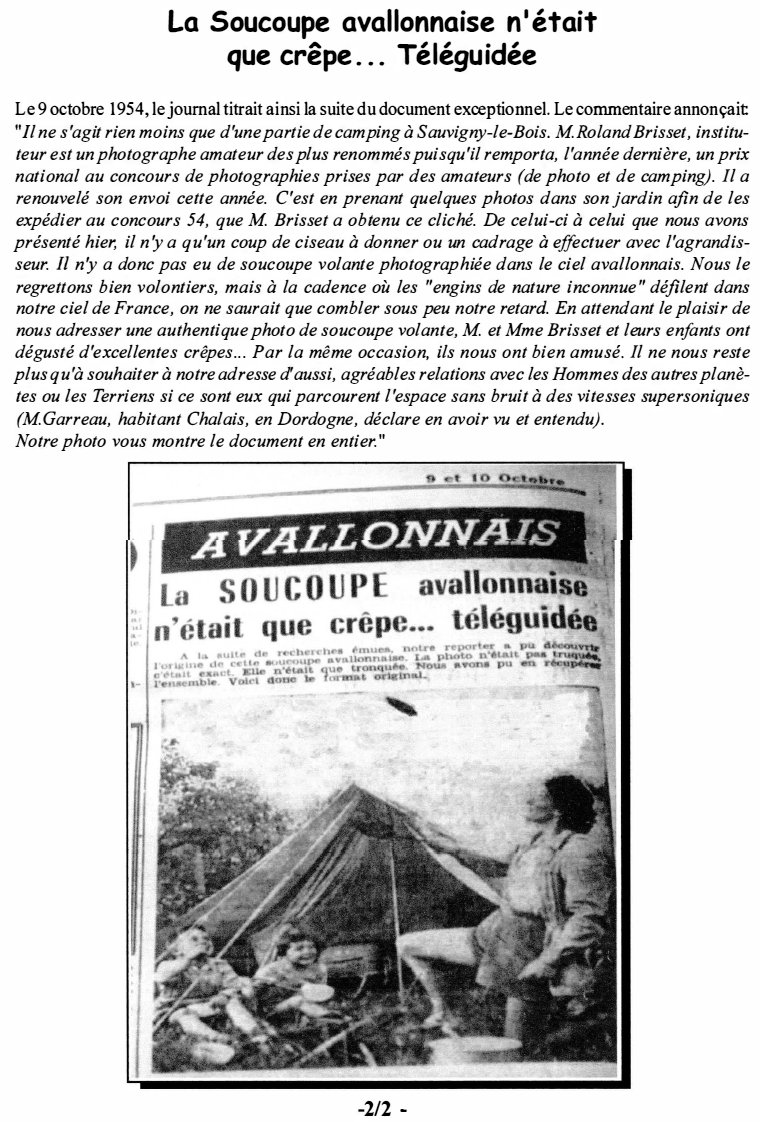 The Avallonnaise saucer was only
a pancake ... remote controlled
On October 9, 1954, the newspaper thus titled the rest of the exceptional document. The comment announced:
"It's nothing less than a camping party in Sauvigny-le-Bois. Mr. Roland Brisset, a teacher, is a renowned amateur photographer since he won a national prize last year for photographs taken by amateurs (of photography and camping). He renewed his sending this year. It is while taking some pictures in his garden to send them to the 54 contest, that Mr. Brisset got this shot. From the one we presented yesterday, there is only a scissors cut to give or a framing to be done with the enlarger. There was therefore no flying saucer photographed in the sky of the Avallonnais. We regret it gladly, but at the rate where the "craft of unknown nature" parade in our skies of France, we can only fill our delay a little later while waiting for the pleasure of getting an authentic photo of flying saucer, Mr. and Mrs. Brisset and their children enjoyed excellent pancakes. At the same time, they amused us. It remains for us to wish to our address also, pleasant relations with the Men of the other planets or the Earthlings if they are the one who travels in space without noise at supersonic speeds (Mr. Garreau, inhabitant of Chalais, in the Dordogne, declares to have seen and heard them). Our photo shows the entire document to you."
October 9th and 10th

AVALLONNAIS

The Avallonnaise saucer was
but pancake... remote controlled

Following some emotional research, our correspondent was able to discover the origin of this Avallonnaise saucer. It was only cropped. We were able to recover the whole. Here is the original format.
[Ref. jbs1] JUAN-VICENTE BALLESTER-OLMOS:
(63)
Date: 8 October 1954 (publication date)
Time: Daytime
Location: Sauvigny-le-Bois, Yonne (France)
Format: Picture
Photographer: Roland Brisset
Explanation: Non-event (family camping scene showing a cooking crêpe launched over children's heads)
References: L'Yonne Républicaine, October 8 and 9-10, 1954. Les Mysteres de L'Est, 10, 2005, pages 95-96. Raoul Robé.
Remarks: Nil
[Ref. ubk1:] "UFO-DATENBANK":
| Case Nr. | New case Nr. | Investigator | Date of observation | Zip | Place of observation | Country of observation | Hour of observation | Classification | Comments | Identification |
| --- | --- | --- | --- | --- | --- | --- | --- | --- | --- | --- |
| 19541008 | | | 08.10.1954 | | Sauvinguy-le-Bois [sic] | France | | | | |
Explanations:
I first wrote:
"This image was probably never published as a UFO photo - I found no mention of this in the ufology literature - but rather as amusing anecdote."
"The ufological interest of this story seems quite limited to me, and the information given is very meager. I suspect, as there were two articles over two days in the newspaper L'Yonne Républicaine, that this newspaper had initially published the photograph with a challenger for readers to explain it, and that in the following issue the newspaper had given the answer."
I was partly right. There was one UFO publication, [ubk1], but devoid of any other information than the date and the misspelled place name. And [ubk1] publishes both UFO and known IFO cases.
An it was indeed just an innocent prank, probably not meant to be taken seriously. Yet, it is not clear whether L'Yonne Républicaine thought it was a genuine flying saucer photograph in the first place, as they called it a "flying saucer?" with a question mark.
Keywords:
(These keywords are only to help queries and are not implying anything.)
Sauvigny-le-Bois, Yonne, photo, non-event, Roland Brisset.
Sources:
[----] indicates sources that are not yet available to me.
[----] Article in the regional newspaper L'Yonne Républicaine, France, October 8, 1954.
[----] Article in the regional newspaper L'Yonne Républicaine, France, October 9-10, 1954.
[rre1] "Une Soucoupe volante dans le ciel Avallonnais en 1954", article by Raoul Robé, in the annual ufology magazine Les Mystères de l'Est, CNEGU, France, pp 95-96, 2005.
[jbs1] "The Year 1954 in Photos", FOTOCAT Report #1, electronic document by Juan-Vicente Ballester-Olmos, August 2004, at http://www.anomalia.org/fotocat1954.pdf
[jbs1] "El año 1954 en fotos", by Juan-Vicente Ballester-Olmos, in @nomalía, Volume II, #5, Spain, May 2005.
[jbs1] "The Year 1954 in Photos", by Juan-Vicente Ballester-Olmos, appendix of "Il Quinto Cavaliere dell'Apocalisse, book by Giuseppe Stilo, UPIAR publishers, Italy, 2006.
[jbs1] "L'Année 1954 en Photos", by Juan-Vicente Ballester-Olmos, French translation, in the Fortean magazine La Gazette Fortéenne, France, Volume IV, 2005.
[ubk1] Online database UFO-Datenbank, Germany, found in 2016, at ufodatenbank.de
Document history:
| Version: | Created/Changed by: | Date: | Change Description: |
| --- | --- | --- | --- |
| 1.0 | Patrick Gross | October 11, 2016 | First published. |
| 1.0 | Patrick Gross | February 20, 2017 | Addition [ubk1]. |
| 1.1 | Patrick Gross | June 18, 2019 | Addition [rre1]. In the Summary, removed "I suspect, as there were two articles over two days in the newspaper L'Yonne Républicaine, that this newspaper had initially published the photograph as a challenge for readers to explain it, and that in the following issue the newspaper had given the answer.", and addition of "I finally..." and what follows. |