The 1954 French flap:
The index page for the 1954 French flap section of this website is here.
October 3, 1954, La Celle, Corrèze:
Reference number for this case: 3-Oct-54-La Celle. Thank you for including this reference number in any correspondence with me regarding this case.
Reports:
[Ref. pc1:] "LE POPULAIRE DU CENTRE" NEWSPAPER: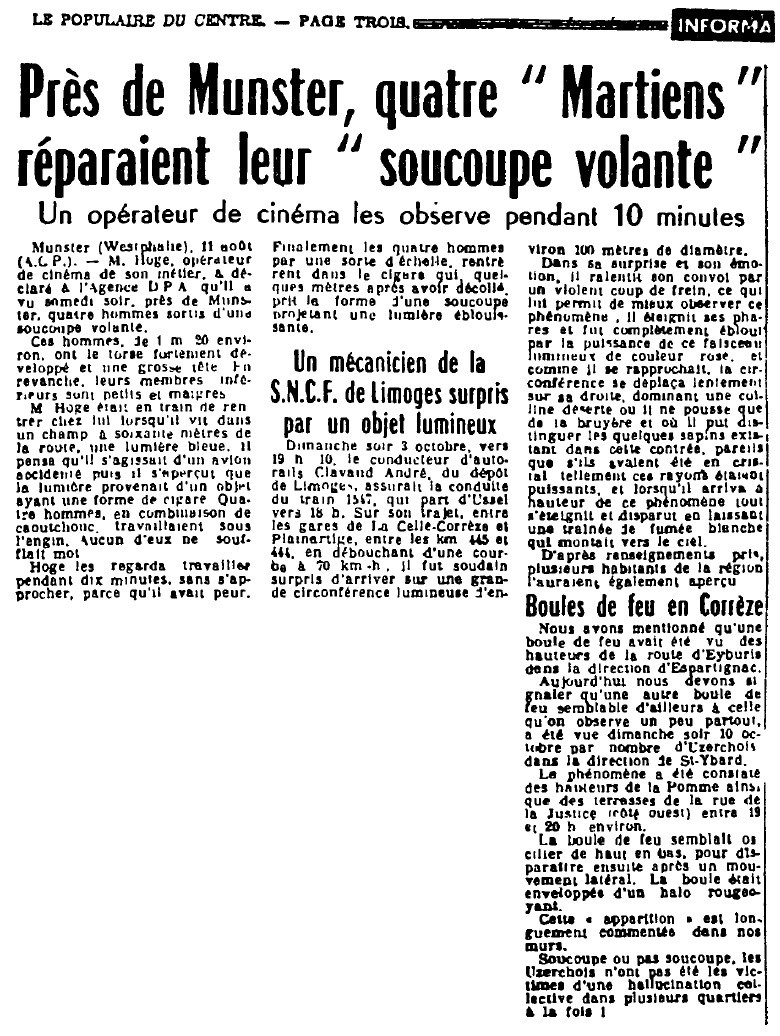 Near Munster, four "Martians" repaired their "flying saucer"
A cinema operator observes them for 10 minutes
Munster (Westphalia). 11 August (A.O.P.). - Mr. Hoge, a film operator in his trade, told DPA that he saw four men leaving a flying saucer near Munster on Saturday night.
These men, about 1 m 20 tall, have a highly developed thorax and a large head. On the other hand, their lower limbs are small and lean.
Mr. Hoge was returning home when he saw a blue light in a field sixty meters off the road. He thought it was a crashed plane and then he realized that the brightness came from an object with a cigar shape. Four men, in rubber suit, worked under the machine. None of them uttered a word.
Hoge watched them work for 10 minutes, without getting closer, because he was afraid. Finally the four men, using a sort of ladder, returned into the cigar, which, a few meters after taking off, took the form of a saucer throwing a dazzling light.
A mechanic from the S.N.C.F. of Limoges surprised by a luminous object
Sunday evening October 3, around 7:10 p.m., train driver Clavaud André, from the Limoges depot, was driving the train 1547, which leaves Ussel around 6 p.m. On his trip, between the stations of La Celle-Corrèze and Plainartigue, between km 445 and 444, at the end of a curve at 70 km-h, he was suddenly surprised to arrive on a large luminous circumference of about 100 meters in diameter.
In his surprise and his emotion, he slowed down his convoy by a violent stroke of the brake, which enabled him to better observe this phenomenon, he extinguished his headlights and was completely dazzled by the power of this pink light beam and as he approached, the circumference moved slowly on the right, overlooking a deserted hill where only heather grows and where he was able to distinguish the few fir trees existing in this country, as if they had been in crystal so powerful these rays were, and when he reached the place of this phenomenon all went off and disappeared leaving a trail of white smoke rising towards the sky.
According to collected information, several residents of the area also saw it.
Ball of fire in the Corrèze
We have mentioned that a ball of fire had been seen from the heights of the road to Eyburie in the direction of Espartignac.
Today we must point out that another ball of fire similar to those seen everywhere was seen Sunday evening October 10 by many residents of Uzerche in the direction of Saint-Ybard.
The phenomenon has been observed of the heights of La Pomme, as well as the terraces of the street of Justice (west side), between 7 p.m. and 8 p.m. approximately.
The ball of fire seemed to oscillate up and down and then disappear after a lateral movement. It was wrapped in a glowing halo. This "apparition" is discussed at length in our walls.
Saucer or not saucer the residents of Uzerchois were not the victims of a collective hallucination in several districts at the same time.
[Ref. js1:] JEAN SIDER:
French ufologist and author Jean Sider learned in an article from the newspaper "Le Populaire du Centre" for October 12, 1954 that on October 3, 1954, at 07:10 p.m., there was the following sighting between La Celle in the department of the Corrèze and Plainartige in the department of Haute-Vienne:
André Clavaud, a railwayman of the Limoges station, led a rail-car on the line from Ussel to Limoges and was between the km No 445 and 444, his convoy moving at 70 km/h and coming into a curve.
The witness is then surprised to see "a large luminous circumference" of approximately 100 meters in diameter. He brakes down violently and extinguishes his headlights.
He is then dazzled by a powerful beam of light of pink color.
While the train approaches it, the luminous phenomenon moves slowly towards the right, dominating a deserted hill. When the rail-car arrives at the height of the phenomenon, everything extinguishes "and disappears leaving a white trail which goes up in the sky."
[Ref. ub1:] "UFO-DATENBANK":
| Case Nr. | New case Nr. | Investigator | Date of observation | Zip | Place of observation | Country of observation | Hour of observation | Classification | Comments | Identification |
| --- | --- | --- | --- | --- | --- | --- | --- | --- | --- | --- |
| 19541003 | | | 03.10.1954 | | Limoges | France | | | | |
| 19541003 | | | 03.10.1954 | | Limoges | France | | | | |
Explanations:
Not looked for yet.
Keywords:
(These keywords are only to help queries and are not implying anything.)
La Celle, Corrèze, train, railwayman, light, phenomenon, circle, circular, beam, pink, dazzled, slow, trail, white, Plainartige, André Clavaud
Sources:
[---] indicates sources which I have not yet checked.
[pc1] Article in the regional newspaper Le Populaire du Centre, Limoges, France, page 3, October 12, 1954.
[js1] "Le Dossier 1954 et l'Imposture Rationaliste", book by Jean Sider, Ramuel publisher, France, pp 92-93, 1997.
[ub1] Online database UFO-Datenbank, Germany, found in 2016, at ufodatenbank.de
Document history:
| Version: | Created/Changed by: | Date: | Change Description: |
| --- | --- | --- | --- |
| 0.1 | Patrick Gross | October 27, 2005 | First published. |
| 1.0 | Patrick Gross | January 9, 2009 | Conversion from HTML to XHTML Strict. First formal version. |
| 1.1 | Patrick Gross | December 23, 2016 | Additions [pc1], [ub1]. |