The 1954 French flap:
The index page for the 1954 French flap section of this website is here.
October 2, 1954, Espartignac, Corrèze:
Reference number for this case: 2-oct-54-Espartignac. Thank you for including this reference number in any correspondence with me regarding this case.
Reports:
[Ref. pc1:] "LE POPULAIRE DU CENTRE" NEWSPAPER: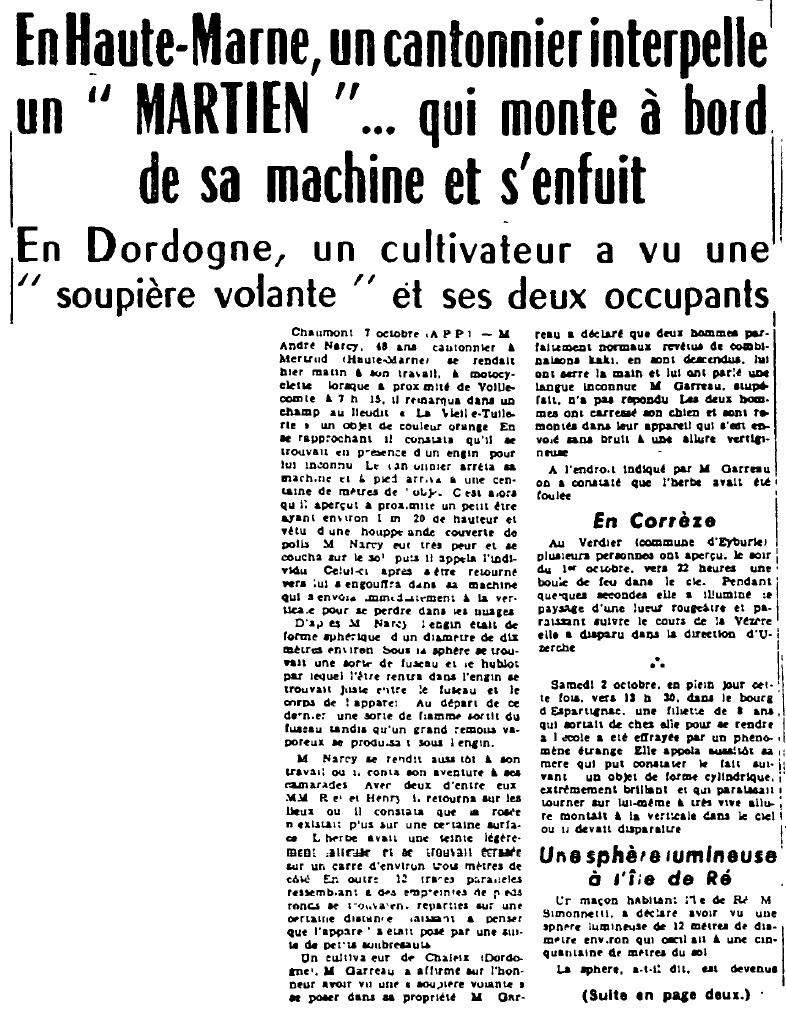 In the Haute-Marne, a roadmender calls a "MARTIAN"... who climbs aboard his machine and runs away
In the Dordogne, a farmer saw a "flying soup tureen" and its two occupants
Chaumont, October 7 (A.P.P) - Mr. André Narcy, a 48-year-old roadmender in Mertrud (the Haute-Marne), went yesterday morning to work on his motorcycle when near Voillecomte at 7:15 a.m. he noticed in a field in the vicinity of the place called "La Vieille-Tuilerie" an orange-colored object. As he approached, he found that he was in the presence of a machine unknown to him . The roadmender stopped his machine and walked to about fifty meters from the object. It was then that he perceived in the vicinity a small being about 1 m. 20 in height and clad in a coat covered with hair. Narcy was very afraid and lay down on the ground and then called the character. The latter, after turning towards him, rushed into his machine; which immediately flew away vertically to get lost in the clouds.
According to Mr. Narcy, the craft was spherical in shape with a diameter of about ten meters. Under the sphere was a kind of spindle and the porthole through which the being entered the craft was just between the spindle and the body of the apparatus. At the departure of the latter a kind of flame emerged from the spindle while a great vaporous eddy occurred under the machine.
M. Narcy went immediately to his work, where he told his adventure to his comrades. With two of them, Mrrs. Riel and Henry, he returned to the spot where he found that the dew no longer existed on a certain surface. The grass had a slightly milky tint and was crushed on a square about three meters side. In addition, 12 parallel tracks resembling round foot prints were distributed over a certain distance, suggesting that the apparatus had landed in a series of small jolts.
A farmer from Chaleix (the Dordogne), Mr. Garreau, said yesterday that he had seen a "flying soup tureen" land on his property. Mr. Garreau said that two perfectly normal men dressed in khaki suits came down and shook hands with him and spoke to him an unknown language. Mr. Garreau, awestruck, did not reply. The two men stroked his dog and climbed back into the aircraft, which flew away noiselessly at a dizzying pace.
At the place indicated by Mr. Garreau it was found that the grass had been crushed.
In the Corrèze
At the Verdier (commune of Eyburie) several people saw, on the evening of October 1st, around 10 p.m., a ball of fire in the sky. For a few seconds it illuminated the landscape with a reddish gleam and appearing to follow the course of the Vézère. It disappeared in the direction of Uzerche.
***
Saturday, October 2, in broad daylight this time around 1:30 p.m. in the village of Espartignac, an 8-year-old girl, who was leaving her home to go to school, was frightened by a strange phenomenon. She immediately called her mother, who was able to ascertain the following fact: an object of cylindrical form, extremely brilliant, which seemed to rotate on itself at a very rapid pace, rose vertically in the sky, where it was to disappear.
A luminous sphere at the Ile de Ré
A mason living in the Island of Ré, Mr. Simonnetti, said he saw a luminous sphere about 12 meters in diameter, which oscillated about fifty meters from the ground.
The sphere, he said, had become
(Continued on page 2)
[Ref. ld1:] "LUMIERES DANS LA NUIT" MAGAZINE:
In Espartignac in Corrèze, on October 2, 1954, at 01:30 P.M., a very shiny cylinder has been seen raising vertically.
[Ref. js1:] JEAN SIDER:
French ufologist and author Jean Sider learned in an article from the newspaper "Le Courrier - La Liberté", of Limoges, on page 1 for October 8, 1954, that a young girl aged 8 who was on her path to the school on October 2, 1954at 01:30 p.m. in Espartignac was frightened by a strange phenomenon. She at once called her mother who then saw a cylindrical object, extremely brilliant, which appeared to rotate at a very important speed and which went up in the sky where it disappeared.
[Ref. ud1:] "UFODNA" WEBSITE:
The website indicates that on 2 October 1954 at 13:30 in Espartignac, France, there was a UFO sighting.
The source is indicated as Hatch, Larry, *U* computer database, Author, Redwood City, 2002.
Explanations:
Not looked for yet.
Keywords:
(These keywords are only to help queries and are not implying anything.)
Espartignac, Corrèze, cylinder, shiny, raising, vertically, manoeuver, kid, mother, rotation, daylight
Sources:
[---] indicates sources which I have not yet checked.
Document history:
| Version: | Created/Changed by: | Date: | Change Description: |
| --- | --- | --- | --- |
| 0.1 | Patrick Gross | April 6, 2004 | First published. |
| 1.0 | Patrick Gross | February 27, 2009 | Conversion from HTML to XHTML Strict. First formal version. Additions [lc1], [ud1]. |
| 1.1 | Patrick Gross | December 24, 2016 | Additions [pc1]. |