The 1954 French flap:
The index page for the 1954 French flap section of this website is here.
October 29, 1954, Bessèges, Gard:
Reference number for this case: 29-Oct-54-Bessèges. Thank you for including this reference number in any correspondence with me regarding this case.
Reports:
[Ref. lp1:] "LE PROVENCAL" NEWSPAPER: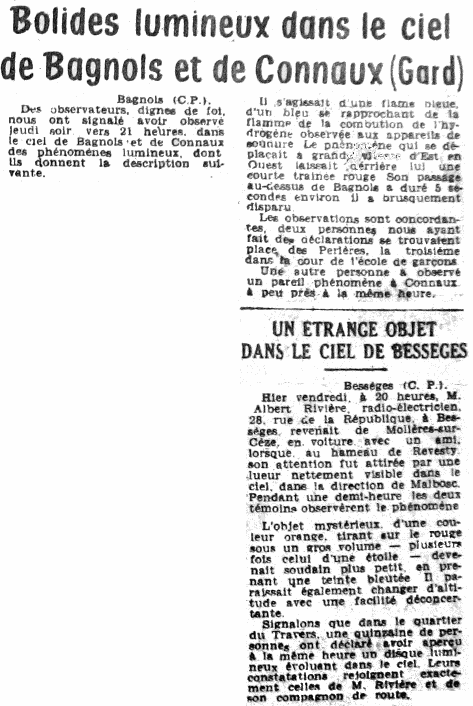 Luminous fireballs in the sky of Bagnols and Connaux (Gard)
Bagnols (C.P.).
Worthy of faith observers reported to us that they have observed Thursday evening, around 9 p.m., in the sky of Bagnols and Connaux, luminous phenomena of which they give the following description.
It was a blue flame, of a blue approaching the flame of combustion of hydrogen observed with welders. The phenomenon which moved at high speed from East to West left behind itself a short red trail. Its passage above Bagnols lasted 5 seconds approximately it suddenly disappeared.
The observations are concordant, two people having made us statements were place of Perières, the third in the yard of the boys school.
Another person observed a similar phenomenon with Connaux about the same hour.
A WEIRD OBJECT IN THE SKY OF BESSEGES
Bessèges (C.P.).
Yesterday Friday, at 8 p.m., Mr. Albert Rivière, radio-engineer, 28, street of the Republic, in Bessègues, returned from Molières-sur-Cèze by car with a friend, when, in the hamlet of Revesty [sic, Revety], his attention was drawn by a definitely visible gleam in the sky, in the direction of Malbosc. During half an hour the witnesses observed the phenomenon.
The mysterious object, of an orange color drawing on the red with a large volume - several times that of a star - became suddenly smaller, while taking a bluish color. It also appeared to change altitude with a disconcerting ease.
Let's report that in a district of the Travers, about fifteen people stated to have seen at the same hour a luminous disc evolving in the sky. Their observations match exactly those of Mr. Rivière and his fellow traveler.
[Ref. ud1:] "UFODNA" WEBSITE:
The website indicates that on 27 September 1954 in Besseges, France, "An object was sighted by multiple independent witnesses that had an appearance and aerobatic performance beyond the capability of known earthly aircraft. Explanation: Planet."
The sources are indicated as Guieu, Jimmy, Flying Saucers Come from Another World, Citadel, New York, 1956; Michel, Aime, Flying Saucers and the Straight-Line Mystery, S. G. Phillips, New York, 1958; Bowen, Charles, The Humanoids: FSR Special Edition No. 1, FSR, London, 1966; Vallee, Jacques, Computerized Catalog (N = 3073); Vallee, Jacques, Challenge to Science: The UFO Enigma, Henry Regnery, Chicago, 1966; Vallee, Jacques, Preliminary Catalog (N = 500), (in JVallee01); Schoenherr, Luis, Computerized Catalog (N = 3173); Rogerson, Peter, World-Wide Catalog of Type 1 Reports, Hatch, Larry; *U* computer database, Author, Redwood City, 2002.
[Ref. ud2:] "UFODNA" WEBSITE:
The website indicates that on 29 September 1954 at 20:00 in Besseges, France, "An unidentified object was sighted, but with appearance and behavior that most likely would have a conventional explanation. One object was observed by seven witnesses (Revesty)."
The source is indicated as Vallee, Jacques, Computerized Catalog (N = 3073).
[Ref. ub1:] "UFO-DATENBANK":
This database recorded this case three times:
| Case Nr. | New case Nr. | Investigator | Date of observation | Zip | Place of observation | Country of observation | Hour of observation | Classification | Comments | Identification |
| --- | --- | --- | --- | --- | --- | --- | --- | --- | --- | --- |
| 19540927 | | | 27.09.1954 | | Besseges | France | | CE I | | |
| 19540927 | | | 27.09.1954 | | Besseges | France | | CE I | | |
| 19540929 | | | 29.09.1954 | | Besseges | France | 20.00 | NL | | |
Explanations:
In 1954, Revety is a hamlet close to Bessèges, and Malbosc another hamlet not far from Bessèges. In 2011, Revety is in Bessèges and Malbosc grew. The indications in the report allows to find the approximate direction of observation, from Bessèges towards Malbosc:
The travel of the witness, from Molières-on-Cèze to Revety, is towards the North-West.
The decimal latitude of the town of Bessèges is 44.2833 and the decimal longitude of the town of Bessèges is 4.1, that is to say 44° 17' 30" Northern latitude and 04° 06' 02" of Eastern longitude.
Considering the description, of low strangeness, which strongly evokes a very, very visible star ("several times size of a star"), with effects of turbulence and changes of color suggesting a brilliant star low on the horizon, I thought it possible to find the corresponding star. Not a planet, none would be visible in this direction. However the sky map in this direction on this date and hour and at this location shows no particularly brilliant star which would make an obvious explanation:
Keywords:
(These keywords are only to help queries and are not implying anything.)
Bessèges, Gard, night, car, multiple, Albert Rivière, radio, electrician, Revety, duration, orange, red, star, blue, disc, luminous
Sources:
[---] indicates sources which I have not yet checked.
Document history:
| Version: | Created/Changed by: | Date: | Change Description: |
| --- | --- | --- | --- |
| 0.1 | Patrick Gross | July 12, 2007 | First published, [lp1]. |
| 1.0 | Patrick Gross | February 18, 2010 | Conversion from HTML to XHTML Strict. First formal version. Additions [ud1], [ud2]. |
| 1.1 | Patrick Gross | October 30, 2011 | A search on the web and in my documentation did not reveal other sources. The explanation was "Not looked for yet", this is changed. |
| 1.2 | Patrick Gross | February 9, 2017 | Addition [ub1]. |