The 1954 French flap:
The index page for the 1954 French flap section of this website is here.
October 20, 1954, Saxi-Bourdon, Nièvre:
Reference number for this case: 20-Oct-54-Saxi-Bourdon. Thank you for including this reference number in any correspondence with me regarding this case.
Reports:
[Ref. lm1:] "LA MONTAGNE" NEWSPAPER:
A luminous disc in the clouds...
NEVERS. -- Yesterday morning, ato 8:45, the bus Lornes-Nevers travelled in the direction of Saxy-Bourvon when the driver saw in the sky, through the windshield of the car, a mysterious machine.
The bus stopped and the thirty passengers came out. The latter could then follow during a good moment the evolutions of a very bright disc which, after having taken height, disappeared behind the clouds.
[Ref. cm1:] "CENTRE MATIN" NEWSPAPER: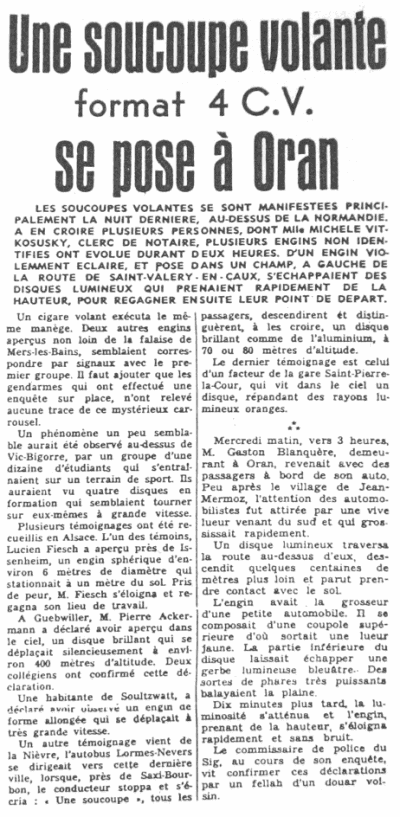 A flying saucer of car size land in Oran
THE FLYING SAUCERS APPEARED LAST NIGHT MAINLY ABOVE NORMANDY. IF WE ARE TO BELIEVE SEVRAL PEOPLE, AMONG THEN MISS MICHELLE VITKOSUSKY, CLERK OF NOTARY, SEVERAL UNIDENTIFIED MACHINES HAVE EVOLVED DURING TWO HOURS. OF A MACHINE VIOLENTLY ENLIGHTENED, AND POSED IN A FIELD, AT THE LEFT OF THE ROAD OF SAINT-VALERY-EN-CAUX, ESCAPED LUMINOUS DISCS WHICH TOOK ALTITUDE QUICKLY, TO THEN REGAIN THEIR INITIAL LOCATION.
A flying cigar carried out the same things. Two other machines seen not far from the cliff of Mers-les-Bains, seemed to communicate by signals with the first group. It should be added that the gendarmes who carried out an investigation on the spot did not find any trace of this mysterious carrousel.
A phenomenon a bit similar is said to have been observed above Vic-Bigorre, by a group of ten students who were training on a sports ground. They are said to have seen four discs in formation which seemed to rotate at high speed.
Several testimonys were gathered in Alsace. One of the witnesses, Lucien Fiesch [Fisch] saw close to Issenheim a spherical machine of approximately 6 meters in diameter which stationed within one meter of the ground. Frightened, Mr. Fiesch [Fisch] went away and regained his workplace.
In Guebwiller, Mr. Pierre Ackerman stated to have seen in the sky a brilliant disc which moved silently at approximately 400 meters of altitude. Two schoolboys confirmed this statement.
A resident [female] of Soultzmatt, stated to have observed a machine of elongated form which moved at very high speed.
Another testimony comes from the Nievre. The Lormes-Nevers bus moved towards this latter city, when, near Saxi-Bourdon, the driver stopped and exclaimed: "a saucer", all the passengers went down and distinguished, if they must be believed, a disc shining like aluminum, at 70 or 80 meters of altitude.
The last testimony is that of a factor of the Saint-Pierre-la-Cour station, who saw a disc in the sky, spreading luminous orange rays.
* * *
Wednesday morning, around 3 hours, Mr. Gaston Blanquère, resident in Oran, was returning with passengers on board his car. A little after the village of Jean-Mermoz, the attention of the motorists was attracted by a sharp gleam coming from the south and which grew bigger quickly.
A luminous disc crossed the road above them, descended a few hundreds meters further and appeared to contact the ground.
The machine had the size of a small car. It was composed of a higher cupola from which came out a yellow gleam. The lower part of the disc let escape a bluish luminous sheaf. Kinds of very powerful headlights swept the plain.
Ten minutes later, the luminosity dimmed and the machine, taking height, moved away quickly and without noise.
The police chief of the Sig, during his investigation, had these statements confirmed by a fellah of a nearby douar.
[Ref. fr1:] MICHEL FIGUET AND JEAN-LOUIS RUCHON:
The two authors indicate that in Sazi-Bourdon [sic] in the department of the Nièvre, on October 20, 1954 at 08:45 a.m., the driver and about thirty passengers of the bus from Lormes to Nevers observed during quite a time the evolutions of a very shiny disc which disappeared behind the clouds after having taken altitude.
The source is indicated as "Authors achive FP 70".
[Ref. jc1:] "LE JOURNAL DU CENTRE":
The newspaper indicates that on October 18, 1954 at 8:45, a bus moved towards Nevers and crossed the commune of Saxi-Bourdon. The driver and his 20 passengers observed in the sky an object having the shape of a rugby ball, very shining and motionless at approximately 70 or 80 meters of altitude. It suddenly disappeared vertically at a vertiginous speed. The gendarmerie investigated into the observation.
The newspaper says the sources are their October 21, 1954, issue, and that of "Centre-Matin" that same day.
[Ref. lh1] LARRY HATCH - "*U* COMPUTER DATABASE":
4221: 1954/10/20 08:50 15 3:10:00 E 46:59:00 N 3333 WEU FRN NVR 7:B
NEVERS+SAZI-BOURDON,NIEVRE:30+ OBS:BRILL.SCR MNVRS:RISES until LOST/CLOUDS:
Ref# 30 FIGEUT[sic]&RUCHON: OVNI: Le 1er Dossier Page No. 189 : TOWN &CITY
[Ref. lc1:] LUC CHASTAN:
Luc Chastan indicates in his database that in the "Nièvres (58)" in "Saxi Bourdon" on October 20, 1954 at 08:45 hours, "the driver and about thirty passengers of the Lornes-Nevers bus observed during a good moment the evolutions of a very brilliant disc which disappeared behind the clouds after having taken height."
The source is indicated as "Ovni, Premier dossier complet... by Figuet M./ Ruchon J.L. ** Alain Lefeuvre pub. 1979".
Notes:
The October 20, 1954, date, given in the ufological sources, is possibly incorrect, the correct date then being October 18, 1954.
Explanations:
Not looked for yet.
Keywords:
(These keywords are only to help queries and are not implying anything.)
Saxi-Bourdon, Nièvre, Lormes, Nevers, bus, multiple, disc, shining, aluminum, low, clouds
Sources:
[---] indicates sources which I have not yet checked.
Document history:
| Version: | Created/Changed by: | Date: | Change Description: |
| --- | --- | --- | --- |
| 0.1 | Patrick Gross | June 19, 2005 | First published. |
| 1.0 | Patrick Gross | March 24, 2009 | Conversion from HTML to XHTML Strict. First formal version. Additions [lc1]. |
| 1.1 | Patrick Gross | March 15, 2010 | Addition [jc1], note on the date. |
| 1.1 | Patrick Gross | October 10, 2016 | Addition [lm1]. |
| 1.2 | Patrick Gross | January 6, 2019 | Addition [lh1]. |