The 1954 French flap:
The index page for the 1954 French flap section of this website is here.
October 16, 1954, Aumale, Seine-Maritime:
Reference number for this case: 16-Oct-54-Aumale. Thank you for including this reference number in any correspondence with me regarding this case.
Reports:
[Ref. bv1] "BRESLE ET VIMEU LIBRES" NEWSPAPER: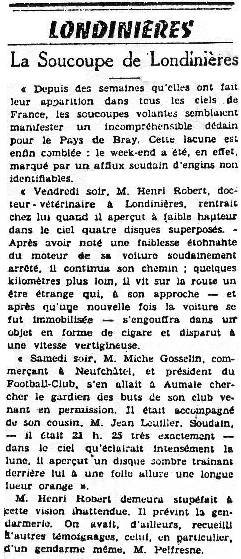 LONDINIERES
Londinières' Saucer
"Since weeks that they made their appearance in all the skies of France, the flying saucers seemed to express an incomprehensible scorn for the country of Bray. This gap is finally filled: the weekend, indeed, was marked by a sudden surge of nonidentifiable machines.
"Friday evening, Mr. Henri Robert, doctor-veterinary in Londinières, was returning at his place when he saw at a low altitude in the sky four discs one on the other.
After having noted an astonishing weakness of his car's engine suddenly turned off, he resumed his travel; a few kilometers further, he saw on the road a strange being which, at his approach - and after once again the car had been immobilized - threw himself in an object in the shape of cigar and disappeared at a vertiginous speed.
"Saturday evening, Mr. Michel Gosselin, tradesman in Neufchâtel, and chairman of the Football-Club, went away to Aumale to fetch the goal of his club coming in permission. He was accompanied by his cousin, Mr. Jean Leullier. Suddenly - it was 9:25 p.m. very exactly - in the sky which the moon lit intensely, he saw a dark disc trailing behind itself a long orange gleam at an incredible pace".
Mr. Henri Robert remained amazed at his unexpected vision. He alerted the gendarmerie. Other testimonys were collected by the way, in particular, that of a gendarme himself, Mr. Pelfresne.
Explanations:
Not looked for yet.
Keywords:
(These keywords are only to help queries and are not implying anything.)
Aumale, Seine-Maritime, evening, multiple, Michel Gosselin, Jean Leullier, disc, dark, trail, fast, orange
Sources:
[---] indicates sources which I have not yet checked.
[bv1] Article in the local newspaper Bresles et Vimeu Libres, Gamarches, France, page 2, October 24, 1954
Document history:
| Version: | Created/Changed by: | Date: | Change Description: |
| --- | --- | --- | --- |
| 1.0 | Patrick Gross | June 22, 2010 | First published. |