Pilots UFO sightings:
Near Romford or over London, U-K., January 31, 1916
Circa 1999, ufologist Jan Aldritch prepared a catalog of summaries of early cases of aircraft - UFO encounters ([prt2]) that were sometimes previously unpublished or little-known. This was to help French ufologist Dominique Weinstein in compiling the latter's catalog of aircraft - UFO encounters. Aldrich explained that as Dominique Weinstein has many of the primary documents, the summaries are very short.
Vers 1999, l'ufologue Jan Aldritch avait compilé un catalogue de résumés de cas allégués anciens de recontres avions - OVNIS ([prt2]) qui étaient parfois inédits ou peu connus. C'était pour aider l'ufologue français Dominique Weinstein à compiler le catalogue de rencontres avions - OVNI de ce dernier. Aldrich a expliqué que comme Dominique Weinstein possède de nombreux documents originaux, les résumés sont très courts.
N [N=New Case not in November 1997 ACUFOE Catalogue] - 1916.01.31, 2025 hours, England, Near Romford, Essex.
RAF fighter patrolling for Zepplins saw a light to the north. He tried to close for 20 minutes but his engine was malfunctioning and would not do more than 50 mph. Light was lost in the clouds. (UFO Brigantia #25, Mar-Apr 87 (PRO Air 1/611/16/15/288) (First UFO seen from the air))
On the Web, a detailed version was published by Dr. David Clarke ([dce1]), "sceptical" British ufologist who did hige work in cheking such incidents in the British National Archive file:
Early in 1916 a mysterious light in the sky was spotted and chased by a pilot of the Royal Flying Corps on patrol above the capital. On the night of January 31 the crews of nine Zeppelins of the German Navy left their sheds on the Continent with orders from their commanding officer, Peter Strasser, to "attack England middle and south."
With their giant hydrogen-filled envelopes weighted down with explosives and incendiary bombs, the squadron of aerial monsters crossed the North Sea with plans to attack industrial targets in England. These included the important steelworks in Sheffield and Liverpool docks. However, the plan was thrown into chaos by atrocious weather conditions of freezing rain, snow and thick ground mist which shielded much of the countryside from the air and made accurate navigation impossible. Amidst much confusion secondary targets in the North and the Midlands were bombed including Birmingham, Burton-on-Trent and Scunthorpe, leaving 71 people dead and 113 injured.
Despite the confusion, the War Office was able to plot the precise course of all nine raiding airships and it has been established that none of the enemy ventured further south than the Norfolk Broads. Because intially at least one of the raiding Zeppelins turned south after crossing the East Anglian coastline, the War Office calculated that if the course was held they would be over London at 8.10 p.m. Orders to this effect were sent to the fighter aerodromes defending the capital, one of these being Hainault Farm, four miles north of Romford in Essex.
At 7.40pm Lieutenant R.S. Maxwell arose from Hainault Farm aerodrome in his BE2C fighter but saw nothing unusual until 8.25 when according to his report:
"My engine was missing irregularly and it was only by keeping the speed of the machine down to 50 mph that I was able to stay at 10,000 feet. It was at this time when I distinctly saw an artificial light to the north of me, and at about the same height. I followed this light northeast for nearly 20 minutes, but it seemed to go slightly higher and just as quickly as myself, and eventually I lost it completely in the clouds."
At around the same time Claude Ridley, the pilot of a second BE fighter, reported seeing what he called "a moving light" in the sky over London which he followed and lost in dense cloud. It is a possibility that both Maxwell and Ridley had caught a fleeting glimpse of each other's biplanes, but it was impossible for them to confirm visual contact without radio sets. During the air-raid 16 British pilots took off in a desperate bid to engage the high-flying Zeppelins, but according to the surviving records not one succeeded in engaging the enemy. At this stage in the air war, few people outside the embryonic army and navy flying corps - which merged to create the RAF in 1918 - had any real idea of the problems involved in night-time interceptions, with take offs and landings being particularly hazardous procedures. Two of the RFC's most experienced pilots lost their lives during the course of the night, when the flimsy aircraft collided with fog-shrouded trees during their attempts to become airborne.
Confusion, inexperience and bad weather may well account for Maxwell's sighting. But what happened next, just 20 minutes later, makes an altogether different - and far stranger - interpretation of that night's events a distinct possibility.
It seems that David Clarke, with Andy Roberts, had already published about this case in their 1990 book "Phantoms of the Sky: UFOs - a Modern Myth?" ([clr1])
The story also appears in Nigel Watson's 2015 book "UFOs of the First World War: Phantom Airships, Balloons, and Other Mysterious Aerial Phenomena" ([nwn1]); in which we learn that Maxwell's plane was No. 2087.
Discussion:
The aircraft
Both planes were Royal Aircraft Factory B.E.2c, "B. E." meaning Experimental Blériot. It had been designed before WWI as a renconnaissance aircraft, the only military role that was then envisaged for airplanes; it first flew in February 1912.
During WWI, they were soon outclassed and were then used for submarine detection, Zeppelin defense and training.
On the night of August 3, 1916, a B.E.2 piloted by Captain William Leefe Robinson of the Royal Flying Corp, ancestor of the Royal Air Force, shot down the first German Zeppelin airship over Britain.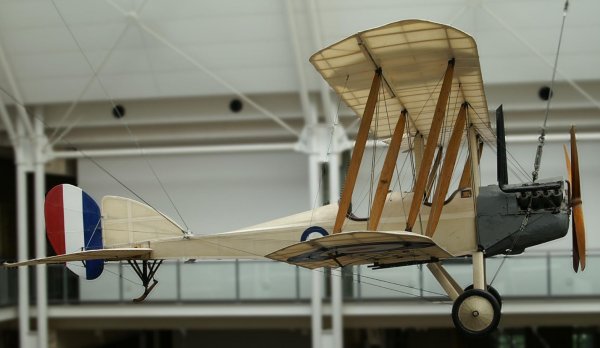 Above: the B.E.2c dispalyed at the Imperial War Museum.
The Zeppelin raid
The January 31, 1916, Zeppelin raid is fully documented. It involved two Zeppelins, L21 from Nordholz in Germany and L19 from Tonder in Denmark. They were supposed to bomb Liverpool factories, a round flight of nearly 1,000 miles. Everything went well initially, but on reaching Norfolk they encountered mist and fog, and were soon lost. They both made the same navigational error, and ended up over the Black Country.
At 5:25 p.m., L21 was spotted above King's Lynn, and was seen over Derby at 6.55 p.m. It then crossed Wombourne, Kingswinford, Brierley Hill, Netherton. It arrived over Tipton around 08:00 p.m. After the bombing it headed back to its base in Germany.
L19 roughly followed L21's flight path, slower due to engine issues. It reached Tipton at about 12.30 a.m. As it crossed back the North Sea with only one engine out of 3 still functionning, it received rifles fire from the Dutch and came down on the sea, and the entire crew was lost.
Neither L21 nor L19 had flown over or near London. The pilots' sightings were not of any Zeppelin.
Evaluation:
Sources references:
* = Source is available to me.
? = Source I am told about but could not get so far. Help needed.
File history:
| Version: | Create/changed by: | Date: | Description: |
| --- | --- | --- | --- |
| 1.0 | Patrick Gross | August 10, 2021 | Creation, [prt2], [dce1]. |
| 1.0 | Patrick Gross | August 10, 2021 | First published. |