Pilots UFO sightings:
Formiche di Grosseto, Italy, October 10, 1936
An article in the British Flying Saucer Review for July - August 1955 ([fsr1]) told of 3 Italian sightings; one of them was of an alleged UFO - aircraft encounter:
The article said that this case, like the two others it reported, were registered by the C.I.R.N.O.S. ("Centro Independente Raccolta Notizie Observazioni Spaziali"), based at Marina di Pietrasannta (Lucca), Viale Roma, Fiumetto, Italy, and that they "have been carefully checked, and the witnesses are known to be personally reliable."
The case that I am dealing with here was reported like this: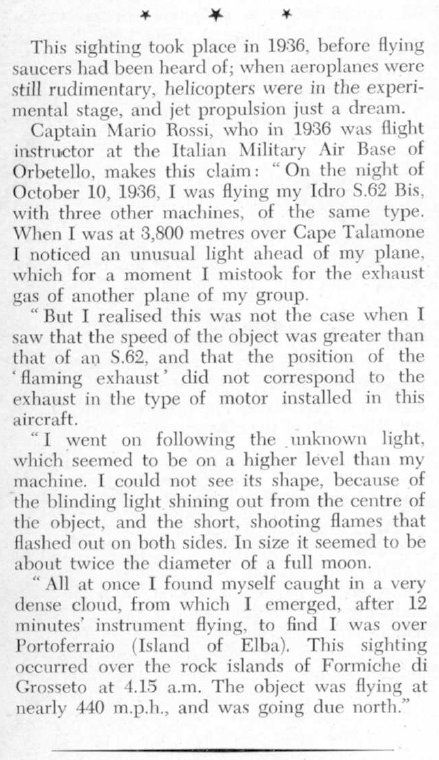 This sighting took place in 1936, before flying saucers had been heard of; when aeroplanes were still rudimentary, helicopters were in the experimental stage, and jet propulsion just a dream.
Captain Mario Rossi, who in 1936 was flight instructor at the Italian military Air Base of Ortebello, makes this claim: "On the night of October 10, 1936, I was flying my Idro S.62 Bis, with three other machines, of the same type. When I was at 3,800 metres over Cape Talamone I noticed an unusual light ahead of my plane, which for a moment I mistook for the exhaust gas of another plane of my group.
"But I realized this was not the case when I saw that the speed of the object was greater than that of an S.62, and that the position of the "flaming exhaust" did not correspond to the exhaust in the type of motor installed in this aircraft.
"I went on following the unknown light, which seemed to be on a higher level than my machine. I could not see its shape, because of the blinding light shining out from the center of the object, and the short, shooting flames that rashed out on both sides. In size it seemed to be about twice the diameter of a full moon.
"All at once I found myself caught in a very dense cloud, from which I emerged, after 12 minutes instrument flying, to find I was over Portoferraio (Island of Elba). This sighting occurred over the rock islands of Formiche di Grosseto at 4.15 a.m. The object was flying at nearly 440 m.p.h., and was going due north."
Circa 1999, ufologist Jan Aldritch prepared a catalog of summaries of early cases of aircraft - UFO encounters ([prt1]) that were sometimes previously unpublished or little-known. This was to help French ufologist Dominique Weinstein in compiling the latter's catalog of aircraft - UFO encounters. Aldrich explained that as Dominique Weinstein has many of the primary documents, the summaries are very short.
N - [N = New Case not in November 1997 ACUFOE Catalogue] 1936.10.10, about 0415 local, near Cape Talamonore [sic].
Italian military Idro S.62 Bis, pilot in a four plane formation flying at 3,500 meters, sighted a light at a higher level that at first was mistaken for another plane in the formation. Tried to pursue. The object appeared to shot short flames from the center. Could not make out shape as object's light was blinding. Appeared to be twice the diameter of the moon and flew north. (Flying Saucer Review Vol 1, #3, page 5, taken from reports to CIRNOS, Fiumetto, Italy)
A CUN (Centro Ufologico Nazionale, Italy) sightings list on the Web in the 2010's says only:
SAB. 10 OTTOBRE 1936 4.15 LE FORMICHE DI GROSSETO (GR)
Some Italian UFO Websites tell of the sighting, generally without additional information. For example:
venerdì 18 gennaio 2013
L'avvistamento ufo del 10 Ottobre 1936
Come sempre premetto che la scienza ufficiale non crede nell' esistenza degli Ufo e degli extraterrestri.
Il 10 Ottobre 1936 il capitano della Regia Aeronautica Mario Rossi si trovava in volo sul suo Idro S.62 bis in formazione con altri tre aerei quando a 3800 metri su Capo Telamone (il capitano lavorava come istruttore di volo presso la base militare italiana di Orbetello) notò una strana luce di fronte al suo aereo, che in un primo momento scambiò per il gas di scarico del motore di uno degli altri apparecchi. Molto presto, il capitano si rese conto che la velocità dell'oggetto che aveva davanti superava di gran lunga quella di un S. 62.
Continuò a seguire l'oggetto senza riuscire tuttavia a distinguerne la forma a causa della luce accecante proveniente dalla parte centrale e delle brevi fiammate che ne fuoriuscivano da entrambi i lati. Dopo un pò l'oggetto scomparve. L'avvistamento ebbe luogo sulle isolette rocciose note come Formiche di Grosseto alle 4.15 antimeridiane. La velocità della luce misteriosa era di circa 700 Km orari. A quell' epoca nessun velivolo costruito dall'uomo poteva raggiungere simili velocità (la propulsione a getto non era stata ancora inventata).
(Fonte: Oggetti volanti non identificati, Roberto Pinotti, Mondatori).
(Found 2021 at: https://massimilianoaiello.blogspot.com/2013/01/lavvistamento-ufo-del-10-ottobre-1936.html )
I.e.:
Friday 18th January 2013
The UFO sighting of October 10, 1936
As always I state that official science does not believe in the existence of UFOs and extraterrestrials.
On 10 October 1936 the captain of the Regia Aeronautica Mario Rossi was flying on his Idro S.62 bis in formation with three other aircraft when at 3800 meters on Capo Telamone (the captain worked as a flight instructor at the Italian military base of Orbetello) noticed a strange light in front of his plane, which at first he mistook for the exhaust from the engine of one of the other aircraft. Very soon, the captain realized that the speed of the object in front of him far exceeded that of a S. 62.
He continued to follow the object without being able to distinguish its shape due to the blinding light coming from the central part and the short flames that came out from both sides. After a while the object disappeared. The sighting took place on the rocky islets known as Formiche di Grosseto at 4.15 am. The mysterious speed of light was about 700 kilometers per hour. At that time, no man-made aircraft could reach such speeds (jet propulsion had not yet been invented).
(Source: Unidentified flying objects, Roberto Pinotti, Mondatori).
Discussion:
Talamone, not Talamonore, is a town and a cape in Tuscany, Italy, on the west coast of central Italy, but the sighting, per [fsr1] quoting the witness, "occurred over the rock islands of Formiche di Grosseto".
Savoia-Marchetti S.62 was a bomber and reconnaissance seaplane built in Italy in the 1920s, and used mainly by the Regia Aeronautica:
There was a lighthouse on the island, built in 1901 and restored in 1919 by the Regia Marina. But it was probably not the cause of the sighting.
(https://www.marina.difesa.it/cosa-facciamo/per-la-difesa-sicurezza/fari/Pagine/2136.aspx )
The report, in my opinion, looks a lot like the report of a meteor.
Evaluation:
Probable meteor.
Sources references:
* = Source is available to me.
? = Source I am told about but could not get so far. Help needed.
[fsr1] * "Three Sightings in Italy", article by Ernesto Thayaht, in the ufology magazine Flying Saucer Review (FSR), U-K, Volume 1, Nr. 3, page 6, July August 1955.
[prt1] * "Aircraft UFO Encounters Summaries From Project 1947 Research", catalog compiled by Jan Aldrich, Project 1947 ufology Website, USA, Version 2, October 9, 1999, at http://www.project1947.com/47cats/acupdt.htm
[rpi1] ? "Oggetti Volanti Non Identificati", book by Roberto Pinotti, Arnoldo Mondadori, Italy, 2003.
File history:
| Version: | Create/changed by: | Date: | Description: |
| --- | --- | --- | --- |
| 1.0 | Patrick Gross | August 7, 2021 | Creation, [fsr1], [prt1]. |
| 1.0 | Patrick Gross | August 7, 2021 | First published. |