ALSACAT:
Case of Illzach, on December 12, 1980:
Case number:
ALSACAT-1980-12-12-ILLZACH-1
Summary:
Around 2006-2010, GEIPAN, the group within the French Space Studies Center (CNES), in charge of studies and information on unidentified aerospace phenomena, published a gendarmerie report on an observation in the Illzach sector in the Haut-Rhin, which the GEIPAN ranked "C", i.e. an observation that remains unexplained but essentially due to lack of information.
The gendarmes had noted on December 12, 1980, at 6 p.m., Mrs. G[] A[], married, three children, French, worker, had come to their office to report that she had witnessed a "somewhat unusual" phenomenon that same day at approximately 5 p.m..
In her signed statement, she said that going to work in her vehicle, circulating on a Departmental Road - of which the number is censored - in a direction also censored, she was in the heart of a forest whose name is censored - but it is obviously the Hardt.
Arriving not far from a place whose name is censored, she saw in her rearview mirror a large oval and orange colored light. On each side of this shape, she noticed a row of lights that blinked and went from green to red to blue color.
She then stopped her vehicle with the intention of explaining this phenomenon to herself, and noted that the oval shape was 5 meters wide and 2 meters high.
It occurred to her that it could be a UFO, and then she drove on. For a few minutes, she still had the phenomenon in her rearview mirror, and it "disappeared", or was lost from sight, when she arrived at a crossroads between the Departmental Road and the road leading to a place whose name is censored.
The gendarmes then tried to find other witnesses, in vain. They made contact with the airport (of Basle-Mulhouse, of course) and learned there, besides that it could have be an airplane, that no plane landing was known to them at this time and place.
Data:
Temporal data:
| | |
| --- | --- |
| Date: | December 12, 1980 |
| Time: | ~05:00 p.m. |
| Duration: | Minutes. |
| First known report date: | December 12, 1980 |
| Reporting delay: | 1 hour. |
Geographical data:
| | |
| --- | --- |
| Department: | Haut-Rhin |
| City: | Illzach |
| Place: | In the rearview mirror in the heart of the Hardt forest on a Departmental Road, UFO in the sky. |
| Latitude: | 47.778 |
| Longitude: | 7.455 |
| Uncertainty ratio: | 10 km |
Witnesses data:
| | |
| --- | --- |
| Number of alleged witnesses: | 1 |
| Number of known witnesses: | 1 |
| Number of named witnesses: | 1 |
| Witness(es) ages: | Adult. |
| Witness(es) types: | Mother of family, worker. |
Ufology data:
| | |
| --- | --- |
| Reporting channel: | To the gendarmerie Nationale. |
| Type of location: | In the heart of a forest on a Departmental Road, UFO in the sky. |
| Visibility conditions: | Evening. |
| UFO observed: | Yes |
| UFO arrival observed: | No |
| UFO departure observed: | ? |
| Entities: | No |
| Photographs: | No. |
| Sketch(s) by witness(es): | No. |
| Sketch(es) approved by witness(es): | No. |
| Witness(es) feelings: | Puzzled, worried. |
| Witnesses interpretation: | UFO? |
Classifications:
| | |
| --- | --- |
| Hynek: | NL |
| ALSACAT: | Possible plane |
Sources:
[Ref. gei1:] GROUPE D'ETUDES ET D'INFORMATIONS SUR LES PHENOMENES AEROSPATIAUX NON IDENTIFIES (G.E.I.P.A.N.):
ILLZACH (68) 1980 [Renamed "PETIT-LANDAU (68) 12.12.1980"]
Observed on:
12/12/1980
Region:
Alsace
Department:
Rhin (Haut)
Class:
C
Summary:
observation of an oval-shaped object
Description:
On December 12, 1980, around 5 p.m. a female motorist sees in his rearview mirror an orange light. At about 300m in the forest, an oval-shaped object emits flashing lights from green to red and blue. The witness stops to observe. This shape is approximately 5 m wide and 2 m high. Impressed, the motorist leaves and sees the object disappear at a crossroads. No other information or testimony will be collected on this phenomenon for which we lack information.
Report:
None.
Details of the testimony
Witness
Date of the observation
12/12/1980
Document number
Age
Adult (more than 18)
Profession
Employees, Workers
Sex
Female
Reaction
Acrive Curiosity
Credibility
Normal Credibility
Conditions
Environment
Departmental ways,Roads;Forests
Weather conditions
Not-specified
Houre of the observation
Numbered: 4 p.m. - 6 p.m.
Reference frame
Sky or clouds
Distance between phenomenon and witness
Not-specified
Start of the observation
Start of the observation by witness
End of the observation
End of the observation by phenomenon
Localization
Angle of the site
Not-specified
Direction of observation
Geographic landmarks (City name, village, numbered, etc.)
Heading
Not-specified
Trajectory
Not-specified
Nature of the observation
Terms UFO (saucer, disc, etc.);Phenomenon
Characteristic of the observation
Unique
Global shape
Oval, football
Color
Orange, fire;Several colors or multicolored
Apparent size
Numbered
Apparent speed
Not-specified
Noise
Not-specified
Effect on the environment
Not-specified
Number
1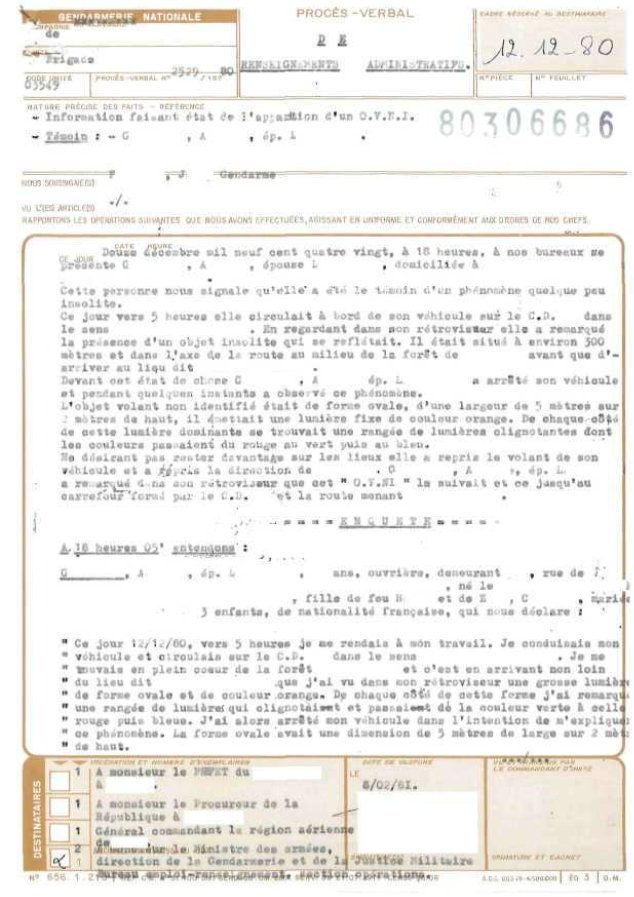 GENDARMERIE NATIONALE
Brigade []
Unit code 03549
Report nr 2529/1980
12.12.80
DOCUMENT Nr []
SHEET Nr []
REPORT OF ADMINISTRATIVE INFORMATION
PRECISE NATURE OF THE FACTS - REFERENCE
- Information about the appearance of a U.F.O.
- Witness: G[], à [], spouse L
WE THE UNDERSIGNED F[] J[], Gendarme
IN VIEW OF THE ARTICLES ./.
REPORT THE FOLLOWING OPERATIONS WE HAVE CARRIED OUT IN UNIFORM AND IN ACCORDANCE WITH THE ORDERS OF OUR CHIEFS:
December 12th, nineteen hundred and eighty, at 6 p.m., at our offices, comes in G [], A [], wife L[], domiciled at [].
This person tells us that she has witnessed a somewhat unusual phenomenon.
That day around 5 o'clock she was driving in her vehicle on the C. D. [] in the direction []. Looking in her rearview mirror she noticed the presence of an unusual object that was reflected. It was located about 300 meters and in the axis of the road in the middle of the forest of [] before arriving at the place said [].
In front of this state of affairs G []. A [], ep. L [] stopped her vehicle and observed this phenomenon for a few minutes.
The unidentified flying object was oval in shape, 5 meters by 2 meters high, emitting a steady orange light. On both side of this dominant light was a row of flashing lights whose colors ranged from red to green to blue.
Not wishing to stay on the scene, she took the steering wheel of her vehicle again and took the direction of []. G[], A[], spouse L[] noticed in her rearview mirror that this "U.F.O." followed her to the junction formed by the C. D. [] and the road leading to [].
---- INVESTIGATION ----
At 04:05 p.m. we hear:
G[], A[], ep. L[], [] years old, worker, living [], rue de [], daughter of the late H[] and C[], mother of 3 children, of French nationality, who declares to us:
"This day 12/12/80, around 5 p.m., I went to work, I drove my car and drove on the C.D. [] in the direction of []. I was in the heart of the forest [] and it is when arriving near the place said [] that I saw in my rear view mirror a big light of oval shape and orange color. On each side of this form, I noticed a row of lights that blinked and went from the green to the red then the blue color. I then stopped my vehicle with the intention of explaining this phenomenon. The oval shape had a dimension of 5 meters wide and 2 meters high.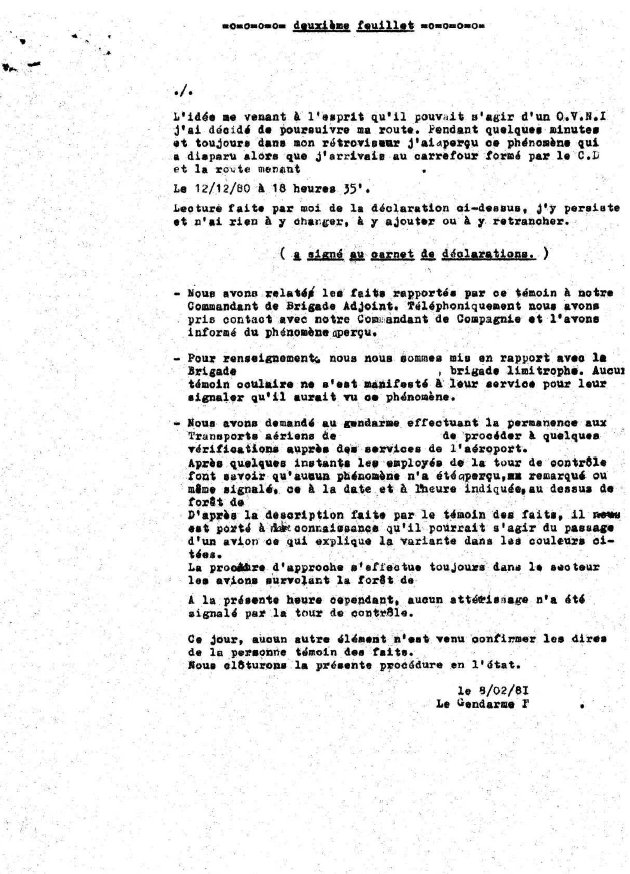 second sheet
./.
The idea came to my mind that it might be a U.F.O. I decided to continue my travel. For a few minutes and still in my rear view mirror I saw this phenomenon which disappeared while I arrived at the crossroads formed by the C.D. [] and the road leading to [].
12/12/80 at 18 hours 35 minutes.
Having read the statement above, I persist in it, and have nothing to change, add to, or delete from it.
(signed in the statement book.)
We have recounted the facts reported by this witness to our Deputy Brigade Commander. Telephonically we made contact with our Company Commander and informed him of the observed phenomenon.
For information we contacted the Brigade [], bordering brigade. No eyewitness came forward to tell them he would have seen this phenomenon.
We asked the Gendarme on duty at Air Transportation at [] to conduct a few checks with the airport services.

After a few moments the employees of the control tower made it known that no phenomenon was observed, noticed or even reported, on the date and at the time indicated, above the forest of []. According to the description given by the witness of the facts, it is brought to our attention that it could be the passage of an airplane which explains the variation in the colors mentioned. The approach procedure is always carried out in the sector with planes flying over the forest of []. At this time, however, no landing has been reported to the control tower. To this day, no element came to confirm the statements of the person witnessing the facts. We are closing this procedure as is.
On 8/02/81
Gendarme F [].
[Ref. spa1:] SPICA UFOLOGY GROUP:
City
Date and hour of observation
General shape
Identification
General color
Hypothesis
Conclusion
ILLZACH
Friday 12 December 1980 at 05h00
saucer, balloon de rugby (3D)
Unidentified
Several colors
None
Unsolved -lack of info
Discussion:
It is obviously very annoying that all places names are censored, especially as revealing them would not betray the identity of the witness. For some places, the answer is pretty obvious. The forest in the "heart" of which the lady is at the beginning of her observation is obviously the Hardt, she is on a departmental road that crosses it. The mentioned airport is obviously that of Basel-Mulhouse. But we do not know in which direction she drove. I think that the "Illzach" given as sightin location by the GEIPAN is the city where the woman resided, and since we are only talking about possible landing of aircraft and not of a takeoff, and that she sees the UFO behind her, she likely drove away from Illzach, perhaps to the Rhone Poulenc plant, or Pec-Rhin plant, the two big employers at the time, on the other side of the Hardt on the Rhine banks.
The investigation is rather sketchy. No questions are asked to the witness. Some questions were essential, such as angular elevation (how many degrees above the road?). It is also unclear how the UFO "disappeared": lost of sight, hidden by obstacles, or really gone in the distance, or literally a "disappearance on the spot"?
The direction of the trip and the position of the witness may suggest that a takeoff, not a landing, of a plane from Basel-Mulhouse is the explanation, especially as at the airport, they discarded a landing but said nothing about a take-off. But there is something else: the Habsheim airfield, from which smaller planes take off and land. And obviously, the airfield staff was not asked about it. A small plane from that airfield flying to Germany might have been behind the witness.
In 1979 and 1980, I was a high school student in Mulhouse, and I often took the same route for a summer job at Rhône-Poulenc, in shifts. The lady goes to work at 5 p.m., she certainly also worked in shifts. She must have been shaken by her observation, since she went to work around 5 pm and was at the gendarmerie within an hour, instead of going to he workplace.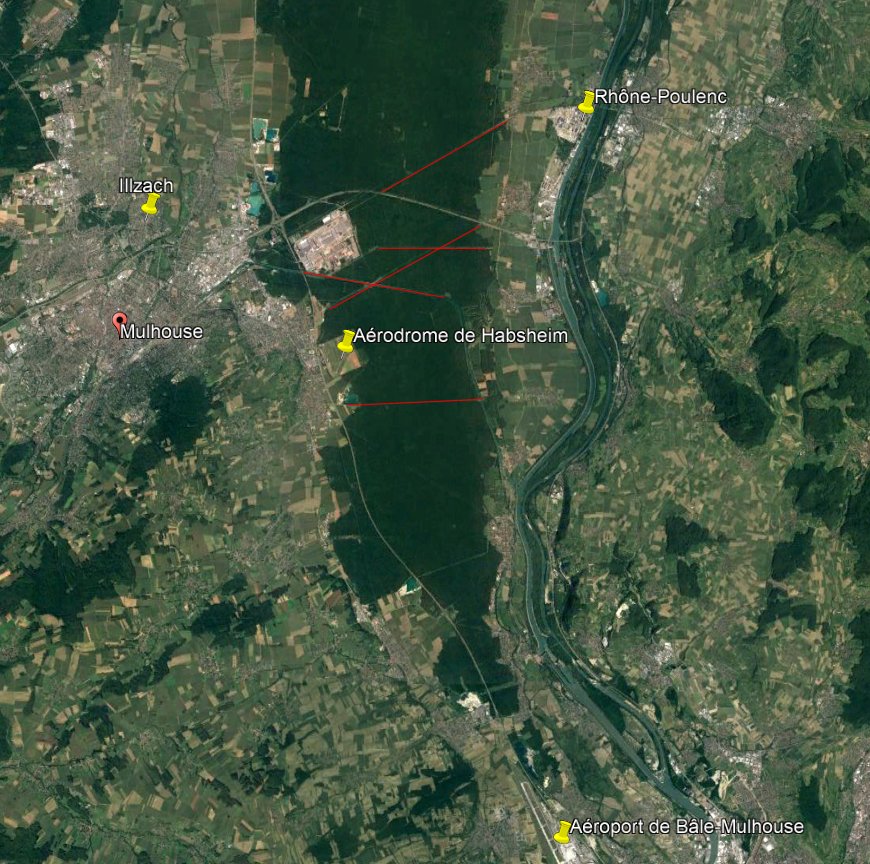 The places mentioned. The red lines show several of the Departmental Paths crossing the Hardt,
those where in my opinion the witness could have been.
With all this, and given the low strangeness of what is reported, given the fact that the sector has experienced many confusions of this kind, I think it is very difficult to exclude a nididentified plane, as the information stands for now.
Evaluation:
Possible plane.
Sources references:
* = Source is available to me.
? = Source I am told about but could not get so far. Help needed.
[gei1] * "ILLZACH (68) 1980", case record from the ufology database of the "Groupe d'Etude et d'Informations sur les Phénomènes Aérospatiaux Non Identifiés" (GEIPAN), public service, branch of the "Centre National des Etudes Spatiales" (CNES), France, as of January 30, 2014, at http://www.geipan.fr/index.php?id=202&cas=1980-12-01773
[spa1] * "DEPARTEMENT 68 - HAUT-RHIN", listing of UFO sighting reports by the Alsatian ufology group SPICA, Alsace, France, not dated, found in May 2015, at http://www.spica.org/Page_Listing_68.htm
File history:
Authoring:
| | |
| --- | --- |
| Main author: | Patrick Gross |
| Contributors: | None |
| Reviewers: | None |
| Editeur: | Patrick Gross |
Changes history:
| Version: | Create/changed by: | Date: | Description: |
| --- | --- | --- | --- |
| 0.1 | Patrick Gross | February 10, 2018 | Creation, [gei1], [spa1]. |
| 1.0 | Patrick Gross | February 10, 2018 | First published. |