UFOs in the daily Press:
Saucer party, France, 1954:
The article below was published in the daily newspaper Paris-Presse, Paris, France, page 5, on October 3, 1954.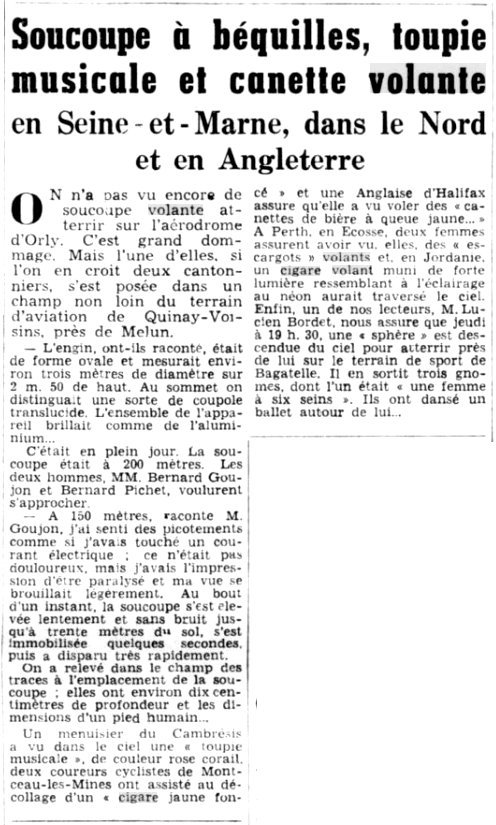 Saucer with crutches, musical top
and flying can
in Seine-et-Marne, in the Nord
and in England
We did not yet see a flying saucer land on Orly airfield. It is a very sad. But one of them, if we believe two roadmasters, landed in a field not far from the airfield of Quinay-Voisins, near Melun.
- The object, they said, was oval in shape and was about three meters in diameter by 2 m. 50 high. At the top there was a sort of translucent dome. The whole craft shone like aluminum...
It was in broad daylight. The saucer was 200 meters away. The two men, MM. Bernard Goujon and Bernard Pichet, wanted to approach.
- At 150 meters, says Mr. Goujon, I felt tingling as if I had touched an electric current; it was not painful, but I felt like I was paralyzed and my eyesight was blurred slightly. After a moment, the saucer rose slowly and silently to thirty meters from the ground, stopped for a few seconds, then disappeared very quickly.
Traces were found in the field at the location of the saucer; they are about ten centimeters deep and the dimensions of a human foot...
A carpenter from the Cambrésis saw in the sky a "musical spinning top", of coral pink color, two cyclists from Montceau-les-Mines witnessed the take-off of a "dark yellow cigar" and an Englishwoman from Halifax said that she had seen "flying yellow-tailed beer cans..." In Perth, Scotland, two women claim to have seen flying "snails" and, in Jordan, a flying cigar with strong light resembling neon lighting would have crossed the sky. Finally, one of our readers, Mr. Lucien Bordet, assures us that Thursday at 7:30 p.m., a "sphere" descended from the sky to land near him on the Bagatelle sports ground. There came out three gnomes, one of which was "a woman with six breasts". They danced a ballet around him...