UFOs in the daily Press:
The 1954 French flap in the Press:
The article below was published in the daily newspaper Nord-Matin, Valenciennes issue, Nord, France, page 4, on October 23, 1954.
See the case file.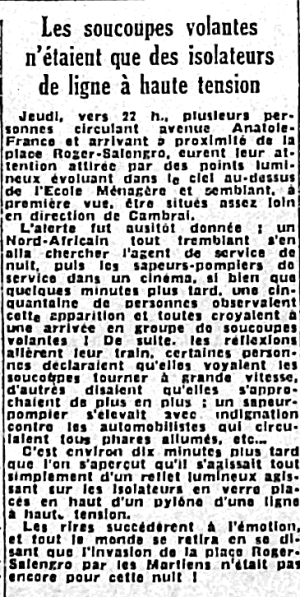 The flying saucers
were just insulators
of a high power line
Thursday, around 10 p.m., several people circulating on avenue Anatole-France and arriving near the Roger Salengro square, had their attention attracted by luminous dots moving in the sky above the Ecole Ménagère and seeming, at first glance, be located quite far towards Cambrai.
The alert was immediately sounded: a trembling North African went to get the night duty officer, then the firefighters on duty in a cinema, so that a few minutes later, fifty people watched this apparition and all believed in a group of flying saucers! Immediately, the reflections went on, some people declared that they saw the saucers spinning at high speed, others said that they were approaching more and more; a firefighter protested indignantly against motorists who were driving with all their headlights on, etc...
It was about ten minutes later that one realized that it was quite simply a light reflection acting on the glass insulators placed at the top of a pylon of a high power line.
The laughter followed the emotion, and everyone withdrew saying that the invasion of the place Roger-Salengro by the Martians was not yet for this night!