UFOs in the daily Press:
The 1954 French flap in the Press:
The article below was published in the daily newspaper Nord-Eclair, Roubaix, Nord, France, page 10, on October 14, 1954.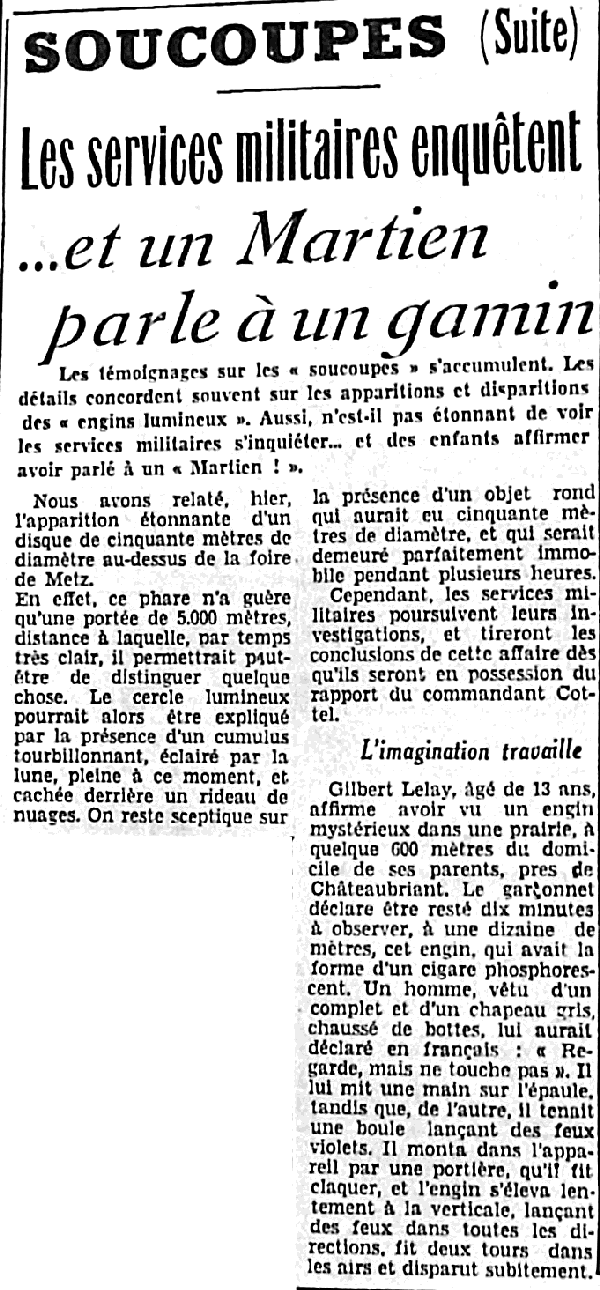 SAUCERS (CONTINUED)
Military services are investigating
... and a Martian
talked to a kid
The testimonies on the "saucers" accumulate. The details often agree on the appearance and disappearance of the "luminous craft". So, is it not astonishing to see the military services worrying... and children claiming to have spoken to a "Martian!"
Yesterday, we reported the astonishing appearance of a disc of fifty meters in diameter above the fair of Metz.
Indeed, this projector has only a range of 5,000 meters, a distance at which, in very clear weather, it could perhaps distinguish something. The luminous circle could then be explained by the presence of a whirling cumulus, lit by the moon, full at this time, and hidden behind a curtain of clouds. We remain skeptical about the presence of a round object which would have been fifty meters in diameter, and which would have remained perfectly still for several hours.
However, the military services are continuing their investigations, and will draw conclusions from this case as soon as they are in possession of the report by Commandant Cottel.
Imagination at work
Gilbert Lelay, aged 13,, claims to have seen a mysterious object in a meadow, some 600 meters from his parents' home, near Châteaubriant. The boy declares to have remained ten minutes to observe, at ten meters this object, which had the shape of a phosphorescent cigar. A man, dressed in a suit and a gray hat, wearing boots, reportedly said to him in French: "Look, but don't touch". He put a hand on his shoulder, while with the other he held a ball launching purple fires. He climbed into the craft through a door, which he slammed, and the craft slowly rose vertically, launching fires in all directions, made two turns in the air and suddenly disappeared.