UFOs in the daily Press:
The West Freugh incident in the 1957 Press:
This article was published in the daily newspaper The Newark Sunday News, New York, USA, on April 7, 1957.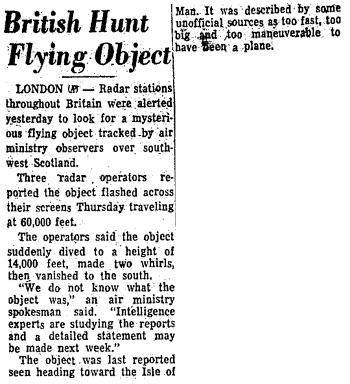 British Hunt Flying Object
LONDON (AP) -- Radar stations throughout Britain were alerted Saturday to look for a mysterious flying object tracked by Air Ministry observers over Southwest Scotland.
Three radar operators reported independently that the object flashed across their screens traveling at 60.000 feet.
The operators said the object suddenly dived to a height of 14.000 feet, made two whirls, then vanished to the south. And Air ministry spokesman said: "We do not know what the object was. Intelligence experts are studying the reports and a detailed statement may be made next week."
The object was sighted by two lonely radar posts in Scotland's hilly Wigtownshire. A Royal Air Force station near Luce Bay on the southwestern tip of Scotland also caught it on radar. It was reported heading toward the Isle of man.
Royal Air Force officials said no planes were in the area at the time. The mystery object was described by some unofficial sources as too fast, too big and too manoeuverable for a plane.