UFOs in the daily Press:
Lubbock, Texas, USA, sightings in 1951:
This article was published in the daily newspaper The Lubbock Morning Avalanche, of Lubbock, Texas, on September 2, 1951.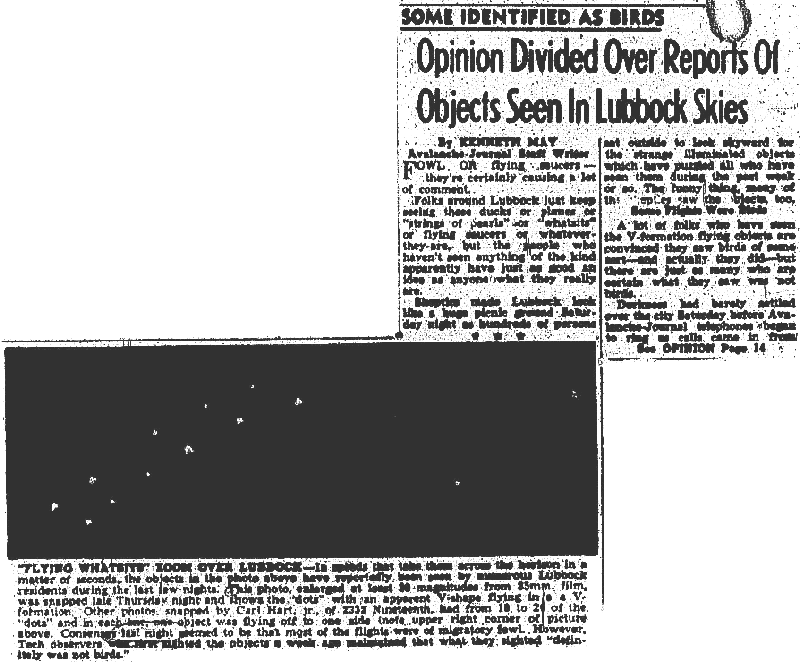 SOME IDENTIFIED AS BIRDS
Opinion Divided Over Reports Of
Objects Seen in Lubbock Skies
By KENNETH MAY
Avalanche-Journal staff Writer
FOWL OR flying saucers -- they're certainly causing a lot of comment.
Folks around Lubbock just keep seeing those ducks or planes or "strings of pearls" or "whatsits" or flying saucers or whatever they are, but the people who haven't seen anything of this kind apparently have just as good an idea as anyone what they really are.
Skeptics made Lubbock look like a huge picnic ground Saturday night as hundreds of persons sat outside to look skyward for the strange illuminated objects which have puzzled all who have seen them during the past week or so. The funny thing, many of the skeptics saw the objects, too.
Some Flights Were Birds
A lot of folks who have seen the V-formation flying objects are convinced they saw birds of some sort - and actually they did - but there are just as many who are certain what they saw was not birds.
Darkness had barely settled over the city Saturday before avalanche-Journal telephones began to ring as calls came in from
See OPINION Page 14
[Photograph caption:]
"FLYING WHATSITS" ZOOM OVER LUBBOCK -- In speeds that take them across the horizon in a matter of seconds, the objects in the photo above have reportedly be seen by numerous Lubbock residents during the last few nights. This photo, enlarged at least 30 magnitude from 35 mm film, was snapped late Thursday night and shows the "dots" with an apparent V-shape flying in a V-formation. Other photos, snapped by Carl Hart jr., of 2332 Nineteenth, have from 18 to 20 of the "dots" and in each one, one object was flying off to one side (note upper right corner of picture above. Comments that night seemed to be that most of the flights were of migratory fowl. However, Tech observers who have sighted the objects a week ago maintained that what they sighted "definitely was not birds."
Opinion Divided
(Continued from page 1)
persons who claimed to have seen the mysterious lights in the sky.
Quite possibly, some of the persons who think they have seen the strange objects have seen something different from what other have seen. Some persons may have seen birds; others may have seen a light reflection - and others may have seen an altogether strange phenomenon that may never be explained.
"Too fast for Aircraft"
Take Mack Forrester of 3220 Thirty-fifth. He saw two flights of the objects about 11:45 p.m. Saturday and said, "they weren't birds. They were too fast for aircraft. It looked like a light reflection, only there was distinctive little dots, not one single flash."
On the other hand, W. S. Bledsoe, KFYO chief engineer, said he saw "a group of things going over at 9[3?]:30 p.m. They were southbound birds of some sort. I could see the wings flapping."
Mrs Stephen Matyl of the Plainview highway said she and several others saw "some kind of strange objects" about 10:35 p.m. Saturday - and even those in that group couldn't agree. One said it was birds, another frankly admitted he didn't have the slightest idea what it was. Mrs Matyl said they heard a slight whooshing sound as the objects passed overhead, making her only the second or third to report hearing any noise whatsoever.
W. L. Ducker, head of the petroleum engineering department at Texas Tech, who saw the objects a week ago, remained convinced, however, that what he saw "definitely was not birds." He and other Tech professors trained in scientific observation watched the flight at that time.
"Anyone trained in scientific observation won't go half cocked on anything like that," Ducker said. "We discussed whether what we saw might be birds, but we ruled that out because it is improbable so much as to be outside the realm of consideration that two flights of birds would be in precisely the same formation - a formation peculiar to birds in the first place."
The objects observed by Ducker, he said, were in a semi-circular formation, not in the V-shape in which migratory fowl are seen.
"I don't doubt that some folks have seen some sort of birds formation and thought it to be the same thing we saw," he added, however.
The unidentified objects - which at least have taken folks' minds partly off the explosive world situation - have been reported by literally hundreds of Lubbock residents during the last few nights. All flights have been reported as flying from north to south or northeast to southwest in either U-shaped or V-shaped formations. Only one from two to seven seconds are required for the bright objects to pass out of view.
James son, of 2512 Amherst called in to say he's convinced the "things" are flying completely around the world about every hour and 20 minutes. He said he watched them Friday night and that's how often he saw them. He couldn't say what they might be.
Reports of the phenomenon have caused interest over the nation, but no reports of similar objects have been received from other parts of the country other than in the Panhandle, near Amarillo. Dr. J. C. Cross, head of Tech's biology department, examined photographs of what was said to be the strange objects, and said the dots in the picture "definitely was not caused by birds."
So, that's how things stood shortly after midnight today. Birds or beasts or ballyhoo, it's better than a comic book.

Note: US Air Force personal investigated this sighting.
Case file on Lubbock lights here.