UFOs in the daily Press:
The Kembs UFO in the Press, 1980:
The article below was published in the daily newspaper Le Républicain Lorrain, Nancy, France, on April 12, 1980.
See the case file.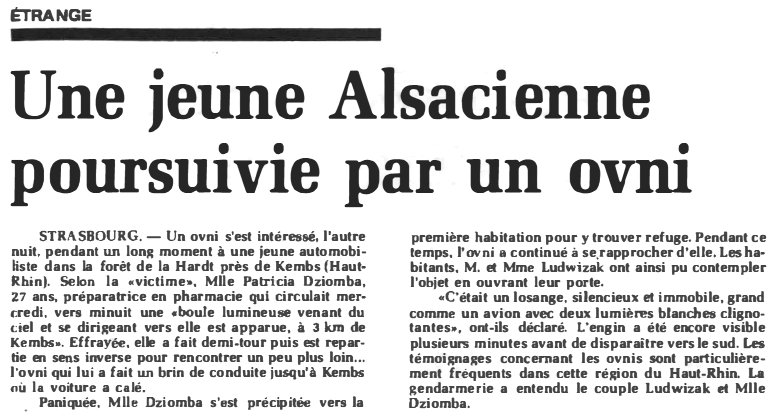 STRANGE
A young Alsatian woman pursued by a UFO
STRASBOURG. -- A UFO was interested, the other night, for a long time in a young motorist in the Hardt forest near Kembs (Haut-Rhin). According to the "victim", Miss Patricia Dziomba, 27, a pharmacy assistant who was drivin on Wednesday, around midnight a "luminous ball coming from the sky and heading towards her appeared, 3 km from Kembs." Frightened, she made a half-turn then left in the opposite direction to meet a little further... the UFO which gave her a bit of company until Kembs where the car stalled.
Panicked, Miss Dziomba rushed to the first house to find refuge. During this time, the UFO continued to approach her. The inhabitants, Mr. and Mrs. Ludwizak were thus able to contemplate the object when they opened their door.
"It was a rhombus, silent and motionless, the size of an airplane with two flashing white lights," they said. The craft was still visible for several minutes before disappearing towards the south. Testimonies about UFOs are particularly frequent in this region of the Haut-Rhin. The gendarmerie heard the couple Ludwizak and Miss Dziomba.