UFOs in the daily Press:
The Oye-Plage flying saucer, France, 1954:
The article below was published in the daily newspaper Le Nouveau Nord Maritime, France, page 6, on October 29, 1954.
See the case file.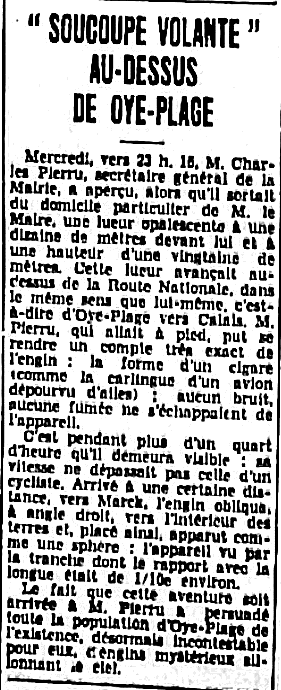 "FLYING SAUCER"
ABOVE
OYE-PLAGE
Wednesday, around 11:15 p.m., Mr. Charles Pierru, secretary general of the Town Hall, saw, as he left the private home of the Mayor, an opalescent glow ten meters in front of him and at a height of twenty meters. This gleam advanced above the national road, in the same direction as him, that is to say from Oye-Plage to Calais. M. Pierru, who was walking, could see a very exact account of the craft: the shape of a cigar (like the cabin of an airplane devoid of wings); no noise, no smoke escaped from the craft.
It was visible for more than a quarter of an hour: its speed did not exceed that of a cyclist. Arrived at a certain distance, towards Marck, the machine obliqued right angle, towards the interior of the grounds and, thus placed, appeared like a sphere: the apparatus seen by the section whose relationship with the length was about 1/10th.
The fact that this adventure happened to Mr. Pierru persuaded the entire population of Oye-Plage of the existence, now indisputable for them, of mysterious craft crisscrossing the sky.