UFOs in the daily Press:
The 1954 French flap in the Press:
The article below was published in the daily newspaper Le Journal du Pas-de-Calais et de la Somme, France, page 5, on October 5, 1954.
See the case file.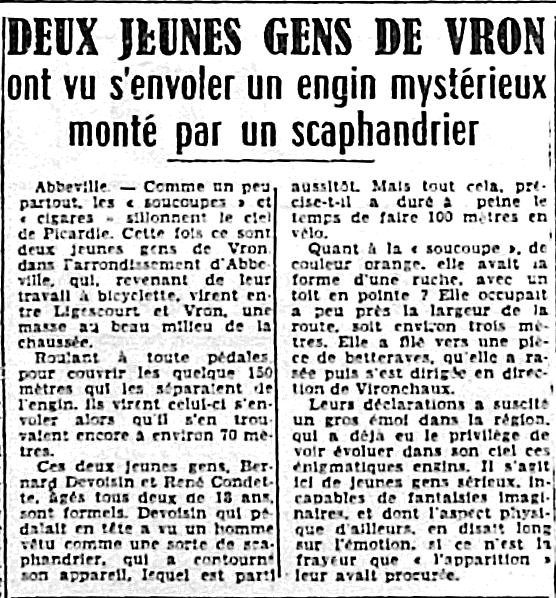 TWO YOUNG PEOPLE OF VRON
saw a mysterious craft take off
ridden by a diver
Abbeville. -- Like a bit everywhere, the "saucers" and "cigars" crisscross the sky of Picardy. This time it was two young men from Vron, in the district of Abbeville, who, returning from their work on bicycles, saw between Ligescourt and Vron, a mass in the middle of the road.
Rolling on all pedals to cover the few 15 meters that separated them from the craft, they saw it fly away while they still were some 70 meters away.
These two young people, Bernard Devoisin and RenÚ Condette, both aged 18, are formal. Devoisin, who was pedaling at the head, saw a man dressed like a kind of diver, who bypassed his craft, which left immediately. But all this, he says, barely lasted the time to cycle 100 meters.
As for the "saucer", of orange color, it had the shape of a hive, with a pointed roof? It was about the width of the road, about three meters. It spun towards a field of beetroot, which it grazed, then it headed towards Vironchaux.
Their statements caused a great stir in the region, which has already had the privilege of seeing these enigmatic craft move in its sky. These are serious young people, incapable of imaginary fantasy, and whose physical appearance, by the way, said a lot about the emotion, if not the fright that "the appearance" had brought them.