UFOs in the daily Press:
The Orly affair, France, 1956:
This article was published in the daily newspaper Le Figaro, Paris, France, February 21, 1956.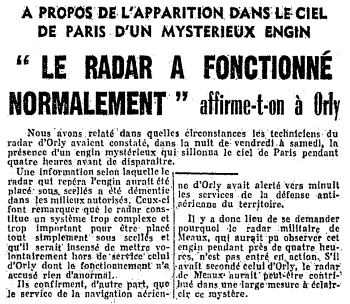 ABOUT THE APPEARANCE IN THE SKY
OF PARIS OF A MYSTERIEUX APPARATUS
"THE RADAR SET FUNCTIONED NORMALLY" claims Orly
We reported in which circumstances the technicians of the radar of Orly had noted, in the night of Friday to Saturday, the presence of a mysterious machine which furrowed the sky of Paris during four hours before disappearing.
Information according to which the radar which located the apparatus would have been put under seals was contradicted in official circles. Those point out that the radar constitutes a too complex and too important system to be simply put under seals and that it would be foolish to interrupt an Orly service of which the operation did not show anything abnormal.
They further confirm that the service of air transport of Orly had alerted about midnight the services of the anti-aircraft defence of the territory.
It is necessary thus to wonder why the military radar of Meaux which could have observed this machine during nearly four hours, did not enter in action. If it had assisted the Orly radar, the Meaux radar would have perhaps contributed on the whole in clarifying this mystery.