UFOs in the daily Press:
The 1954 French flap in the Press:
The article below was published in the weekly newspaper L'Echo de la Lys, Aire-sur-la-Lys, Pas-de-Calais, France, page 2, on October 22, 1954.
See the case file.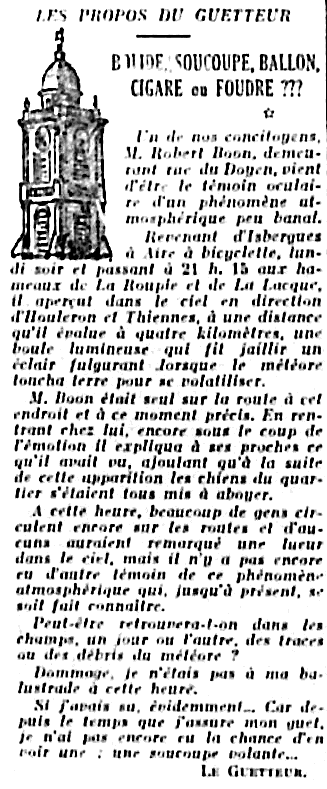 THE TALK OF THE WATCHER
METEOR, SAUCER, BALLOON, CIGAR OR LIGHTNING???
One of our fellow citizens, Mr. Robert Boon, living on rue du Doyen, has just been an eyewitness to an unusual atmospheric phenomenon.
Coming back from Isbergues to Aire by bicycle, Monday evening and passing by 9:15 p.m. in the hamlet of La Roupie and La Lacque, he saw in the sky in the direction of Houleron and Thiennes, at a distance which he estimated at four kilometers, a luminous ball which made a dazzling lightning flash when the meteor touched the ground to volatilize.
Mr. Boon was alone on the road at this location and at that precise time. On returning home, still in a state of emotion, he explained to his relatives what he had seen, adding that following this appearance the dogs in the neighborhood had all started to bark.
At this hour, many people are still driving on the roads and some would have noticed a gleam in the sky, but there has not yet been any other witness of this atmospheric phenomenon which, until now made himself known.
Perhaps we will find in the fields, sooner or later, traces or debris of the meteor?
Too bad, I was not at my railing at this time.
If I had known, obviously... Because since the time that I keep watch I have not yet had the chance to see one: a flying saucer...
THE WATCHER.