UFOs in the daily Press:
The 1954 French flap in the Press:
The article below was published in the daily newspaper La Voix du Nord, Saint-Omer local issue, page 4, on October 23, 1954.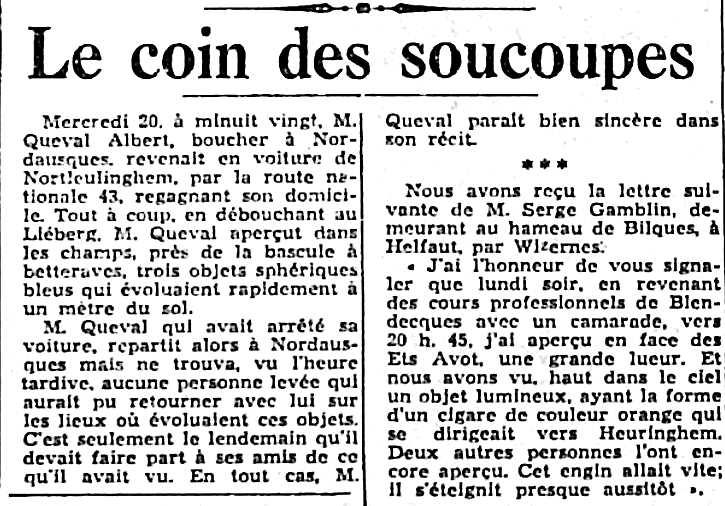 The saucers' corner
Wednesday 20, at twenty past midnight, Mr. Queval Albert, butcher in Nordausques, was returning by car from Nortleulinghem, via the national road 43, returning to his home. Suddenly, on emerging at Liéberg, M. Queval saw in the fields, near the beet tipper, three blue spherical objects which were moving rapidly at one meter above the ground.
Mr. Queval, who had stopped his car, then returned to Nordausques but, given the late hour, found nobody awaken who could have returned with him to the places where these objects were moving. It was only the next day that he told his friends what he had seen. In any case, Mr. Queval seems very sincere in his story.
***
We received the following letter from Mr. Serge Gamblin, residing in the hamlet of Bilques, in Helfaut, by Wizernes:
"I have the honor to inform you that Monday evening, returning from Blendecques professional lessons with a friend, around 08:45 p.m., I saw in front of the Avot co, a big light. And we saw, high in the sky a luminous object, having the shape of an orange cigar which was heading towards Heurlinghem. Two other people also saw it. This craft was going fast; it went out almost immediately."