UFOs in the daily Press:
The 1954 French flap in the Press:
The article below was published in the daily newspaper La Voix du Nord, local issue of Saint-Omer, France, page 6, on OCtober 19, 1954.
See the case file.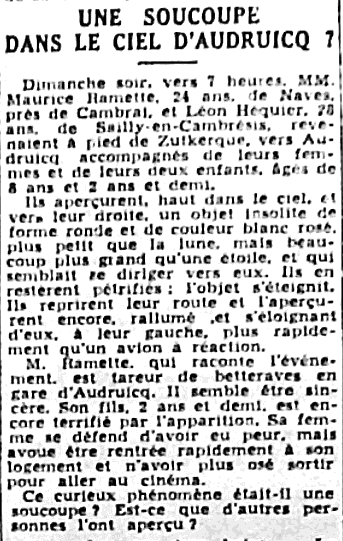 A SAUCER
IN THE SKY OF AUDRUICQ
Sunday evening, around 7, MM. Maurice Ramette, 24, from Naves, near Cambrai, and Léon Hequier, 78, from Sailly-en-Cambrésis, were returning on foot from Zutquerque, towards Audruicq accompanied by their wives and their two children, aged 8 and 2 and a half.
They saw, high in the sky, and to their right, an unusual object of round shape and pinkish-white in color, smaller than the moon, but much larger than a star, and which seemed to be heading towards them. They remained petrified: the object went out. They resumed their journey and saw it again, rekindled, and moving away from them, to their left, faster than a jet plane.
Mr. Ramette, who tells the story, is a beet measurer at the Audruicq station. He seems to be sincere. His son, 2 and a half, is still terrified by the apparition. His wife denies having been afraid, but admits to having returned quickly to her accommodation and not having dared to go out to go to the cinema.
Was this curious phenomenon a saucer? Did other people see it?