UFOs in the daily Press:
The 1954 French flap in the Press:
The article below was published in the daily newspaper La Voix du Nord, Maubeuge local issue, page 4, on November 10, 1954.
See the case file.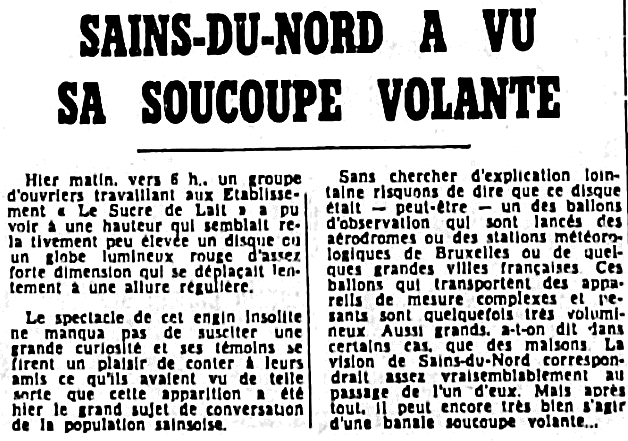 SAINS-DU-NORD SAW
ITS FLYING SAUCER
Yesterday morning, around 6, a group of workers working at the "Le Sucre de l'Est" establishments were able to see at a height which seemed relatively low a disc or a luminous red globe of rather large dimension moving slowly at a steady pace.
The sight of this unusual craft did not fail to arouse great curiosity and these witnesses were happy to tell their friends what they had seen so that this appearance was the great topic of conversation of the Sains-du-Nord population yesterday.
Without looking for a remote explanation, we risk saying that this disc was - perhaps - one of the observation balloons that are launched from aerodromes or meteorological stations in Brussels or from a few large French cities. These balloons which carry complex and heavy measuring devices are sometimes very bulky. As big, it has been said in some cases, as houses. The vision of Sains-du-Nord would correspond quite probably to the passage of one of them. But after all, it could still very well be an ordinary flying saucer...