UFOs in the daily Press:
The 1954 French flap in the Press:
The article below was published in the daily newspaper La Voix du Nord, local issue of Avesnes, France, page 5, on October 31, 1954.
See the case file.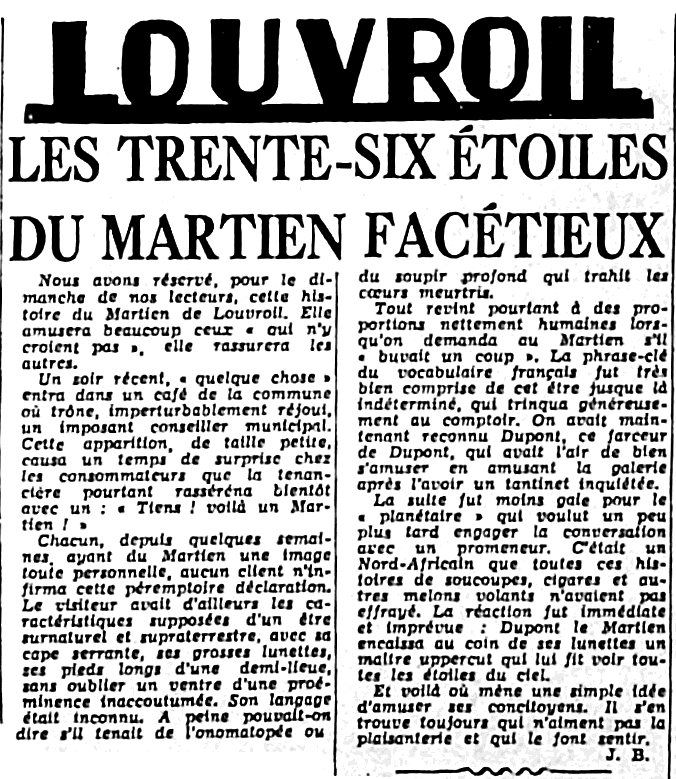 LOUVROIL
LES TRENTE-SIX ETOILES
DU MARTIEN FACETIEUX
THE THIRTY-SIX STARS
OF THE MARTIAN PRANKSTER
We kept this story of the Martian of Louvroil for our readers' Sunday. And it will amuse a lot those "who do not believe in it", it will reassure the others.
One recent evening, "something" entered the town's café where an imposing municipal councilor sits imperturbably. This appearance, of small size, caused a moment of surprise among consumers that the owner nevertheless soon reassured with a: "Hey! Here's a Martian!"
Everyone, for a few weeks now, having a very personal image of the Martian, no client has denied these peremptory statements. The visitor also had the supposed characteristics of a supernatural and supraterrestrial being, with his tight cape, his big glasses, his feet half a league long, not to mention a belly of unusual prominence. His language was unknown. You could hardly tell if it was onomatopoeia or the deep sighs that betrays distressed hearts.
However, everything returned to clearly human proportions when the Martian was asked if he would "have a drink." The key phrase of the French vocabulary was very well understood by this hitherto undetermined being, who toasted generously at the counter. We had now recognized Dupont, this joker Dupont, who seemed to be having a good time amusing everyone after having worried them a little.
The rest was less cheerful for the "planetary" who wanted a little later to strike up a conversation with a walker. He was a North African who hadn't been frightened by all these stories of saucers, cigars and other flying melons. The reaction was immediate and unexpected: Dupont the Martian took an uppercut at the corner of his glasses which made him see all the stars in the sky.
And this is what you get with a simple idea to amuse one's fellow citizens. There are always some who don't like a joke and make it clear.
J.B.