UFOs in the daily Press:
The 1954 French flap in the Press:
The article below was published in the daily newspaper La Voix du Nord, issue of the Artois, France, page 4, on October 16, 1954.
See the case file.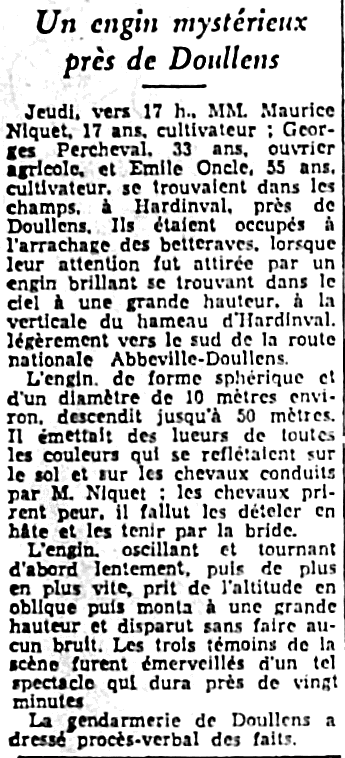 A mysteirous craft
near Doullens
Thursday, around 5 p.m., MM. Maurice Niquet, 17, farmer; Georges Percheval, 33, farm worker, and Emile Oncle, 55, farmer, were in the fields in Hardinval, near Doullens. They were busy digging up the beets, when their attention was attracted by a shining craft in the sky at a great height, above the hamlet of Hardinval, slightly to the south of the national road Abbeville-Doullens.
The machine, spherical in shape and about 10 meters in diameter, descended to 50 meters. It emitted lights of all colors which were reflected on the ground and on the horses led by Mr. Niquet: the horses were frightened, they had to be unhitched and held by the bridle.
The craft, oscillating and rotating at first slowly, then faster and faster, gained altitude obliquely then climbed to a great height and disappeared without making any noise. The three witnesses to the scene were amazed at such a spectacle which lasted nearly twenty minutes.
The Doullens gendarmerie wrote down an incident report.