UFOs in the daily Press:
The Hardt UFO, France, 1982:
The article below was published in the daily newspaper L'Alsace, France, on November 14, 1982.
See the case file.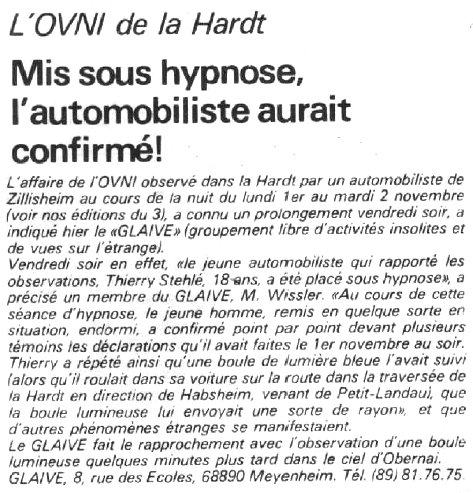 The Hardt UFO
Put under hypnosis, the motorist is said to have confirmed!
The UFO case observed in the Hardt by a motorist from Zillisheim during the night of Monday November 1 to Tuesday November 2 (see our editions of November 3), had a continuation on Friday evening, indicated yesterday the "GLAIVE" (free group of unusual activities and views of the strange).
Friday evening in fact, "the young motorist who reported the sightings, Thierry StehlÚ, 18, was placed under hypnosis," said a member of GLAIVE, Mr. Wissler. "During this hypnosis session, the young man, put back in situation so to speak, asleep, confirmed point by point before several witnesses the statements he had made on the evening of November 1. Thierry thus revealed that a ball of blue light had followed him (while he was driving in his car on the road in the crossing of the Hardt towards Habsheim, coming from Petit-Landau), that the luminous ball "sent a kind of ray", and that other strange phenomena manifested themselves.
The GLAIVE makes the connection with the observation of a luminous ball a few minutes later in the sky of Obernai:
GLAIVE, 8, rue des Ecoles, 68890 Meyenheim. Phone. (89) 81.76.75.